You are able to work with peachcare renewal without difficulty using our PDF editor online. Our tool is constantly evolving to grant the very best user experience achievable, and that's due to our dedication to constant improvement and listening closely to user comments. This is what you'd want to do to begin:
Step 1: Click on the orange "Get Form" button above. It will open our tool so you can start filling in your form.
Step 2: Using our advanced PDF file editor, you're able to accomplish more than merely fill in forms. Edit away and make your documents seem sublime with custom textual content incorporated, or fine-tune the original content to perfection - all that comes with the capability to insert stunning images and sign it off.
Completing this document demands thoroughness. Make sure every blank field is filled out accurately.
1. Complete your peachcare renewal with a group of major blank fields. Note all the information you need and ensure there is nothing forgotten!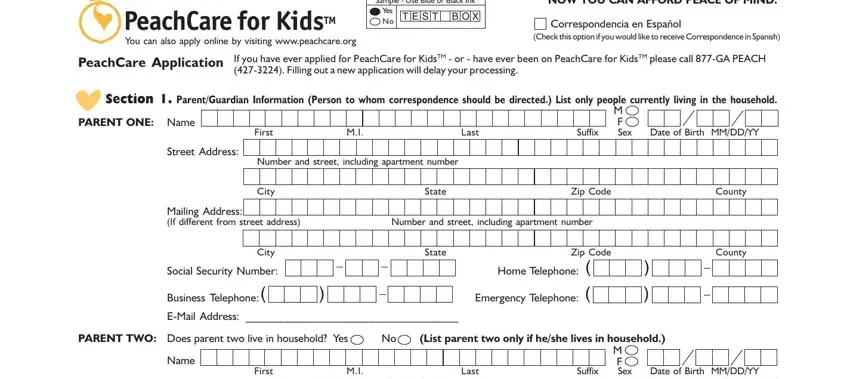 2. Once the previous array of fields is done, you need to insert the essential specifics in Social Security Number, Business Telephone, Suffix , Section Child Information List, apply please attach a separate, CHILD ONE, Name, First, Last, M F Sex, Date of Birth MMDDYY, US Citizen Yes, Race, Social Security Number, and American Indian or Alaska Native in order to go to the third step.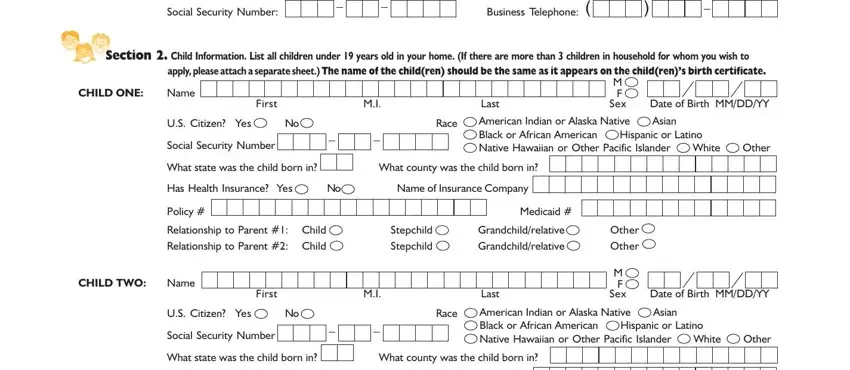 3. This subsequent part is typically rather simple, Has Health Insurance Yes, Name of Insurance Company, Policy , Medicaid , Relationship to Parent Child, Relationship to Parent Child, Stepchild, Stepchild, Grandchildrelative, Grandchildrelative, CHILD THREE Name, First, Last, Other, and Other - every one of these empty fields will have to be completed here.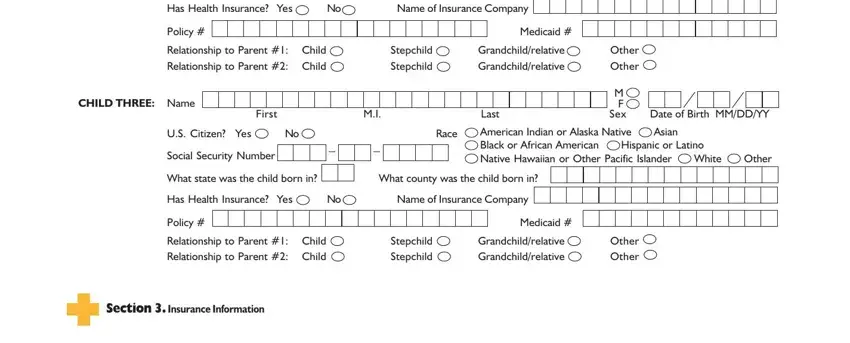 4. This particular part arrives with all of the following blanks to complete: Is either parent employed by the, If yes please specify Is this, Part Time, Have any children you are applying, Yes, If yes explain Last date of, and MMDDYY.
As to Have any children you are applying and Yes, be certain you do everything correctly in this section. Both of these are certainly the most significant fields in the file.
5. To finish your document, the final part has a couple of additional fields. Typing in Current employers name, Current employers name, Social Security RSDI, Supplemental Security Income, Workers Compensation, Pensions or Retirement Benefits, Child Support List amount each, Contributions, Unemployment Benefits, Other Income please specify , BEFORE Taxes and Other Deductions, Weekly Monthly Every weeks Etc, NAME OF PERSON RECEIVING Include, listed on the application, and DID YOU INCLUDE PROOF OF INCOME will certainly finalize everything and you're going to be done in no time at all!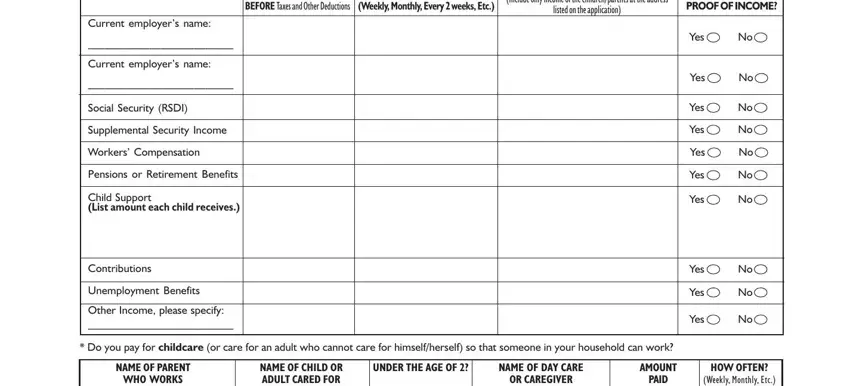 Step 3: Immediately after proofreading your fields, click "Done" and you're good to go! Try a free trial subscription with us and gain direct access to peachcare renewal - with all transformations kept and available inside your personal account page. FormsPal is invested in the personal privacy of our users; we make certain that all personal information entered into our system remains confidential.