In case you intend to fill out multichamber, you won't need to download and install any sort of applications - simply use our PDF editor. The tool is continually maintained by us, getting cool features and growing to be more convenient. Starting is simple! Everything you need to do is follow the following simple steps down below:
Step 1: Click the "Get Form" button at the top of this webpage to get into our PDF tool.
Step 2: When you start the tool, you will find the form prepared to be filled out. Aside from filling in various blanks, it's also possible to perform some other things with the file, particularly writing custom words, editing the initial text, inserting graphics, placing your signature to the PDF, and more.
Completing this form demands attention to detail. Make sure every single field is filled in accurately.
1. Whenever completing the multichamber, make certain to incorporate all necessary blank fields within the corresponding part. It will help to hasten the process, making it possible for your information to be processed without delay and correctly.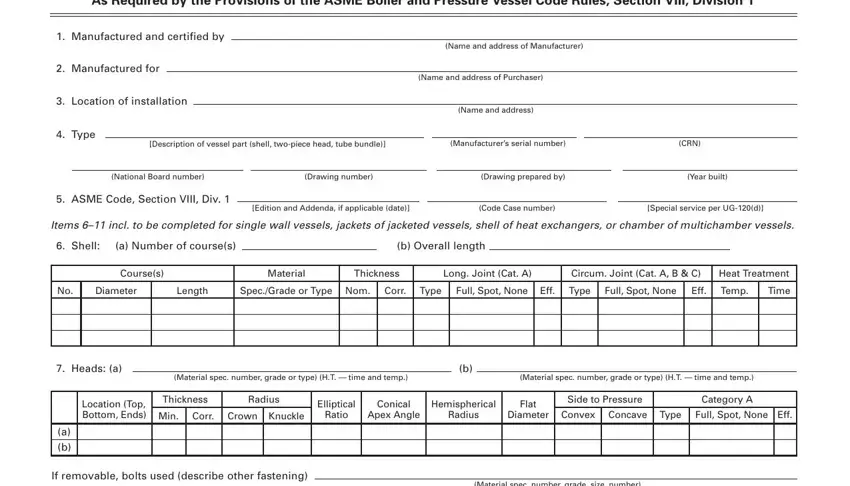 2. Once your current task is complete, take the next step – fill out all of these fields - Material spec number grade size, Type of jacket, Jacket closure, If bar give dimensions, Describe as ogee weld bar etc, If bolted describe or sketch, MAWP, Internal, External, at max temp, Internal, External, Min design metal temp, Impact test, and Indicate yes or no and the with their corresponding information. Make sure to double check that everything has been entered correctly before continuing!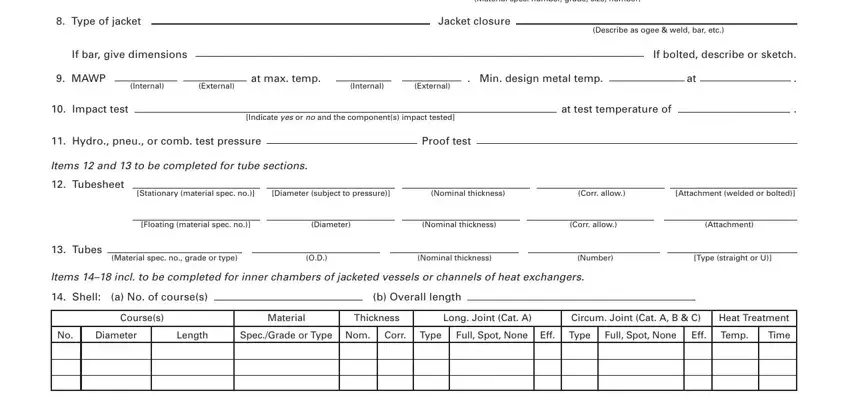 3. Through this stage, examine Heads a, FORM U Back, Material spec number grade or type, Material spec number grade or type, Location Top Bottom Ends, Thickness, Radius, Elliptical, Conical, Hemispherical, Flat, Side to Pressure, Category A, Min Corr Crown Knuckle, and Ratio. These will have to be completed with utmost precision.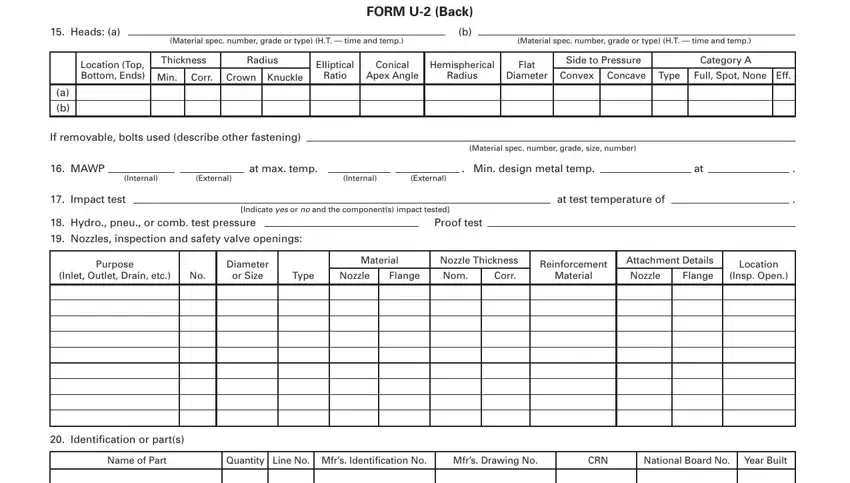 Always be very attentive when completing Flat and Conical, since this is where many people make errors.
4. It is time to begin working on this fourth segment! Here you'll get all of these Supports Skirt, Lugs, Legs, Others, Attached, Yes or no, Number, Number, Describe, Where and how, Remarks, We certify that the statements in, vessel part conform to the ASME, CERTIFICATE OF SHOPFIELD COMPLIANCE, and U Certificate of Authorization form blanks to fill out.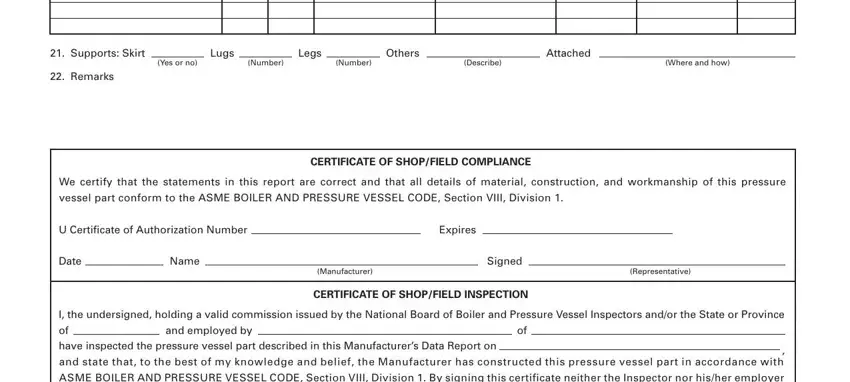 5. This form should be finalized within this segment. Here you can find an extensive list of fields that require specific details for your form usage to be complete: from or connected with this, Date, Signed, Commissions, Authorized Inspector, and National Board incl endorsements.

Step 3: Soon after double-checking the form fields you've filled in, press "Done" and you are all set! Make a free trial subscription with us and get direct access to multichamber - download, email, or edit from your FormsPal cabinet. FormsPal guarantees safe document tools with no data recording or distributing. Feel safe knowing that your details are secure with us!