Our top rated web programmers have worked collectively to get the PDF editor that you'll apply. This particular software enables you to get tcf ira documentation instantly and conveniently. This is everything you should undertake.
Step 1: At first, choose the orange "Get form now" button.
Step 2: So you are going to be on the file edit page. It's possible to add, update, highlight, check, cross, add or remove areas or text.
All of these segments are in the PDF template you'll be creating.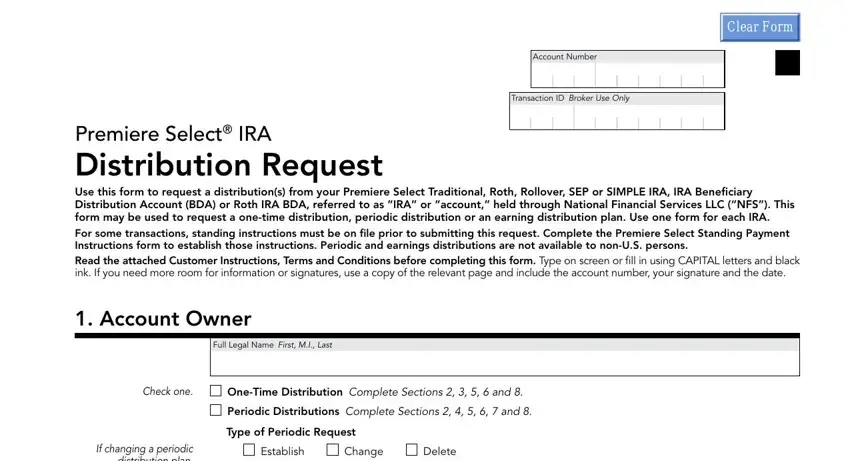 Please enter your information in the part If changing a periodic, Plan ID, If you have multiple plans include, Reason for Distributions Refer to, Check one Normal Current age is, Disability Disabled as defined in, Death distribution Taking, Reason Applicable to OneTime, Return of Excess Contributions, Rollover From your IRA paid, OneTime Distribution, Future Process Date Optional, Refer to instructions for further, Date MM DD YYYY, and Note By specifying a future.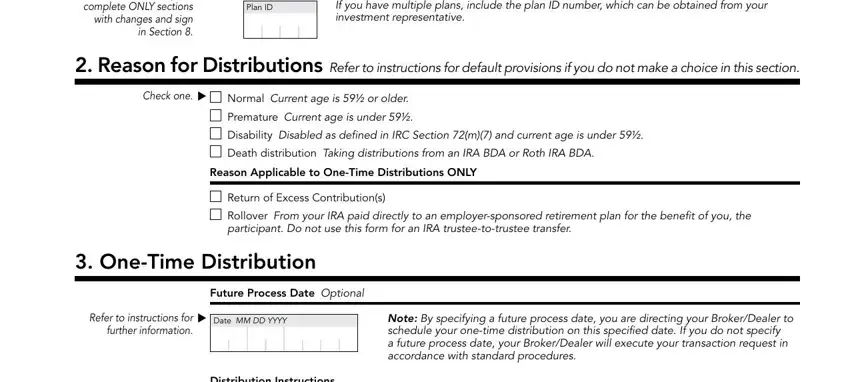 Note the fundamental data when you're within the Distribution Instructions, Check A andor B or C then provide, Refer to instructions for further, A Partial Distribution in Cash, Transaction fees may apply and, Amount, Gross Up Optional Increase partial, Page of, and continued on next page box.

The space OneTime Distribution continued, B Partial Distribution InKind, Indicate the number of shares or, CUSIP or Symbol, Number of SharesALL, Fractional shares can be requested, CUSIP or Symbol, Number of SharesALL, CUSIP or Symbol, Number of SharesALL, C Full Distribution Distribute, Return of Excess Contribution, ALL, ALL, and ALL will be where you add all sides' rights and responsibilities.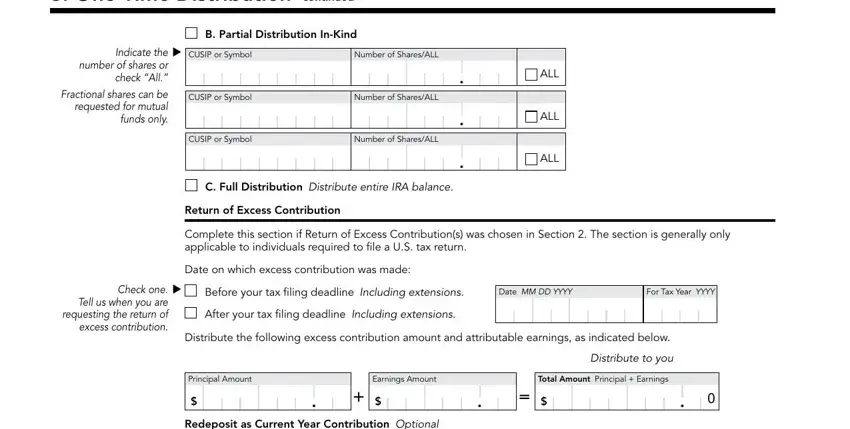 Look at the areas The combined total of these boxes, Redeposit as current year, Distribute remainder to you, Current Year Amount, Distribution Amount, Periodic Distributions, Check one A through F and complete, Type of Plan, A Fixed Amount Plan, Distribute this amount per period, B Fixed Period Plan, Deplete the entire balance over, Amount, No of Years, and C IRA BDA Life Expectancy Plan and thereafter fill them out.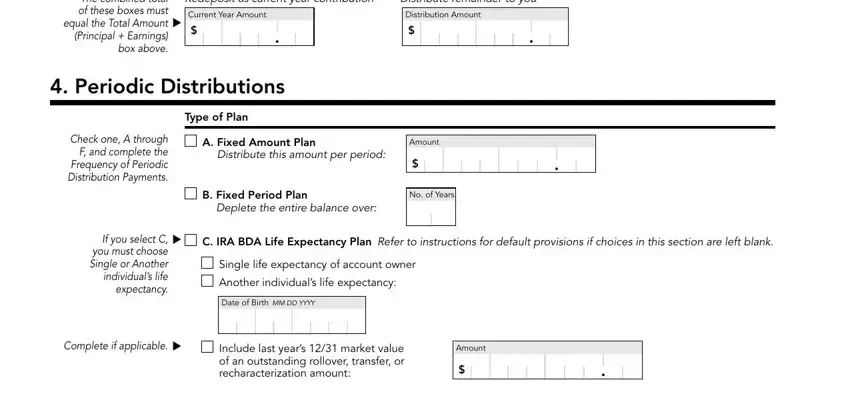 Step 3: Hit the Done button to save your document. At this point it is readily available for upload to your gadget.
Step 4: Have a copy of every different document. It will certainly save you time and permit you to avoid troubles in the long run. Also, your information is not revealed or viewed by us.