Having the objective of allowing it to be as effortless to go with as it can be, we created our PDF editor. The process of filling in the blank investigation fillable will be uncomplicated in the event you use the following actions.
Step 1: Click on the "Get Form Here" button.
Step 2: Now you will be within the document edit page. You'll be able to add, change, highlight, check, cross, insert or delete fields or phrases.
For each part, prepare the content required by the software.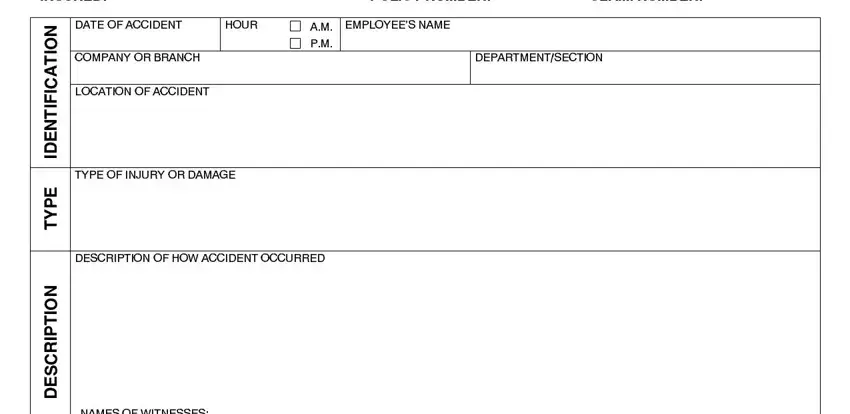 Write down the details in the N O T P R C S E D, NAMES OF WITNESSES:, DID AN UNSAFE ACT OF AN EMPLOYEE, DID AN UNSAFE CONDITION ON THE, WHAT CAN BE DONE OR WHAT HAS BEEN, E S U A C, and Y D E M E R field.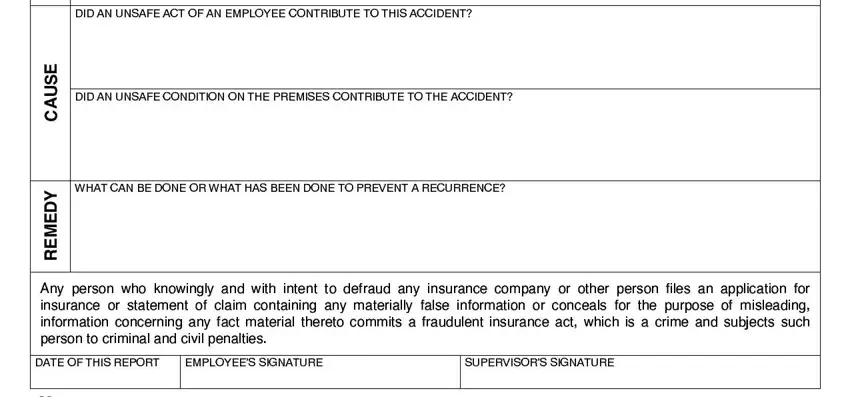 You could be demanded specific essential details so that you can fill out the Y D E M E R, Any person who knowingly and with, DATE OF THIS REPORT, EMPLOYEE, 'S SIGNATURE, SUPERVISOR, 'S SIGNATURE, EC, S, 64, B PA 06, 06 and PROVIDED THROUGH THE COURTESY OF segment.

Step 3: Click the "Done" button. You can now export your PDF file to your gadget. Additionally, you'll be able to deliver it by means of email.
Step 4: Produce as much as several copies of the form to stay clear of any kind of future challenges.