The ca reg 262 filling in process is very simple. Our editor allows you to use any PDF form.
Step 1: Choose the orange button "Get Form Here" on the following webpage.
Step 2: After you've entered the ca reg 262 edit page, you'll discover all functions you may undertake regarding your document at the top menu.
The following parts are going to make up your PDF document: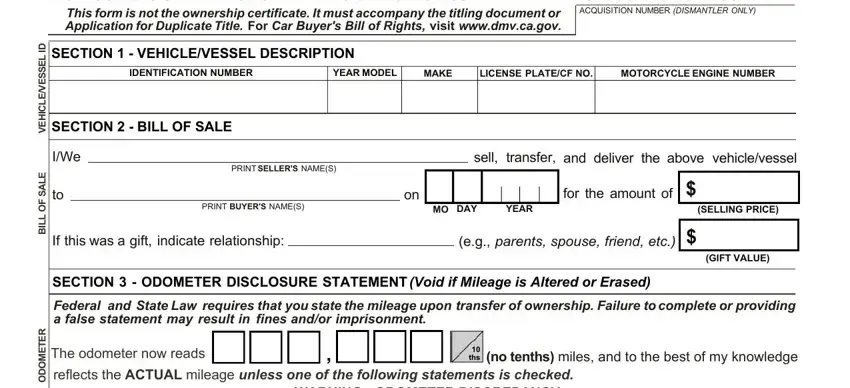 In the Odometer reading is NOT the actual, Explain odometer discrepancy, Mileage EXCEEDS the odometer, WARNING ODOMETER DISCREPANCY, SECTION BUYER AND SELLER MUST, BUYERS SECTION I acknowledge the, DLID OR DEALERDISM, SIGNATURE, DATE, I certify or declare under penalty, DLID OR DEALERDISM, SIGNATURE, DATE, SELLERS SECTION, and SIGNATURE field, note your information.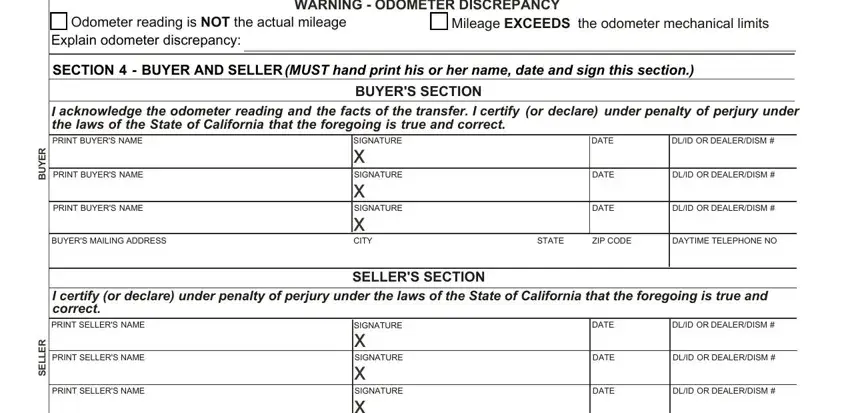 Indicate the important data in x x x, CITY, STATE, ZIP CODE, DAYTIME TELEPHONE NO, SELLERS MAILING ADDRESS, SECTION POWER OF ATTORNEY, IWe, PRINT NAMES, appoint, as my attorney in fact to complete, SIGNATURE REQUIRED BY PERSON, DATE, DATE, and PRINT NAMES segment.

Indicate the rights and obligations of the sides within the space A Public Service Agency THIS FORM, This section must be completed, To be completed by the seller of, SECTION ODOMETER DISCLOSURE, To be completed by the seller, SECTION BUYERSELLER INFORMATION, To be completed by the buyer to, SECTION POWER OF ATTORNEY, To be completed when appointing a, INSTRUCCIONES PARA COMPLETAR ESTE, ESTE FORMULARIO NO ES EL, Esta sección deberá completarse, and SECCIÓN FACTURA DE VENTA.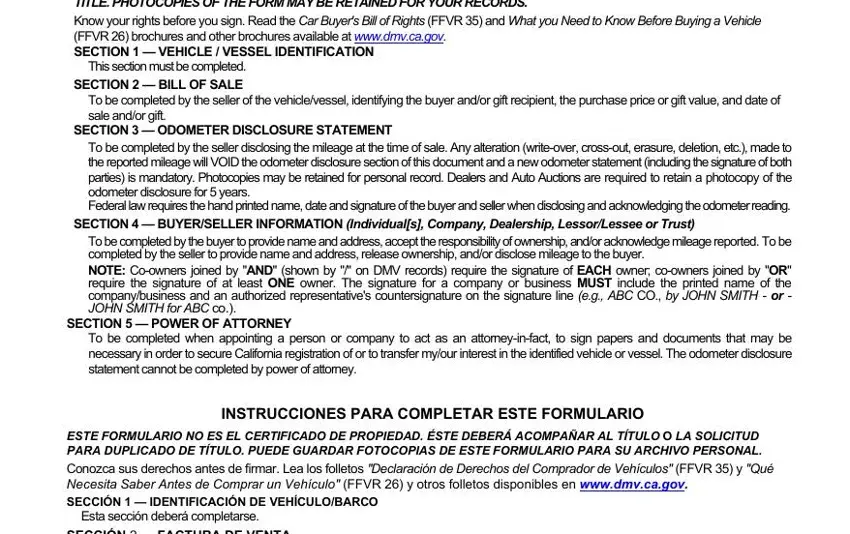 Step 3: Hit the "Done" button. So now, you may transfer the PDF file - upload it to your device or deliver it by means of email.
Step 4: You may create duplicates of the file tokeep clear of all forthcoming troubles. You should not worry, we don't publish or track your data.