changeofcontactcao cao ac za can be filled in online without any problem. Simply use FormsPal PDF editing tool to finish the job right away. Our team is relentlessly working to develop the editor and make it much faster for people with its cutting-edge features. Make the most of present-day innovative prospects, and find a trove of emerging experiences! Here is what you will need to do to get going:
Step 1: Hit the "Get Form" button above. It's going to open our tool so that you can begin filling out your form.
Step 2: Using this online PDF editing tool, it is possible to do more than just fill in forms. Try each of the functions and make your forms appear faultless with custom text added, or adjust the file's original content to perfection - all supported by an ability to insert any graphics and sign the PDF off.
This PDF form will require you to provide some specific information; to guarantee accuracy and reliability, you need to bear in mind the following tips:
1. You should fill out the changeofcontactcao cao ac za properly, thus be attentive while working with the segments containing these blank fields: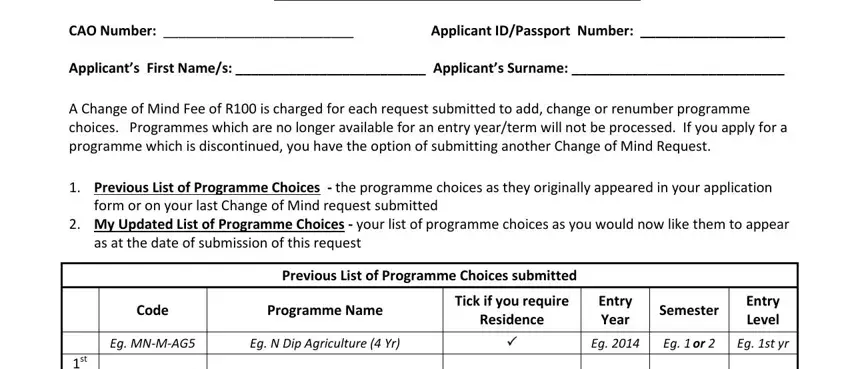 2. Now that the last segment is done, it is time to add the necessary specifics in My Updated List of Programme, Code, Programme Name, Tick if you require, Residence, Entry Year, Semester, Entry Level, Eg DUDTXY, Eg N Dip Taxation pt, Eg , Eg , or , Eg st yr, and st nd rd th th th allowing you to progress further.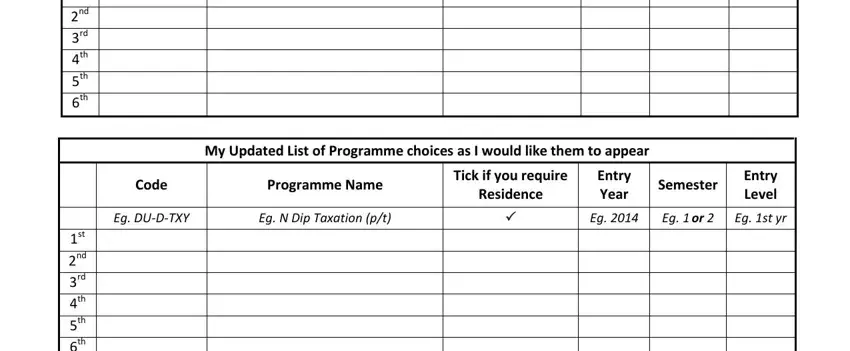 You can potentially make errors when filling out your Code, for that reason you'll want to take another look prior to when you submit it.
3. The next segment is generally rather straightforward, st nd rd th th th, Signature of Applicant , Date , Submit your completed Change of, Methods of Paying your Change of, and You can use your unique Easypay - these fields has to be completed here.

Step 3: Revise all the details you've typed into the form fields and then press the "Done" button. Right after setting up afree trial account at FormsPal, you will be able to download changeofcontactcao cao ac za or send it via email right off. The file will also be readily available in your personal account menu with all your modifications. When you use FormsPal, you're able to complete forms without stressing about data incidents or data entries getting shared. Our protected system helps to ensure that your personal details are stored safely.