You are able to prepare dd1692 form without difficulty in our PDFinity® online PDF tool. The tool is constantly updated by our team, getting useful features and turning out to be a lot more convenient. If you are seeking to start, here's what it will take:
Step 1: Access the PDF file inside our tool by pressing the "Get Form Button" above on this page.
Step 2: As soon as you start the editor, you'll see the document ready to be completed. Other than filling out different blanks, you could also do various other things with the file, that is putting on your own words, modifying the initial textual content, adding illustrations or photos, affixing your signature to the form, and a lot more.
When it comes to blanks of this precise form, here is what you need to do:
1. To start with, while completing the dd1692 form, start out with the page that has the next blanks: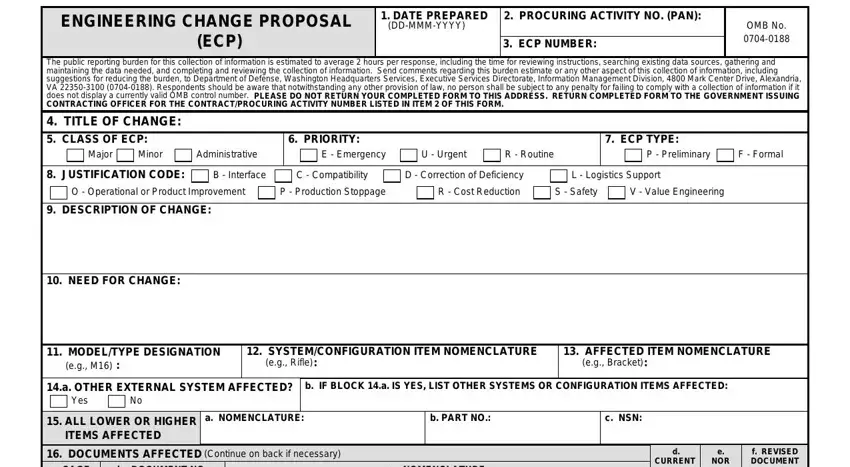 2. Right after finishing this step, go to the subsequent stage and fill in the necessary particulars in these blanks - ALL LOWER OR HIGHER ITEMS, b DOCUMENT NO, c NOMENCLATURE, CURRENT REVISION, NOR NO, f REVISED DOCUMENT ATTACHED, BASELINE AFFECTED, IN PRODUCTION, EFFECTIVITY Lot No Serial No Date, Functional, Allocated, Product, Yes, a RECOMMEND RETROFIT TO EXISTING, and b IF BLOCK a IS YES DESCRIBE.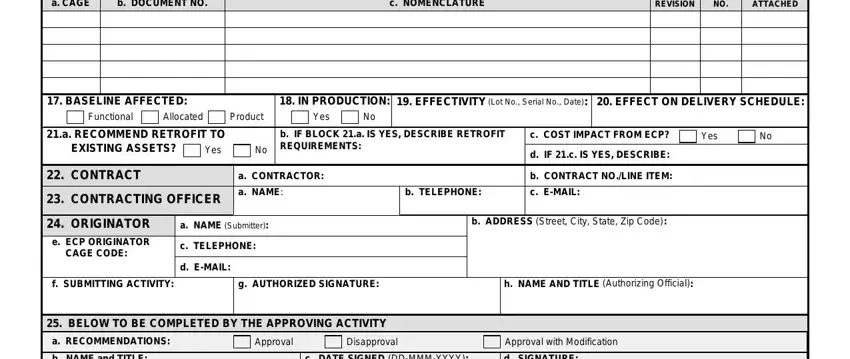 3. This stage is generally easy - fill in all the fields in b NAME and TITLE, c DATE SIGNED DDMMMYYYY d SIGNATURE, a DISPOSITION Configuration Change, Approved, Disapproved, Approved with Modification, c DATE SIGNED DDMMMYYYY d SIGNATURE, TO BE COMPLETED BY THE ACTIVITY, b DATE NEW REVISIONS RELEASED c, DD FORM MAR DISTRIBUTION, PREVIOUS EDITION IS OBSOLETE, and Adobe Designer in order to complete this process.

In terms of DD FORM MAR DISTRIBUTION and Approved with Modification, make sure that you double-check them in this current part. Both these are thought to be the most significant ones in the page.
Step 3: Soon after proofreading the fields and details, hit "Done" and you are done and dusted! After getting a7-day free trial account here, you will be able to download dd1692 form or send it via email right off. The PDF file will also be easily accessible in your personal account menu with all of your changes. When you work with FormsPal, you can easily fill out forms without having to worry about database breaches or data entries being distributed. Our secure system makes sure that your private details are kept safely.