Cbp Form 28 can be filled in online with ease. Simply use FormsPal PDF tool to do the job quickly. Our team is continuously endeavoring to expand the editor and help it become much better for users with its cutting-edge features. Unlock an endlessly innovative experience today - take a look at and uncover new opportunities as you go! To start your journey, take these basic steps:
Step 1: Click the "Get Form" button at the top of this webpage to access our editor.
Step 2: This editor offers the ability to work with your PDF in a range of ways. Enhance it by adding personalized text, correct original content, and place in a signature - all doable in minutes!
It is actually easy to finish the document using this practical tutorial! This is what you must do:
1. To start with, while completing the Cbp Form 28, begin with the part that features the following blanks: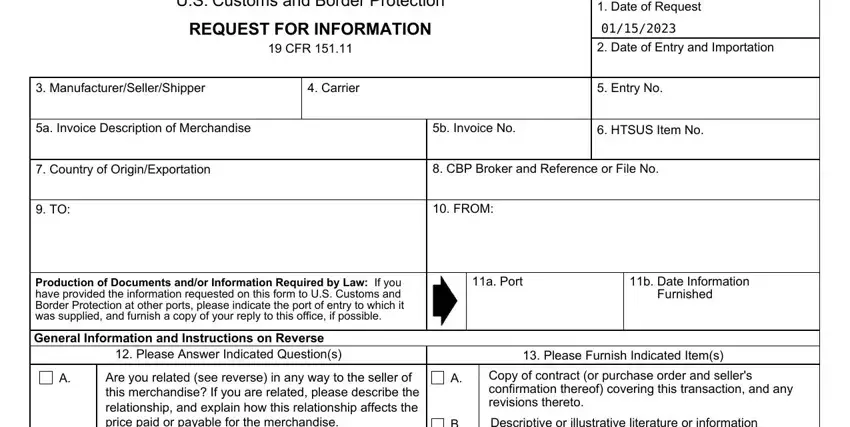 2. Just after filling in the last step, go on to the next step and fill out all required details in all these fields - Are you related see reverse in any, Identify and give details of any, packing, commissions, proceeds that accrue to the seller, assists, royalties andor license fees, CBP Officer Message, Reply Message Use additional, Descriptive or illustrative, Breakdown of components materials, Submit samples Article number and, from container, marksand number, and Samples consumed in analysis and.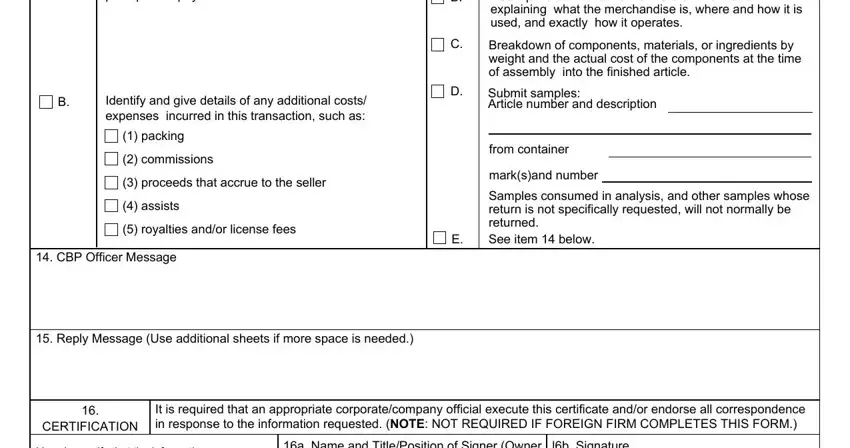 People generally make some errors when filling in Breakdown of components materials in this area. Make sure you review everything you type in right here.
3. This next step is related to I hereby certify that the, a Name and TitlePosition of Signer, c Telephone No, d Date, CBP Officer, Team Designation, Telephone No, and CBP Form - fill out each one of these fields.

Step 3: When you've reviewed the information in the file's blanks, just click "Done" to complete your form. Right after setting up afree trial account with us, you'll be able to download Cbp Form 28 or send it via email right off. The PDF will also be available in your personal cabinet with your each change. At FormsPal, we endeavor to ensure that your information is kept secure.