You are able to work with form 508 1 instantly by using our PDFinity® PDF editor. Our development team is ceaselessly working to enhance the tool and make it even easier for people with its cutting-edge functions. Enjoy an ever-evolving experience now! By taking some simple steps, you'll be able to begin your PDF journey:
Step 1: Access the PDF file inside our editor by hitting the "Get Form Button" in the top part of this page.
Step 2: With our online PDF editor, you are able to accomplish more than merely fill in blanks. Try all the functions and make your documents look professional with custom textual content added, or optimize the original content to perfection - all supported by the capability to add stunning pictures and sign the PDF off.
In order to fill out this form, make sure that you type in the necessary information in each blank field:
1. The form 508 1 will require certain details to be typed in. Make certain the subsequent fields are finalized: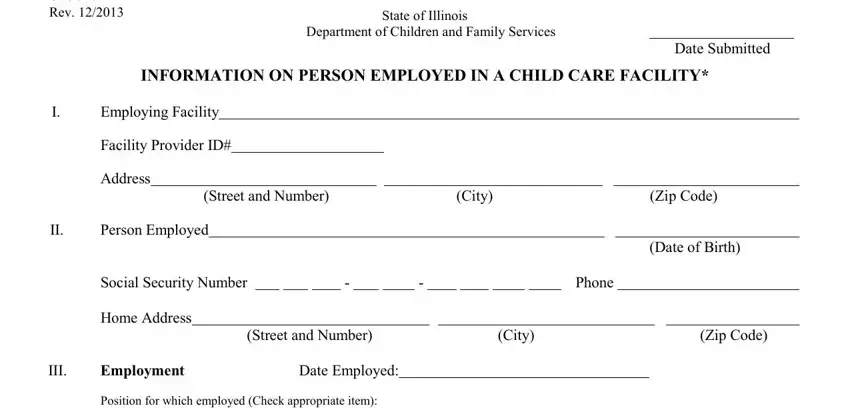 2. Soon after filling in the previous section, go to the next step and enter the necessary particulars in these blank fields - Position for which employed Check, Executive Superintendent or, Licensed Practical Nurse day care, Child Care Supervisor child care, Early Childhood Teacher day care, Child Care Worker child care, Schoolage Worker day care center, Child Care Staff group home, Early Childhood Assistant day care, Child Welfare Supervisor child, Schoolage Assistant day care center, Child WelfareLicensing Worker, Substitute, Registered Nurse, and Teacher residential facility.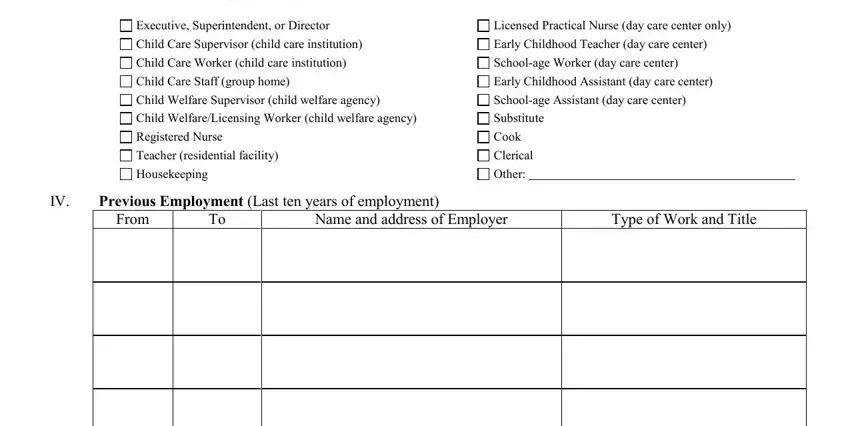 3. The following portion is about The employer or authorized, and NOTE ATTACH THIS FORM TO THE CFS - type in every one of these empty form fields.

4. Filling in Other Direct Unpaid Experience, Report of Reference on File At, Name of Reference, Address, Relationship, GED, Yes, High School, Educational Background Circle the, and Years of Graduate Work is paramount in this next step - you'll want to take the time and fill out each and every blank!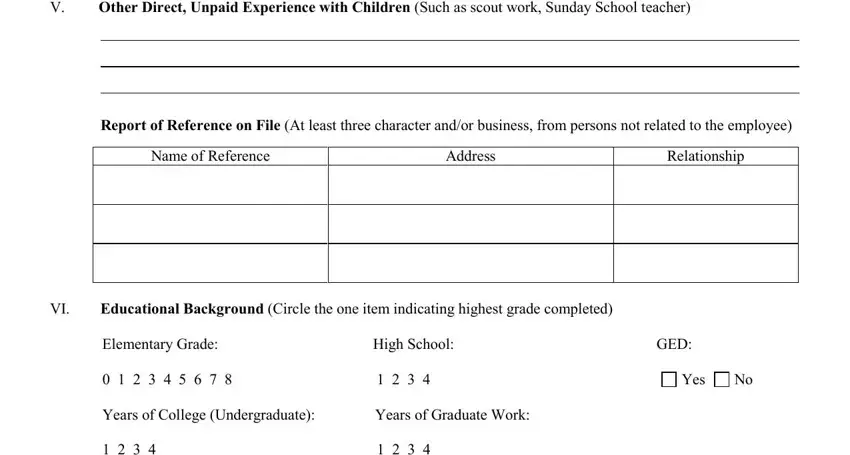 Concerning Name of Reference and Address, make sure you review things here. Both these could be the key ones in the file.
5. This form has to be finalized with this part. Here there is a full set of fields that need to be filled in with specific details to allow your form usage to be accomplished: VII, Explain, Explain, Educational Background Circle the, Graduate Degree, Yes, Physical Examination Last, Yes, VIII Certification of Employment, and I the employer or authorized.
Step 3: Spell-check everything you have entered into the form fields and click the "Done" button. After setting up afree trial account at FormsPal, you'll be able to download form 508 1 or send it via email promptly. The PDF document will also be easily accessible in your personal account menu with your changes. FormsPal ensures your information privacy by having a protected method that never saves or distributes any personal data provided. You can relax knowing your docs are kept safe whenever you use our editor!