Managing files along with our PDF editor is easier as compared to most things. To change incident report for daycare the form, there's nothing you should do - merely continue with the steps down below:
Step 1: Press the button "Get form here" to get into it.
Step 2: At the time you get into our incident report for daycare editing page, you'll see all of the options it is possible to take with regards to your form in the top menu.
The next sections will make up the PDF file that you will be creating: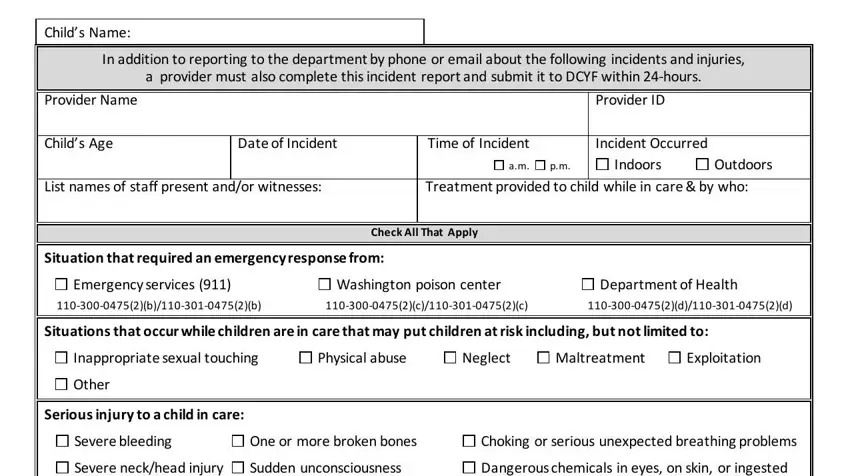 Type in the required details in the section Situation that required an, Maltreatment, Physical abuse, Neglect, Exploitation, Inappropriate sexual touching Other, Serious injury to a child in care:, Severe bleeding Severe neck/head, One or more broken bones Sudden, Choking or serious unexpected, Please give a brief description of, Parent/Guardian Contacted, E-mail, Phone, and In Person.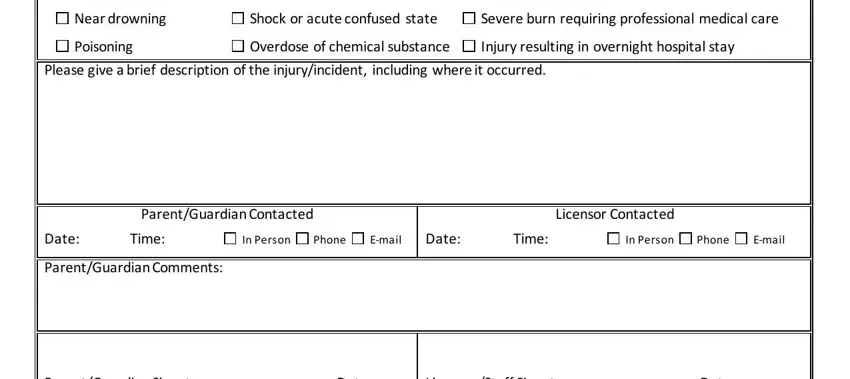 You can be requested to write down the particulars to let the system fill out the box Date: Time: Parent/Guardian, Date, Licensee/Staff Signature, Date, CHILD CARE INJURY/INCIDENT REPORT, and Copies to: Parent.

Step 3: Press the "Done" button. Now, you may transfer your PDF file - download it to your electronic device or send it via electronic mail.
Step 4: Generate copies of the form - it can help you keep away from forthcoming challenges. And don't get worried - we do not distribute or look at your information.