Very few things are easier than preparing documentation through our PDF editor. There isn't much you need to do to update the ems pcr template document - just simply adopt these measures in the next order:
Step 1: At first, click on the orange "Get form now" button.
Step 2: So you will be on the file edit page. You can add, enhance, highlight, check, cross, insert or delete areas or words.
The PDF form you plan to fill in will contain the next sections: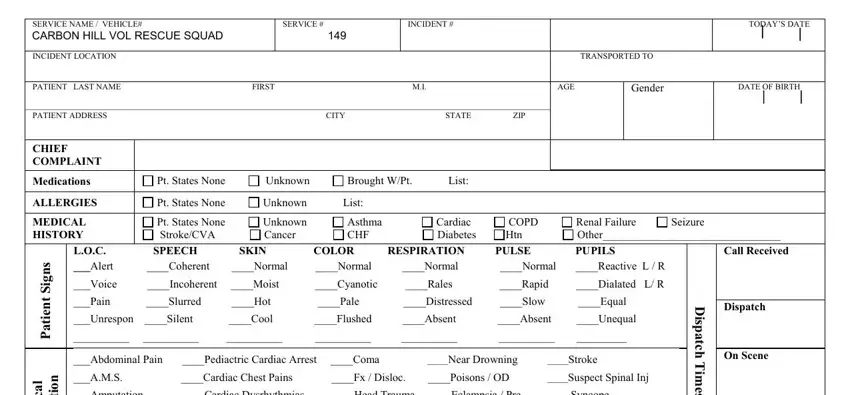 You need to fill in the l a c i d e M, n o i t i, d n o C, Amputation Cardiac Dysrhythmias, D i s p a t c h T m e s, Anaphylaxis Ped Dysrhythmias, In Service, Burns Childbirth Hypoglycemia, Cardiac Arrest Congestive Heart, TIME, B P, Resp, TREATMENT, Patient Assisted Medications, and Nitroglycerin box with the required particulars.
The program will request for additional information in order to automatically fill out the field REFUSAL OF TREATMENT TRANSPORT, X X Patient Signature DateTime, Crew Member EMS License, and Crew Member EMS License.

Step 3: Choose the "Done" button. Now you can upload the PDF file to your gadget. Besides, it is possible to send it through electronic mail.
Step 4: Make no less than a couple of copies of the form to keep clear of any sort of potential difficulties.