Through the online editor for PDFs by FormsPal, you may fill in or change file a il 1363 right here and now. Our team is always endeavoring to expand the editor and make it much faster for users with its extensive functions. Enjoy an ever-improving experience now! Starting is simple! All you should do is adhere to the next basic steps directly below:
Step 1: Click on the "Get Form" button above on this webpage to get into our editor.
Step 2: This tool helps you work with PDF documents in a variety of ways. Transform it with any text, adjust original content, and add a signature - all when you need it!
Completing this form will require attentiveness. Ensure all necessary areas are done correctly.
1. You have to fill out the file a il 1363 accurately, so be careful while working with the sections comprising these particular fields: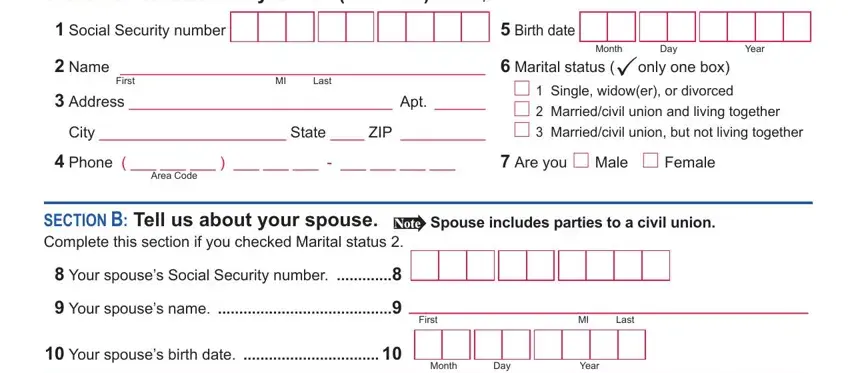 2. The subsequent part would be to fill in these blanks: SECTION C Write only the claimants, Social Security SSI beneits, Claimant, Spouse, Net farm business or rental, Net capital gain or loss If loss, Other income loss or deductions, Add Lines through This is your, Do not include Lines a and a in, If you rented out any part of, a Number of rooms in your home b, and Go to SECTION D.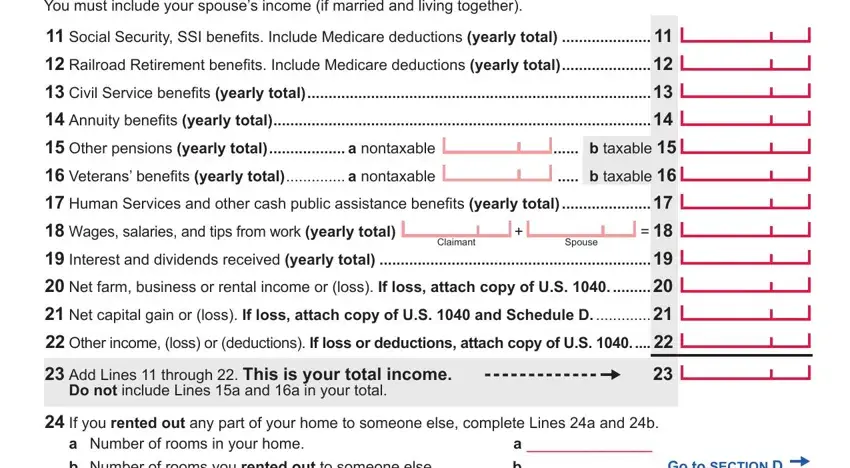 When it comes to Net capital gain or loss If loss and Add Lines through This is your, be certain that you double-check them in this section. The two of these could be the key fields in the form.
3. In this particular step, take a look at SECTION D Tell us how many persons, Household size add the number of, SECTION E Tell us about the, a To whom did you pay rent in, Address City State ZIP, b How many months did you rent here, Do not include amounts paid by a, Attach page if other rentals, Nursing retirement or shelter, a To whom did you pay nursing, and Address City State ZIP. Each one of these must be filled in with greatest awareness of detail.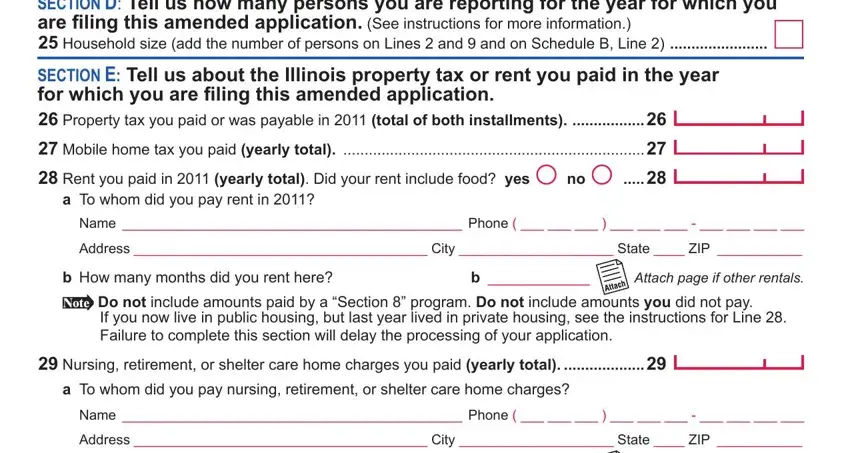 4. This fourth paragraph arrives with the following fields to consider: Do not include amounts paid by, b How many months did you live here, Have you been claimed as a, yes F no F, Attach page if other rentals, SECTION F Sign below Under, Preparers name Please print or type, X Claimants signature, Phone number, and Date.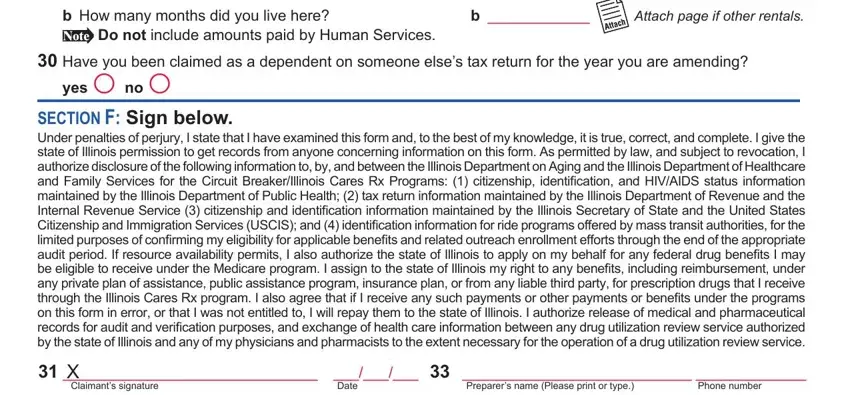 5. And finally, this final part is what you have to complete before finalizing the PDF. The blank fields you're looking at are the following: X Spouses signature If living, Date, Official use only, SHAP CountySubArea Code, Mail your completed form to, If you need assistance visit, IOCI of Form ILX R, and This form is authorized as.
Step 3: When you've looked once more at the information you given, click "Done" to complete your form. After starting afree trial account here, it will be possible to download file a il 1363 or send it via email right away. The PDF document will also be readily available from your personal account with your every modification. We do not sell or share any information you use when completing documents at FormsPal.