Creating documents along with our PDF editor is simpler than most things. To edit scq scoring sheet the form, there is little you should do - basically keep to the actions listed below:
Step 1: Step one should be to click the orange "Get Form Now" button.
Step 2: At this point, you are able to update the scq scoring sheet. This multifunctional toolbar will let you add, get rid of, modify, highlight, and also do several other commands to the words and phrases and fields inside the form.
Complete the following sections to complete the template: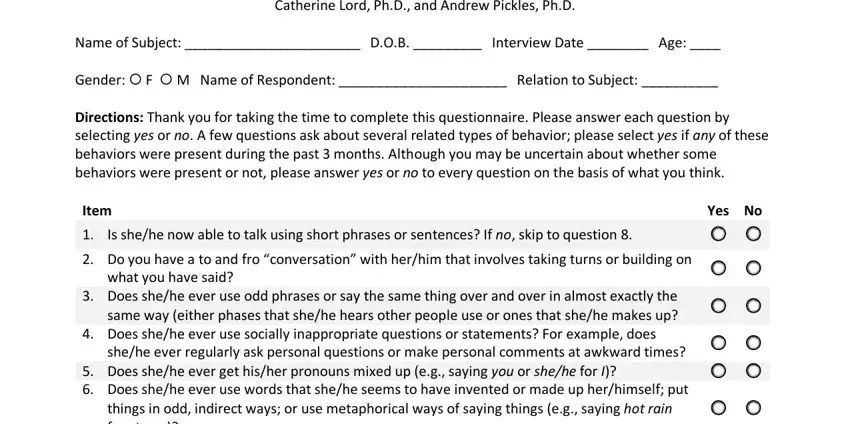 Complete the Does shehe ever get hisher, Does shehe ever say the same, say the same thing over and over, Does shehe have things that shehe, that shehe insists that you go, Does herhis facial expressions, you can tell, Does shehe ever use your hand, pointing with your finger or, people eg traffic lights, Does shehe ever seem to be more, wheels of a car rather than in, Does shehe ever have any special, appropriate for hisher age and, and Does shehe ever seem to be field using the information demanded by the software.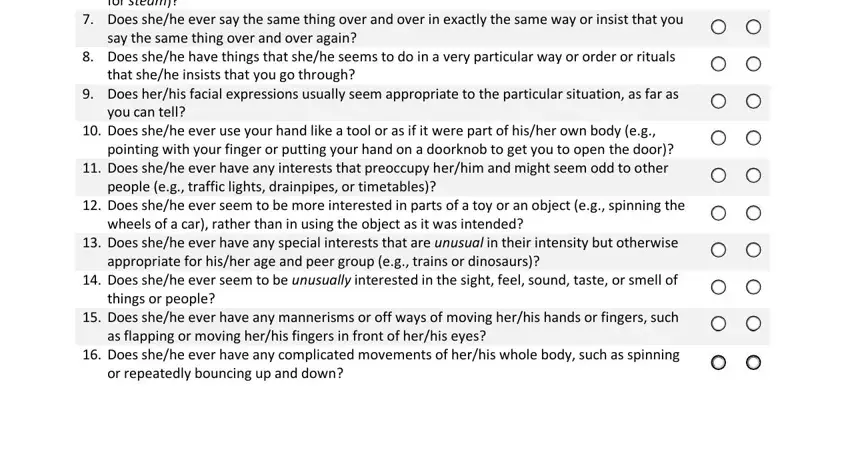 You have to include particular information within the space Item Does shehe ever injure, herhis head, Does shehe ever have any objects, to carry around, Does shehe have any particular, Does shehe ever talk with you, vacuuming gardening or mending, Does shehe ever spontaneously, because shehe wants them, Does shehe ever use gestures, what shehe wants, Does shehe nod herhis head to, Does shehe shake herhis head to, you, and Does shehe smile back if someone.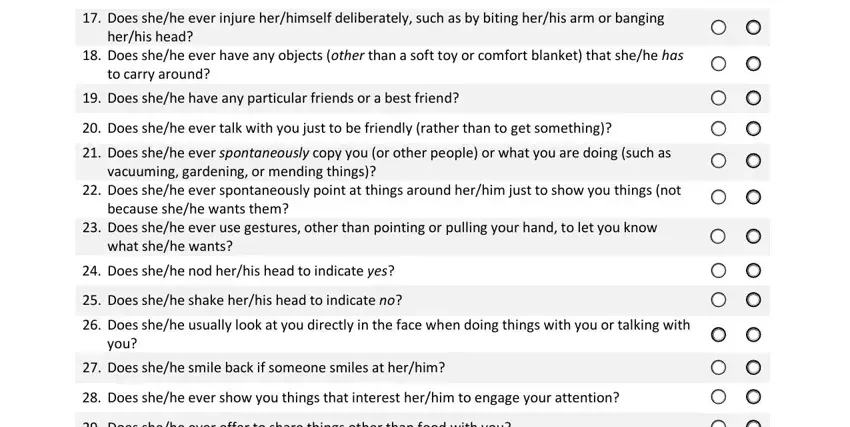 The Does shehe ever offer to share, Does shehe ever seem to want you, Does shehe ever try to comfort, sounds or words to get your, Does shehe show a normal range of, The Mulberry Bush or London, does not know, Does shehe respond positively, shehe usually look up and pay, Does shehe ever play imaginative, that each child understands what, Does shehe play cooperatively in, and other children such as hideandseek area has to be used to provide the rights or obligations of each party.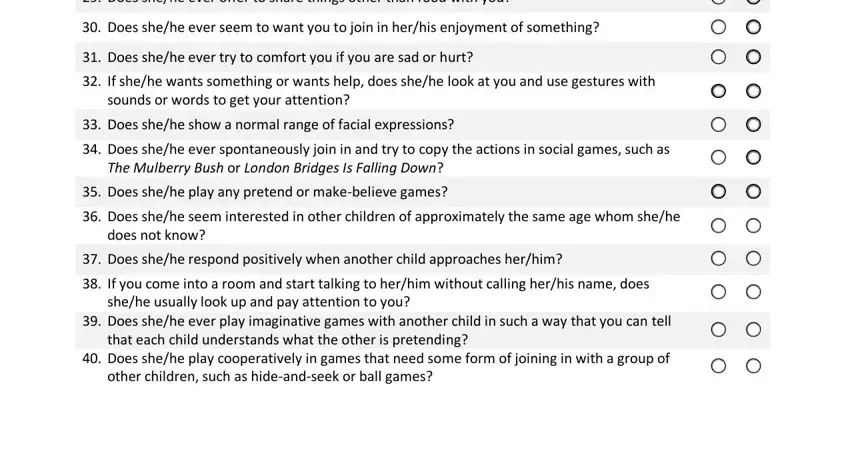 Step 3: As soon as you've clicked the Done button, your document should be readily available transfer to any kind of electronic device or email address you specify.
Step 4: Be certain to remain away from possible problems by making around a couple of copies of the document.