Once you open the online PDF tool by FormsPal, you're able to complete or change pig movement licence right here. Our editor is consistently developing to deliver the best user experience attainable, and that is because of our resolve for continual improvement and listening closely to comments from customers. Here is what you'd want to do to get started:
Step 1: Click the "Get Form" button above on this page to get into our editor.
Step 2: As soon as you launch the file editor, you will see the document made ready to be filled out. Aside from filling out different blank fields, you may as well do other sorts of things with the Document, such as writing custom textual content, modifying the original text, adding images, affixing your signature to the form, and more.
It's straightforward to complete the pdf using out helpful tutorial! Here's what you must do:
1. The pig movement licence needs certain information to be inserted. Be sure the next fields are completed: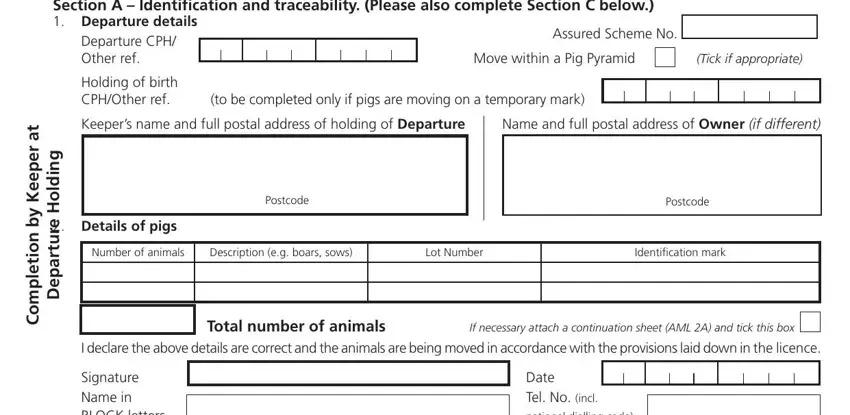 2. Once this selection of blanks is completed, proceed to enter the applicable details in these: r e t r o p s n a r T, y b n o i t e p m o C, r e p e e K y b n o i t e p m o C, Section B Transporter details, Vehicle registrationstrailer ID, Date and place vehicle last, Postcode, Transporters Permit no where, Assured Scheme number, Expected Duration of intended, Date, Start time, Loading, Departure, and Unloading.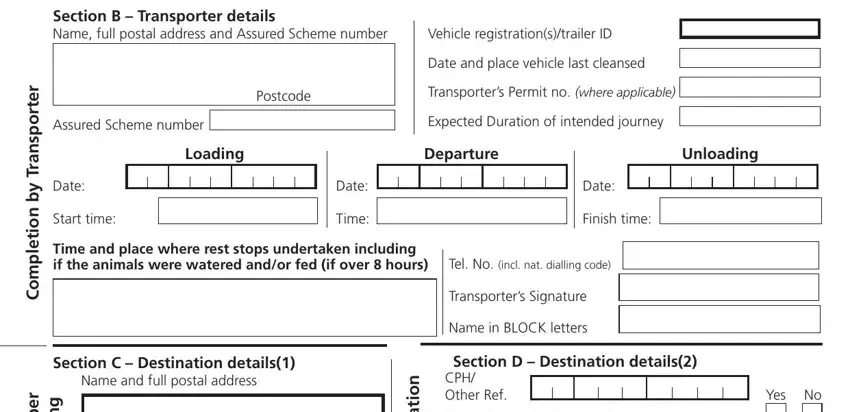 A lot of people often make mistakes while completing Loading in this area. Make sure you revise everything you type in right here.
3. This next portion is all about r e p e e K y b n o i t e p m o C, g n d o H e r u t r a p e D t a, Postcode, State type of Market or Collecting, Dedicated slaughter, Other, AML Rev, White copy Local authority of, Were pigs received in good, Were any pigs showing signs of, Were the farm groups separate on, Number received, Number DOA, I declare the details in this, and Name in BLOCK letters - type in every one of these empty form fields.

Step 3: Once you have glanced through the details in the blanks, click "Done" to complete your form. Join us today and instantly use pig movement licence, ready for download. Each and every change made is conveniently preserved , enabling you to customize the file later if needed. Whenever you work with FormsPal, you can easily fill out forms without stressing about data leaks or entries being distributed. Our secure platform helps to ensure that your personal data is kept safe.