nj dep dep licensed operator can be completed easily. Just open FormsPal PDF tool to finish the job fast. FormsPal team is dedicated to providing you with the best possible experience with our tool by consistently presenting new features and upgrades. With all of these updates, using our tool becomes easier than ever before! Should you be seeking to get started, this is what it takes:
Step 1: Open the PDF in our tool by clicking on the "Get Form Button" at the top of this webpage.
Step 2: When you access the tool, you'll see the document made ready to be filled out. Apart from filling out different fields, it's also possible to perform other sorts of things with the Document, particularly writing custom textual content, editing the initial textual content, adding graphics, signing the form, and a lot more.
This form requires specific details; to ensure consistency, remember to take heed of the tips below:
1. First, while completing the nj dep dep licensed operator, begin with the section that contains the subsequent fields: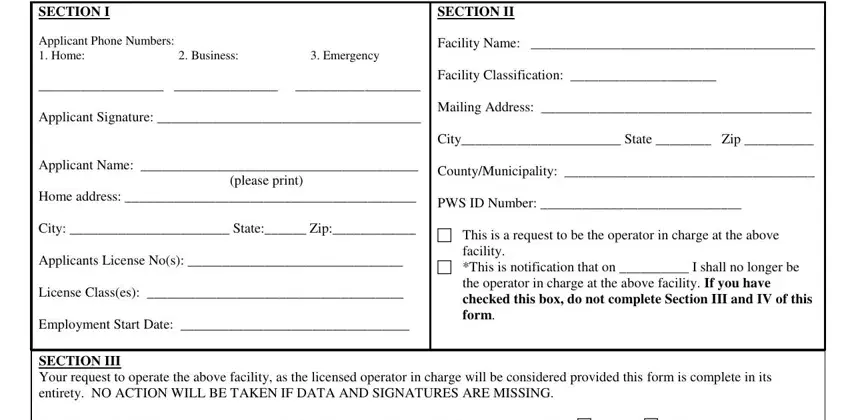 2. Now that this part is completed, it's time to add the needed particulars in SECTION III Your request to, week month, SECTION IV STATEMENT FROM, FOR OFFICE USE ONLY, and To Applicant Date Recorded From so you're able to progress further.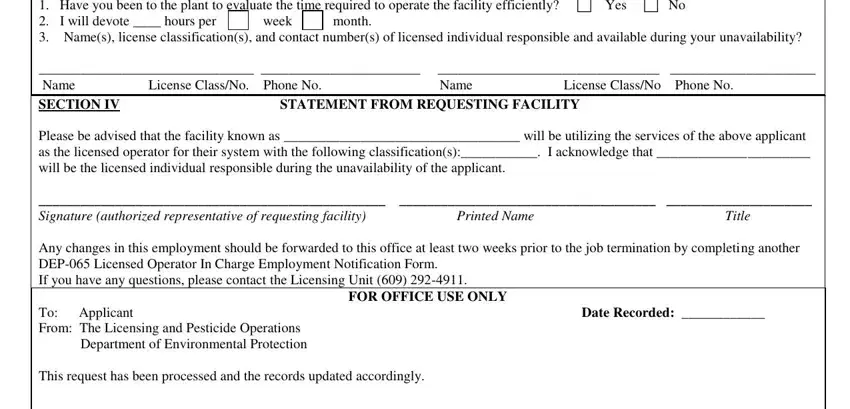 It's easy to make errors when completing the FOR OFFICE USE ONLY, so make sure that you look again before you send it in.
Step 3: Before getting to the next stage, double-check that all blanks are filled in the right way. When you believe it's all fine, press "Done." Join us today and easily obtain nj dep dep licensed operator, set for downloading. Every single change you make is conveniently saved , making it possible to customize the pdf later as required. FormsPal is focused on the privacy of our users; we ensure that all personal information put into our editor is kept protected.