When you need to fill out dependent entry approval japan, you won't need to download and install any kind of applications - just make use of our PDF tool. Our editor is continually evolving to present the best user experience achievable, and that is thanks to our dedication to continual development and listening closely to testimonials. With a few easy steps, it is possible to begin your PDF editing:
Step 1: Hit the "Get Form" button at the top of this webpage to access our tool.
Step 2: Using our advanced PDF file editor, it's possible to accomplish more than just fill in blank form fields. Edit away and make your docs seem perfect with custom text incorporated, or adjust the original content to perfection - all accompanied by the capability to insert any kind of images and sign the file off.
Concentrate while filling out this document. Ensure all necessary areas are filled in correctly.
1. It's very important to fill out the dependent entry approval japan correctly, thus be careful when working with the parts containing these blank fields:
2. Once your current task is complete, take the next step – fill out all of these fields - Enter geographical location of, Enter telephone number and current, If serving on overseas duty enter, A Rankratecivilian rating B, Note Applies only to personnel, Serving an accompanied overseas, and Serving an unaccompanied overseas with their corresponding information. Make sure to double check that everything has been entered correctly before continuing!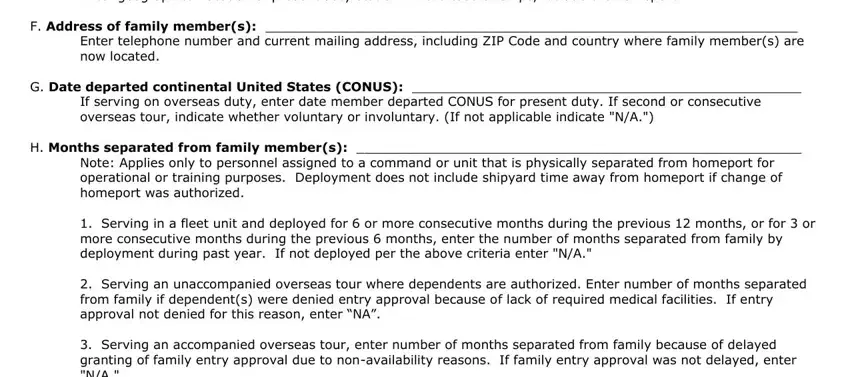 3. Completing A Rankratecivilian rating B, Serving an Augmentation billet to, Enter DateTimeGroup Transfer Code, Enter date member will detach, and In the case of ships include the is essential for the next step, make sure to fill them out in their entirety. Don't miss any details!

Many people often get some points wrong while filling out Enter DateTimeGroup Transfer Code in this part. You need to re-examine what you enter right here.
4. This next section requires some additional information. Ensure you complete all the necessary fields - Best estimate as to when the, Indicate preference for civilian, Indicate acceptability of civilian, Advise status of appropriate, State whether member desires, L Estimated date of arrival at new, and NOTE If member must extend for - to proceed further in your process!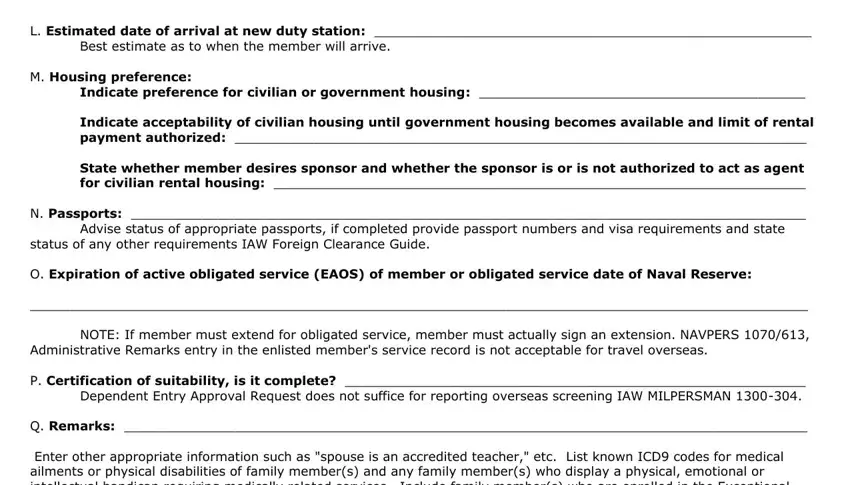 Step 3: When you have reviewed the details in the fields, simply click "Done" to complete your form. Right after setting up a7-day free trial account here, you will be able to download dependent entry approval japan or email it immediately. The form will also be easily accessible via your personal cabinet with your every single edit. Here at FormsPal, we do our utmost to be sure that all of your details are maintained protected.