Handling PDF forms online is always easy using our PDF tool. You can fill out sc dhec 2701 here effortlessly. Our editor is constantly evolving to present the best user experience possible, and that is because of our resolve for constant enhancement and listening closely to comments from customers. Here is what you would have to do to get going:
Step 1: Click on the "Get Form" button above on this page to get into our tool.
Step 2: The tool helps you modify your PDF form in many different ways. Modify it by writing customized text, correct what's already in the PDF, and add a signature - all within the reach of a few mouse clicks!
This form will require some specific information; to ensure consistency, you need to pay attention to the next suggestions:
1. You have to fill out the sc dhec 2701 accurately, hence be careful when working with the parts containing all these fields: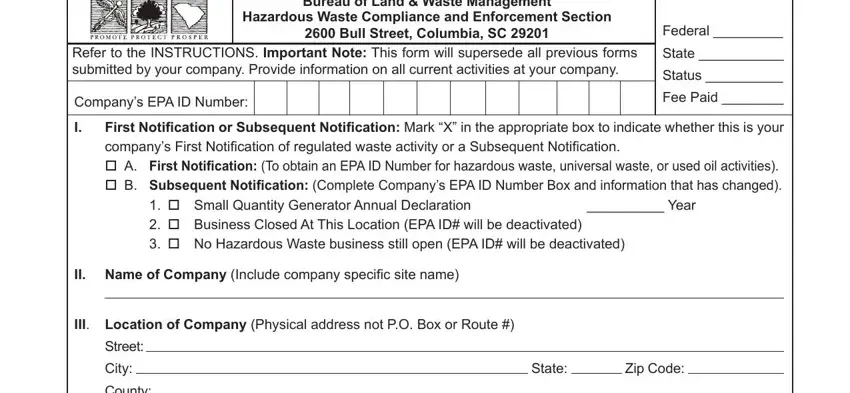 2. After this section is completed, go on to enter the suitable information in all these: County, IV Land Type Private County, V North American Industry, VI Companys Mailing Address, Street, City, State, Zip Code, VII Companys Contact Person Person, First, Last, Title, Street, Email, and VIII Name of Companys Legal Owner.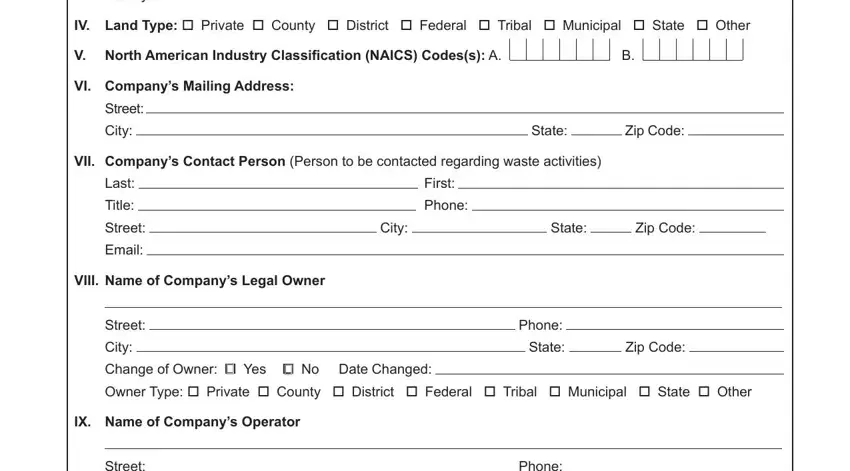 3. The third step is usually simple - fill in all the empty fields in IX Name of Companys Operator, Street, Phone, City Change of Operator Yes No, Date Changed, Zip Code, State, and DHEC in order to complete this part.

4. Filling out X Type of Regulated Waste Activity, appropriate boxes Refer to, Companys EPA ID Number, A Hazardous Waste Activity, Generator choose only one of the, a LQG Greater than kgmo lbs b, In addition indicate other, Tanks Containers Drip Pads, Transporter of Hazardous Waste, Treater Storer or DIsposer of, see instructions Onsite Facility, Recycler of Hazardous Waste at, Exempt Boiler andor Industrial, and a Small Quantity Onsite Burner is vital in the next step - make certain that you take the time and take a close look at every single blank area!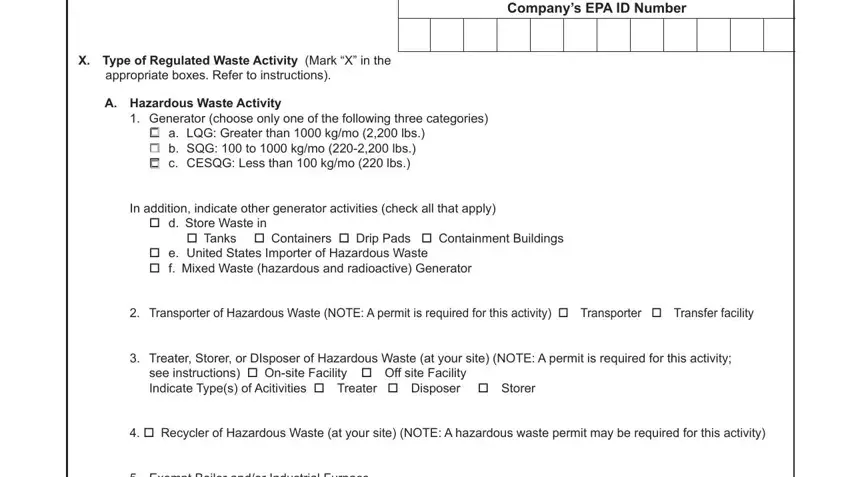 5. The final section to finalize this document is critical. Make sure that you fill out the mandatory form fields, and this includes Exempt Boiler andor Industrial, a Small Quantity Onsite Burner, Receives Hazardous Waste from, B Universal Waste Activities, Large Quantity Handler of, universal waste generated andor, Destination Facility of, C Used Oil Activities a, Used Oil Transporter Indicate, and b Transfer Facility Used Oil, before using the document. Neglecting to do it might produce an unfinished and possibly invalid document!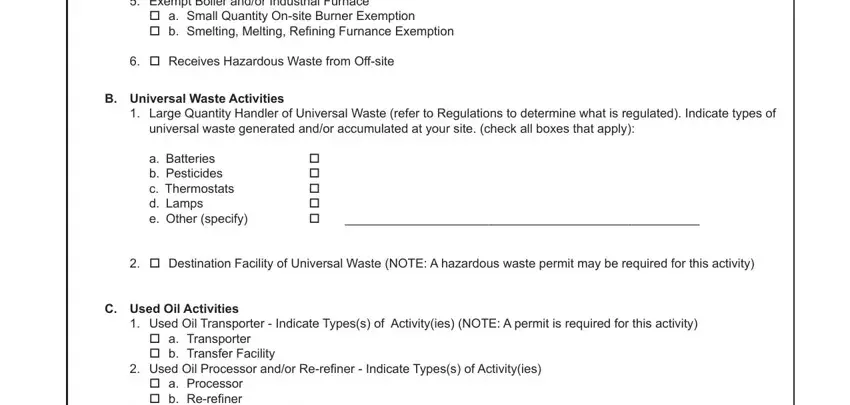 Regarding Receives Hazardous Waste from and universal waste generated andor, ensure that you get them right in this section. Both of these are the most significant ones in the document.
Step 3: Just after taking one more look at your entries, click "Done" and you're good to go! Sign up with us today and instantly get access to sc dhec 2701, available for download. Every single modification you make is handily kept , allowing you to modify the pdf at a later stage as needed. FormsPal guarantees your data privacy via a secure method that in no way saves or shares any type of private information typed in. Feel safe knowing your documents are kept protected any time you use our tools!