It shouldn't be a challenge to create dhs request michigan form making use of our PDF editor. Here's how you can easily develop your template.
Step 1: Select the orange button "Get Form Here" on the following webpage.
Step 2: You will discover all of the options that it's possible to undertake on the file when you have accessed the dhs request michigan form editing page.
The following areas are included in the PDF file you will be filling out.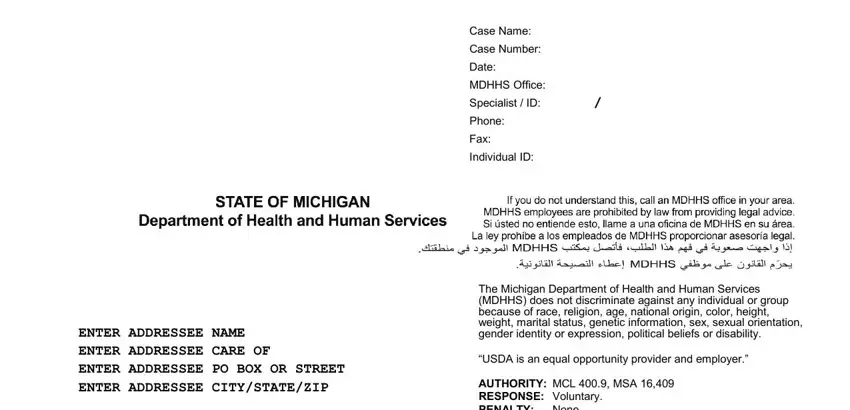 Enter the required details in the space ENTER ADDRESSEE NAME, ENTER ADDRESSEE CARE OF, ENTER ADDRESSEE PO BOX OR STREET, ENTER ADDRESSEE CITY/STATE/ZIP, The Michigan Department of Health, INSTRUCTIONS: Complete items 1, REQUEST FOR HEARING, Program(s) in Dispute, and Date Received in MDHHS If you do.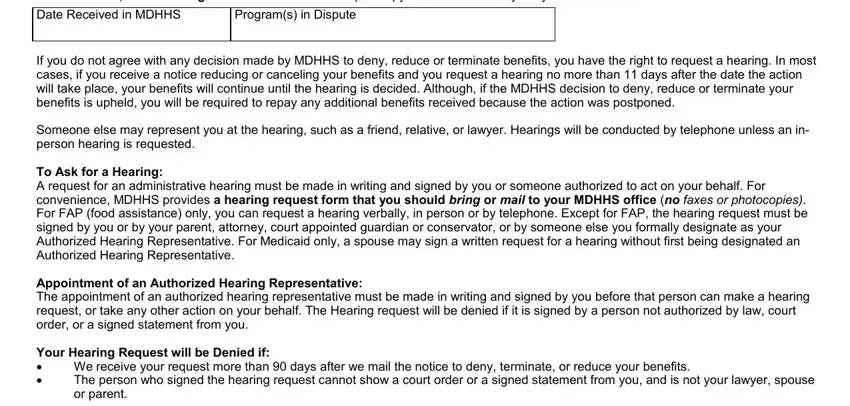 Mention the crucial particulars in Case Name, Case Number, Specialist, are challenging, MA (Medical), CDC (Child Care), Other, Denied, Denied, Denied, Denied, Closed, Closed, Closed, Closed, Amount, FAP (Food), Denied, Closed, Amount, Amount, SER (Emergency Relief), Denied, Closed, Amount, Amount, SDA (Cash), Denied, Closed, Amount, Amount, I request a hearing before an, Name of County, and County field.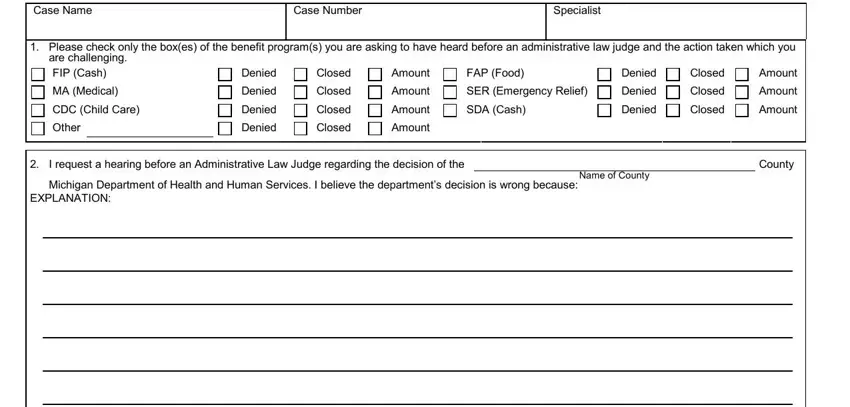 As part of section If necessary for participation at, and Please identify the disability or, indicate the rights and obligations.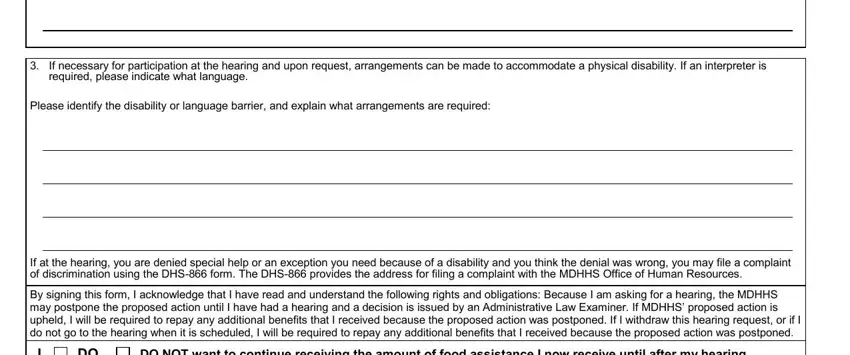 Review the sections THIS SECTION TO BE COMPLETED ONLY, El Michigan Department of Health, and DHS-18 (Rev and thereafter fill them in.

Step 3: In case you are done, select the "Done" button to export the PDF file.
Step 4: Ensure you remain away from possible problems by having a minimum of 2 duplicates of the document.