south carolina due diligence addendum can be filled out online very easily. Just make use of FormsPal PDF editing tool to complete the job right away. FormsPal expert team is relentlessly endeavoring to develop the editor and enable it to be much faster for users with its extensive features. Take your experience to another level with constantly improving and fantastic opportunities available today! If you are looking to get going, here's what it will take:
Step 1: Click the "Get Form" button in the top section of this webpage to get into our editor.
Step 2: Once you open the editor, you'll see the document all set to be completed. Besides filling out various blanks, it's also possible to perform other sorts of actions with the form, particularly adding custom textual content, changing the original text, adding graphics, putting your signature on the PDF, and a lot more.
This PDF doc will require you to enter specific details; in order to ensure consistency, please be sure to consider the suggestions down below:
1. The south carolina due diligence addendum will require specific details to be typed in. Be sure that the following fields are filled out: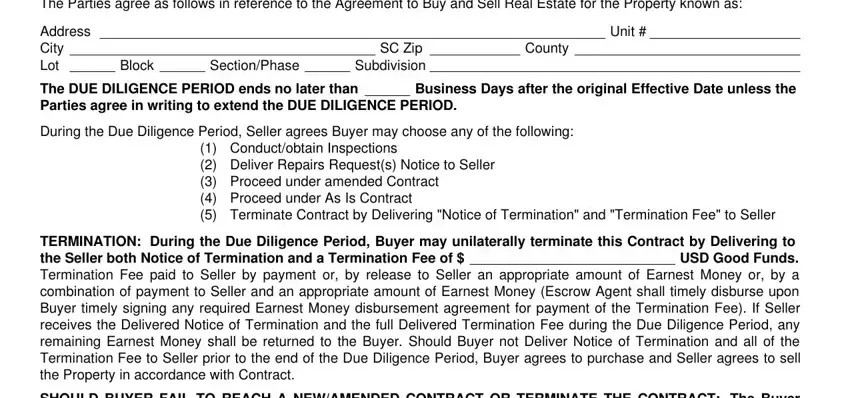 2. Now that the last array of fields is finished, it's time to add the necessary details in IN WITNESS WHEREOF this Contract, BUYER, WITNESS, BUYER, WITNESS, SELLER, WITNESS, SELLER, WITNESS, Date, Date, Date, Date, Date, and Date so that you can go to the 3rd part.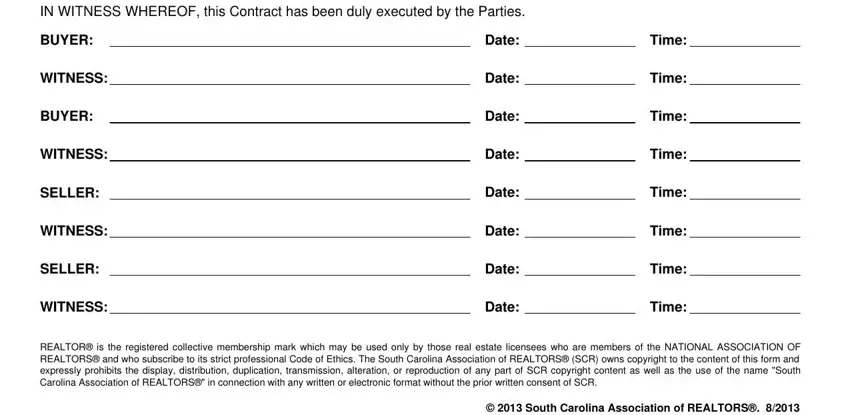 3. This next step will be focused on BUYER, BUYER, SELLER, SELLER HAVE READ THIS PAGE, FORM PAGE of, United Country Joe Williams Assoc, Produced with zipForm by zipLogix, Phone, Fax, and Untitled - type in all of these blanks.

Be extremely mindful while filling out Fax and SELLER HAVE READ THIS PAGE, since this is the part in which many people make a few mistakes.
Step 3: Spell-check the details you've entered into the blanks and then hit the "Done" button. Join FormsPal today and instantly get access to south carolina due diligence addendum, available for download. All alterations made by you are kept , enabling you to customize the file at a later stage when required. At FormsPal, we aim to make certain that your details are stored secure.