This PDF editor was built to be as simple as it can be. If you comply with the following steps, the process of preparing the va 14 file is going to be simple and easy.
Step 1: Press the orange "Get Form Now" button on the following webpage.
Step 2: The document editing page is currently available. Include information or modify present content.
For each segment, prepare the details demanded by the program.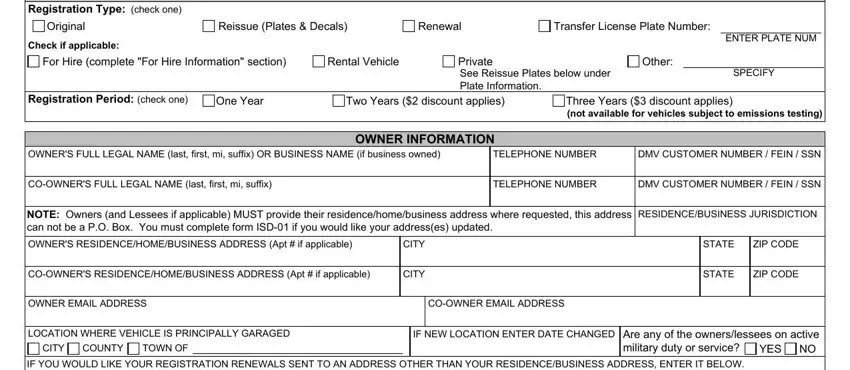 Enter the requested details in CO, OWNER, 'S RESIDENCE, HOME, BUSINESS CITY, STATE, ZIP CODE, OWNER EMAIL ADDRESS, CO, OWNER EMAIL ADDRESS, LOCATION WHERE VEHICLE IS, IF NEW LOCATION ENTER DATE CHANGED, CITY, COUNTY, TOWN OF, military duty or service, YES, IF YOU WOULD LIKE YOUR, REGISTRATION MAILING ADDRESS -, CITY, STATE, ZIP CODE, LESSEE, 'S FULL LEGAL NAME (last, TELEPHONE NUMBER, D, MV CUSTOMER NUMBER / FEIN / S, SN LEASE INFORMATION (if applicable), LESSEE, 'S RESIDENCE, BUSINESS ADDRESS, CITY, STATE, ZIP CODE, YEAR, MAKE, VEHICLE INFORMATION, MODEL, BODY TYPE, VEHICLE IDENTIFICATION NUMBER V, IN TITLE NUMBER, CURRENT PLATE NUMBER, NUMBER OF AXLES, EMPTY WEIGHT, G, VW, R WEIGHT SINGLE VEHICLE, GROSS WEIGHT (truck & attached, and GC, WR COMBINED WEIGHT (truck & part.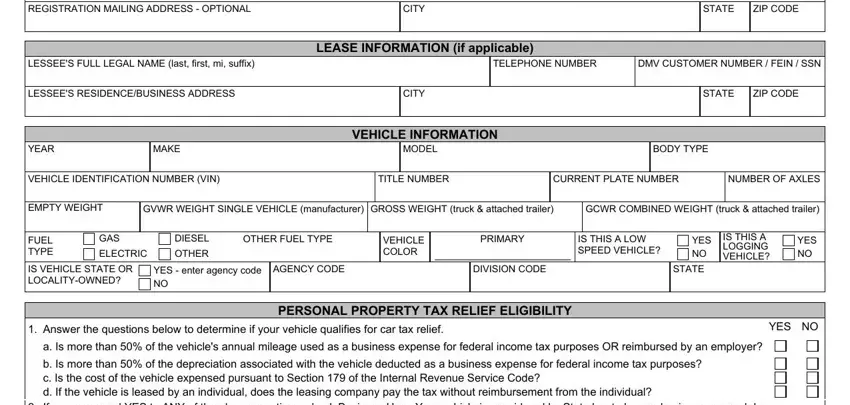 You can be expected to note the details to let the program fill in the area EMPTY WEIGHT, G, VW, R WEIGHT SINGLE VEHICLE, GROSS WEIGHT (truck & attached, GC, WR COMBINED WEIGHT (truck &, FUEL TYPE, GAS, ELECTRIC, DIESEL, OTHER, OTHER FUEL TYPE, VEHICLE COLOR, PRIMARY, IS THIS A LOW SPEED VEHICLE, YES IS THIS A LOGGING NO VEHICLE, YES NO, IS VEHICLE STATE OR LOCALITY, OWNED YES - enter agency code NO, AGENCY CODE, DIVISION CODE, STATE, PERSONAL PROPERTY TAX RELIEF, YES NO, NOT qualify for Personal Property, BUSINESS USE, PERSONAL USE -- Is this vehicle, and YES.

The space New Plates: (check one), Standard - (Virginia is for Lovers), Mountain to Seashore, Heritage Dogwood, Cardinal Great Seal, Special Plate (enter type), Permanent Plate -, may be issued to trailers, Farm Plate - You must ALSO, Trailer Permanent - one, time fee, Regular size plate, Small size plate (trailer gross, For Hire Plate (enter description):, (examples: Taxi, Reissue Plates, Decals, check one), Plates, Plates and Decals (enter, Decals (enter month, year Lost, Mutilated, Destroyed Illegible, Confiscated, I want a new plate, PERSONALIZED LICENSE PLATES: To, 1, st 3, rd 2, nd 4, th and Communication Impairment Indicator is going to be where one can indicate both parties, ' rights and responsibilities.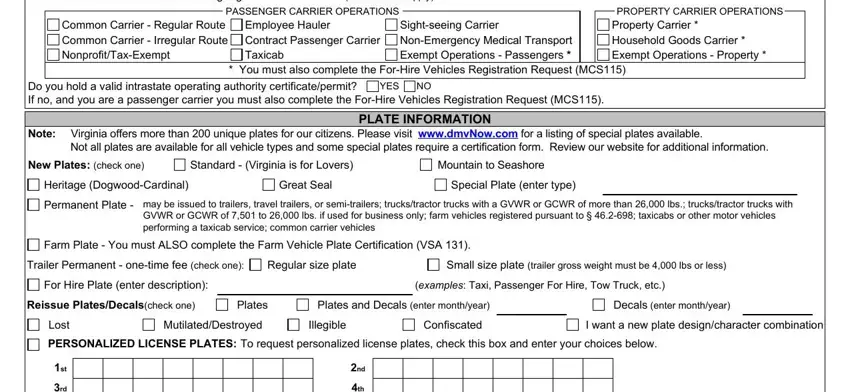 Finish by reviewing all of these areas and submitting the required particulars: I, We certify that (check one):, This vehicle is insured by a, NAME OF INSURANCE COMPANY, This vehicle is not insured;, NOTICE, PRIVACY NOTICE: The information, POWER OF ATTORNEY FOR, CERTIFICATION, and I, We certify and affirm that all.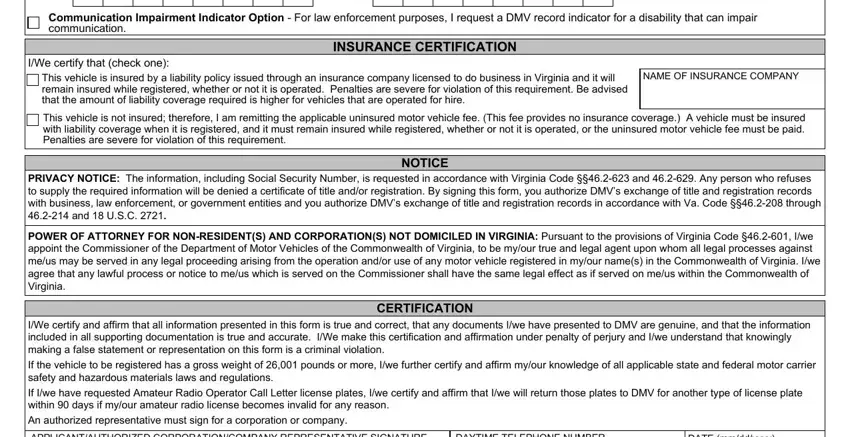 Step 3: If you are done, choose the "Done" button to upload the PDF form.
Step 4: To stay away from potential future risks, be certain to get as much as two or three duplicates of every single file.