It's a breeze to complete the dmv mechanics lien. Our editor was built to be let you fill in any PDF swiftly. These are the actions to take:
Step 1: On the page, click the orange "Get form now" button.
Step 2: You can now manage the dmv mechanics lien. This multifunctional toolbar helps you include, delete, customize, and highlight content or perhaps perform other sorts of commands.
All of these areas are included in the PDF document you'll be creating.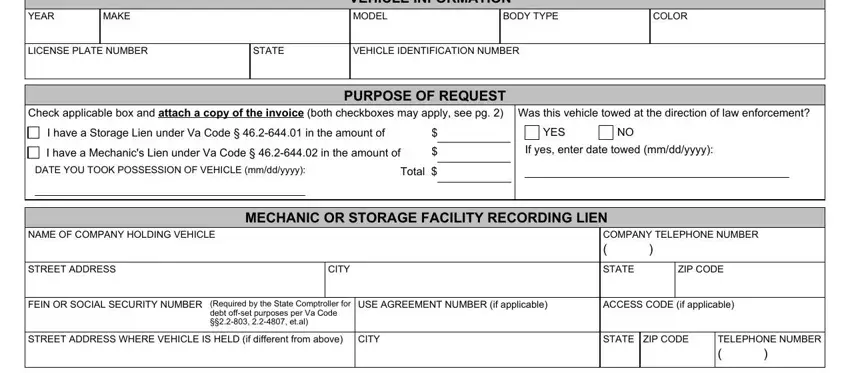 Jot down the information in the This is to request that DMV, AUTHORIZED MECHANIC OR STORAGE, SIGNATURE, AUTHORIZED TITLE SERVICE, SIGNATURE, DATE(mm/dd/yyyy), DATE(mm/dd/yyyy), DMV recognized the NADA Official, NCIC Checked: is vehicle reported, YES, NADA Trade in Value: (Check, $12, $25, CSR STAMP, and CSR STAMP field.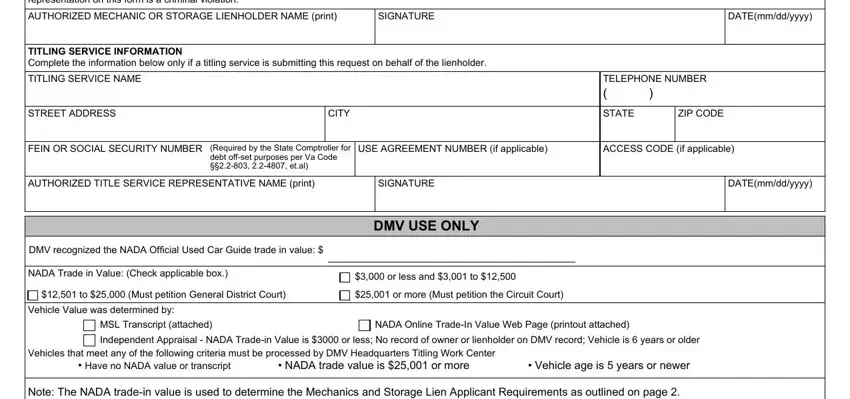 In the segment discussing PURCHASER'S NAME, VEHICLE SALE PRICE $, PURCHASER INFORMATION, VEHICLE SALE DATE (mm/dd/yyyy), VEHICLE YEAR, VEHICLE MAKE, VEHICLE IDENTIFICATION NUMBER (VIN), Check this box if the vehicle was, DATE VEHICLE WAS TOWED (Should be, VEHICLE QUALIFICATION, Check this box if the vehicle, NOTE: The mechanic or storage, • No owner or any other lienholder, COMPLIANCE INFORMATION, and As the Mechanic or Storage, you have to put in writing some essential data.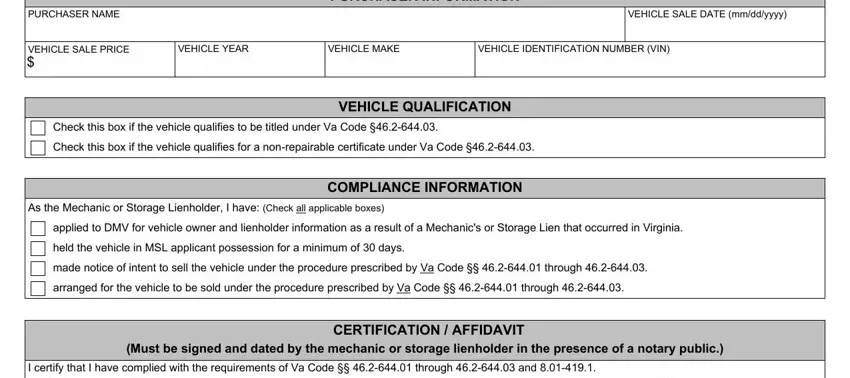 The MECHANIC OR STORAGE LIENHOLDER, MECHANIC OR STORAGE LIENHOLDER, DATE (mm/dd/yyyy), Commonwealth of Virginia, NOTARY PUBLIC SEAL, NOTARIZATION (must be completed by, sworn before me on this day of , (MONTH) (YEAR), by in the city or county and state, REGISTRATION NUMBER (6 digits), MY COMMISSION EXPIRES (mm/dd/yyyy), NOTARY PUBLIC NAME, NOTARY PUBLIC SIGNATURE, The vehicle was sold in compliance, and SHERIFF'S AFFIDAVIT field is going to be place to include the rights and responsibilities of all sides.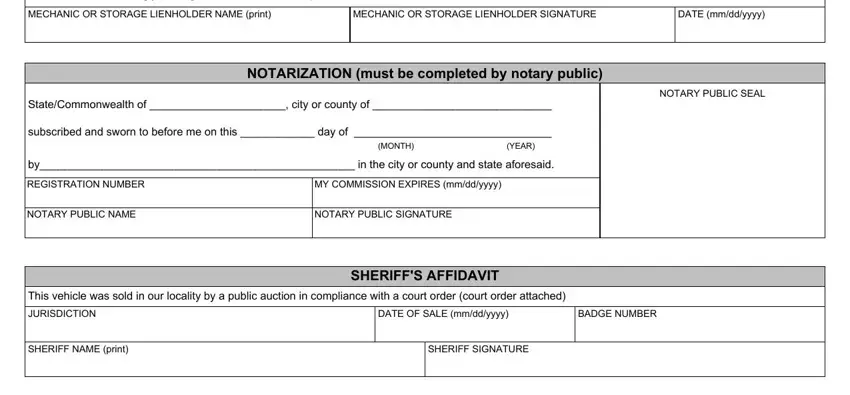 End by checking the following sections and filling them out accordingly: CSR REMARKS:, Sheriff must complete the VSA 41, DOCUMENTS WITNESSED BY NAME (print), WITNESS SIGNATURE, DATE (mm/dd/yyyy), VEHICLE IDENTIFICATION NUMBER (VIN), ODOMETER READING, YEAR (yyyy), MAKE, MODEL, BODY TYPE, COLOR, VIN IS: (Check all applicable, LICENSE PLATE NUMBER, and STATE.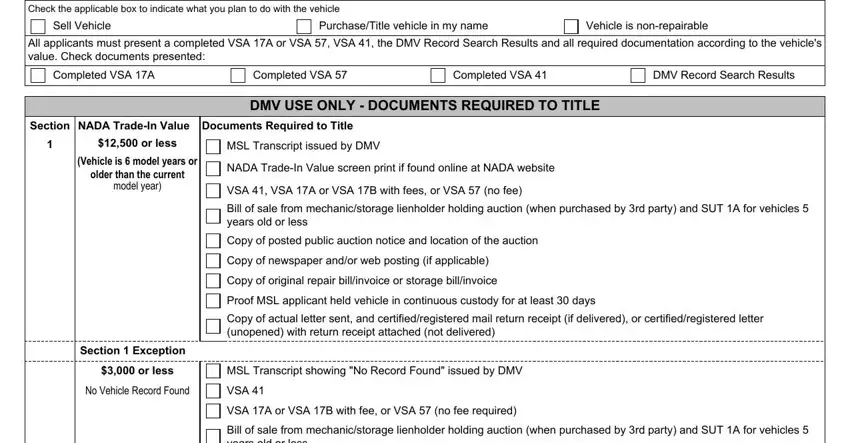 Step 3: Select the "Done" button. Now you can upload your PDF document to your gadget. In addition, you can easily send it by means of email.
Step 4: You should generate as many duplicates of the form as you can to avoid potential problems.