application for electrical permit form can be filled in very easily. Simply try FormsPal PDF editor to complete the task fast. The editor is consistently maintained by our team, acquiring cool functions and growing to be even more versatile. Starting is simple! Everything you should do is stick to the following basic steps down below:
Step 1: Click the "Get Form" button above. It'll open up our editor so that you can start completing your form.
Step 2: The tool lets you change your PDF file in many different ways. Improve it by writing personalized text, correct original content, and place in a signature - all when it's needed!
Completing this document requires focus on details. Make certain all mandatory areas are completed accurately.
1. The application for electrical permit form involves specific information to be entered. Ensure the next blank fields are completed: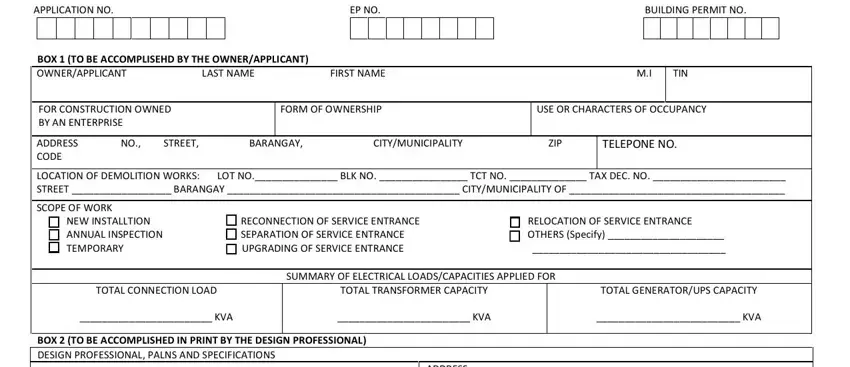 2. The third part is to complete the following blanks: BOX TO BE ACCOMPLISHED IN PRINT, DATE ISSUED, ISSUED AT, VALIDITY, ADDRESS, PRC NO, PTR NO, TIN, Date, Signed and Sealed Over Printed Name, PRC NO PTR NO ISSUED AT ADDRESS, Signature Over Printed Name, Date, Date Issued, and Place Issued.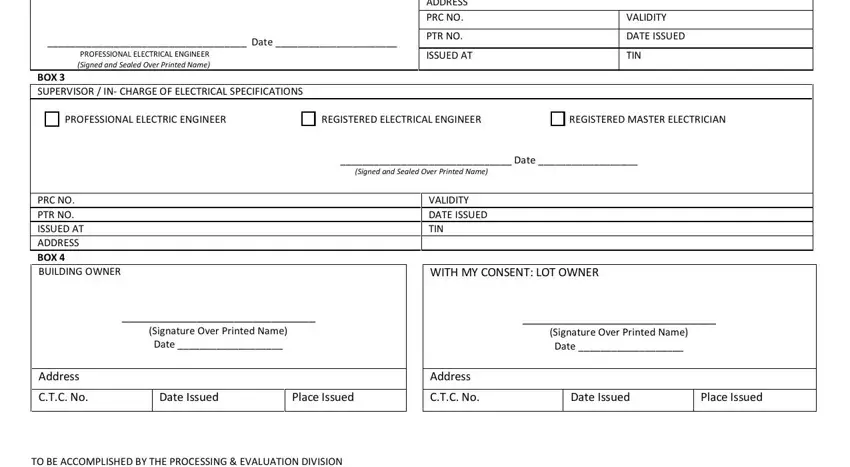 3. The following part is about BOX RECIEVED BY, FIVE SETS OF ELECTRICAL DOCUMENTS, DATE, ELECTRICAL PLANS AND, BOX, ELECTRICAL OTHERS Specify, BOX ACTION TAKEN PERMIT IS HEREBY, PROGRESS FLOW, OUT, DATE, TIME, DATE, TIME, PROCESSED BY, and ELECTRICAL ENGINEER Signature Over - fill in all these blanks.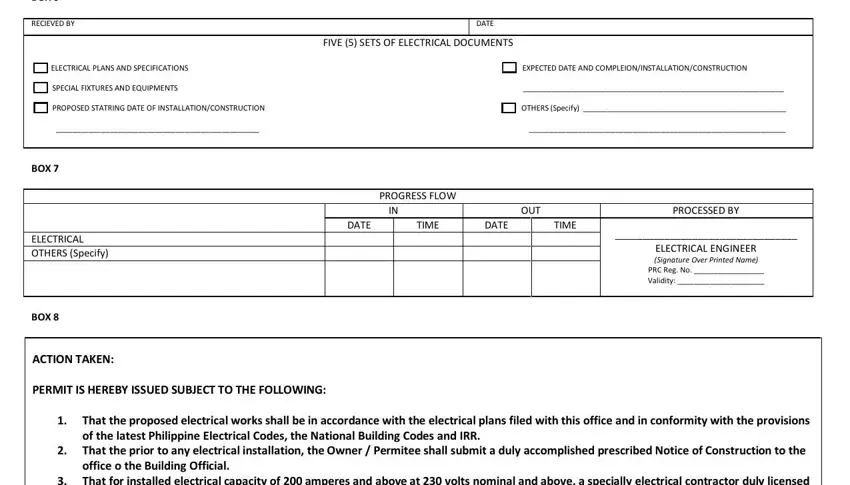 Be very attentive when filling out TIME and BOX, because this is the section where many people make errors.
4. To go ahead, this fourth section will require filling in a couple of blank fields. These include RECOMMENDED APPROVAL PERMIT ISSUED, HON STRIKE B REVILLA, CITY MAYOR, and Date, which you'll find vital to carrying on with this process.

Step 3: Prior to moving forward, you should make sure that all blank fields were filled out the proper way. The moment you believe it is all good, press "Done." Sign up with us today and easily use application for electrical permit form, ready for download. All changes made by you are preserved , making it possible to modify the document at a later point when necessary. FormsPal is invested in the privacy of our users; we make certain that all personal information used in our tool is secure.