In case you need to fill out transfer of sim card ownership etisalat form, you won't need to install any sort of applications - simply try our PDF tool. To make our tool better and less complicated to utilize, we constantly develop new features, with our users' suggestions in mind. With a few simple steps, it is possible to start your PDF journey:
Step 1: Simply press the "Get Form Button" in the top section of this site to see our form editor. There you will find everything that is necessary to work with your document.
Step 2: Using our advanced PDF tool, you'll be able to do more than just fill out blank form fields. Express yourself and make your documents seem sublime with custom textual content incorporated, or modify the original content to excellence - all backed up by an ability to insert your own images and sign the file off.
This PDF form will involve some specific information; in order to ensure accuracy and reliability, remember to take heed of the recommendations below:
1. While completing the transfer of sim card ownership etisalat form, make sure to include all of the necessary blank fields in their relevant section. It will help hasten the work, making it possible for your details to be processed efficiently and accurately.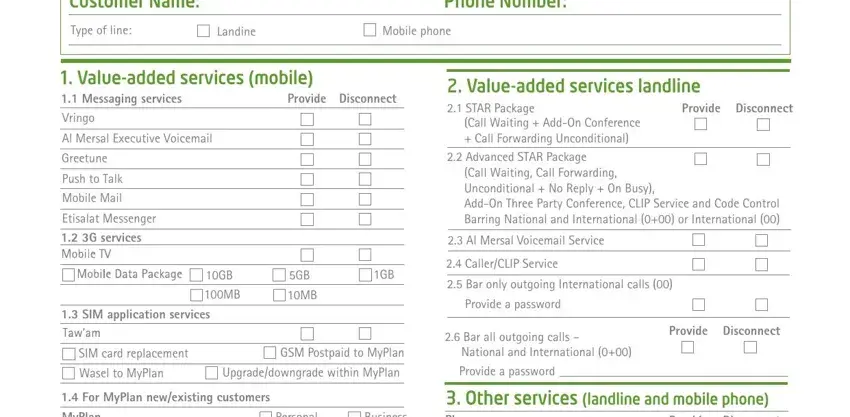 2. Once your current task is complete, take the next step – fill out all of these fields - Personal, Business, Plan selected With device, MyPlan, Basic Local Basic International, Extra, Ultra If device selected, MakeModel, IMEI, SMS add on, SMS, SMS, SMS, SMS, and IDD add on with their corresponding information. Make sure to double check that everything has been entered correctly before continuing!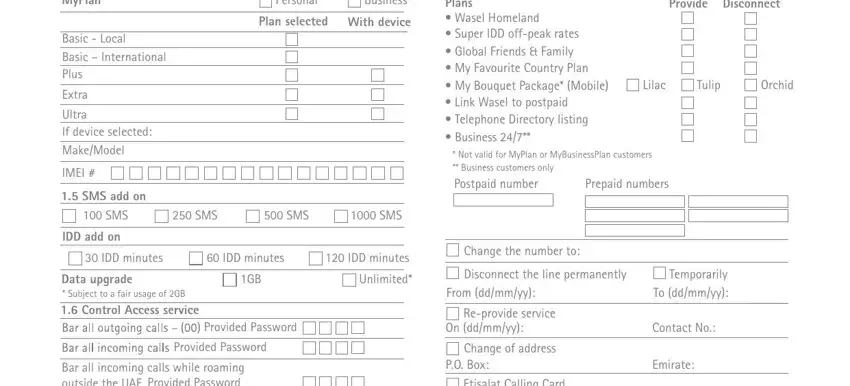 3. Completing Bar all incoming calls while, Provided Password, International roaming postpaid, Other please specify, Etisalat Calling Card, Provide Disconnect, Provide name to appear on the, Replacement, Change No announcement New No Other, for, and months is essential for the next step, make sure to fill them out in their entirety. Don't miss any details!
As to Replacement and Other please specify, ensure that you get them right in this current part. Those two could be the most important ones in this file.
4. Your next section will require your information in the subsequent places: Request for refund or credit I, For, Kindly arrange to refund the, Cheque Crediting my bank account, Account name, Bank, Branch, City, Credit amount to my phone number, Contact No, Language, Arabic, English, Format, and eBill. Just remember to give all requested details to go onward.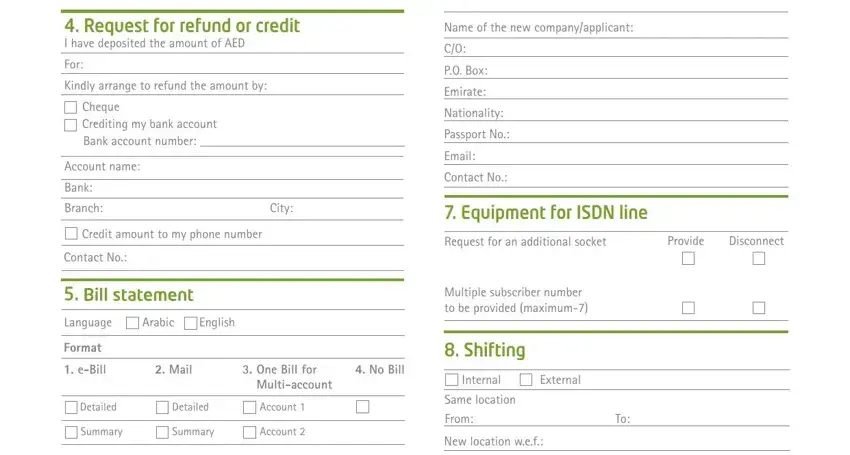 5. The final point to conclude this form is critical. Make certain you fill in the appropriate fields, for instance AddressEmail, Transfer subscribership, Street, Building name, FlatFloor No, I have no objection to transfer, Date required ddmmyy, I agree to be bound by the, Date of disconnection ddmmyy, Contact No, New customers signature, If transferee has an existing, Your authorisation IWe have read, If transferee DOES NOT have an, and Signature, prior to submitting. Or else, it can lead to an unfinished and possibly nonvalid document!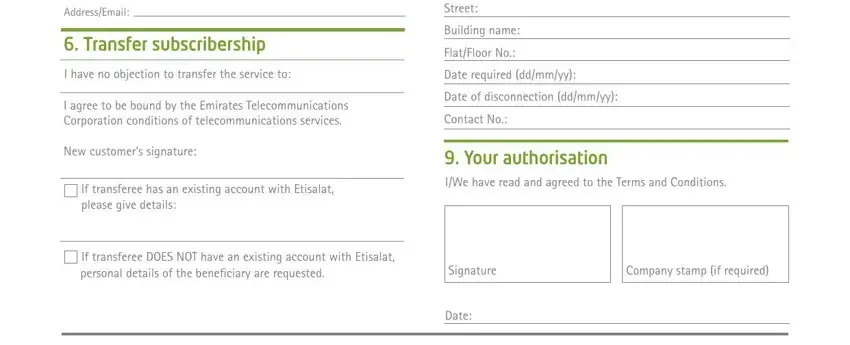 Step 3: Prior to moving on, it's a good idea to ensure that blanks have been filled out right. As soon as you confirm that it is correct, click "Done." Right after creating afree trial account here, you'll be able to download transfer of sim card ownership etisalat form or send it via email at once. The PDF file will also be readily accessible in your personal account with your edits. FormsPal ensures your information confidentiality by having a protected method that in no way records or distributes any sensitive information involved in the process. Be assured knowing your files are kept confidential any time you use our service!