There's nothing complicated about preparing the 8130 6 form when you launch our PDF tool. By taking these easy steps, you will have the ready document in the minimum time frame you can.
Step 1: On this page, click the orange "Get form now" button.
Step 2: The document editing page is currently open. Include information or edit current content.
The next parts will compose the PDF file that you'll be filling in: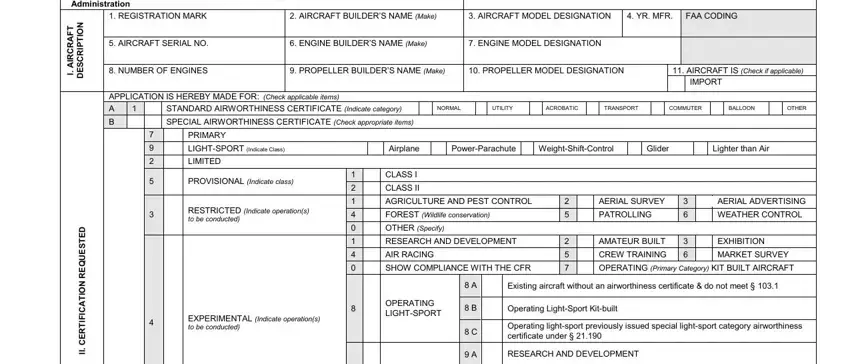 Type in the essential information in the MULTIPLE AIR, WORTHINESS CERTIFICATE, CUSTOMER DEMONSTRATION FLIGHTS, NAME, IF DEALER, ADDRESS, AIRCRAFT LISTING (Give page, N O T A C F T R E C S C, CHECK IF RECORDS IN COMPLIANCE, TOTAL AIRFRAME HOURS, AIR, WORTHINESS DIRECTIVES (Check if, SUPPLEMENTAL TYPE CERTIFICATE, EXPERIMENTAL ONLY (Enter hours, I D, accordance with Title 49 of the, and DATE OF APPLICATION box.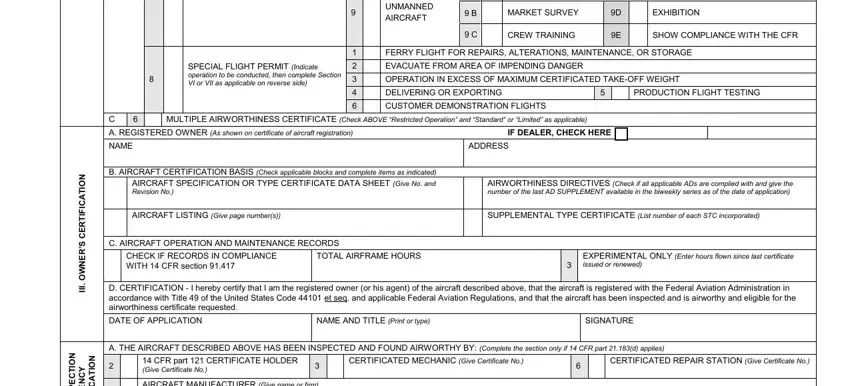 Note down the obligatory particulars when you are on the NAM, D, DRESS PRODUCTION CERTIFICATE (Give, TYPE CERTIFICATE, OTHER:, DATE OF APPLICATION, REGISTERED OWNER, BUILDER (Make), SERIAL NUMBER, NAME AND TITLE (Print or type), SIGNATURE, AD, DRESS MODEL, REGISTRATION MARK, and CUSTOMER DEMONSTRATION FLIGHTS part.

The area T S E T T H G L F N O T C U D O R, DATE, NAME AND TITLE (Print or type), SIGNATURE, As Applicable, (Attach when required), and ) y S l n S N o E O e N s T u H A should be where you insert both parties, ' rights and obligations.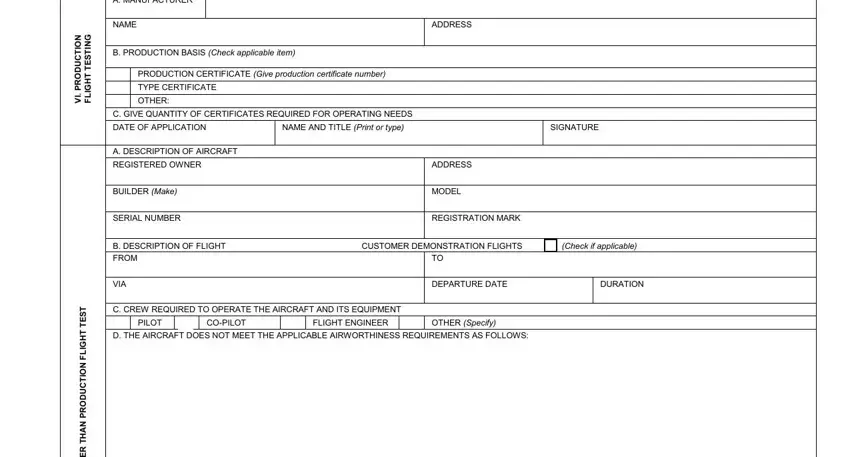 Finalize by reviewing all of these areas and completing the suitable information: rth, in, ess Certificate Is, sued in Accordance With, 14 CFR Section, CAR, (Ori, g, in, al attached), 14 CFR Section, (Copy attached), ) y S l n S N o E O e N s T u H A, FAA Form 8130, 6 06, 20 SUPERSEDES, and Page 2 of 2.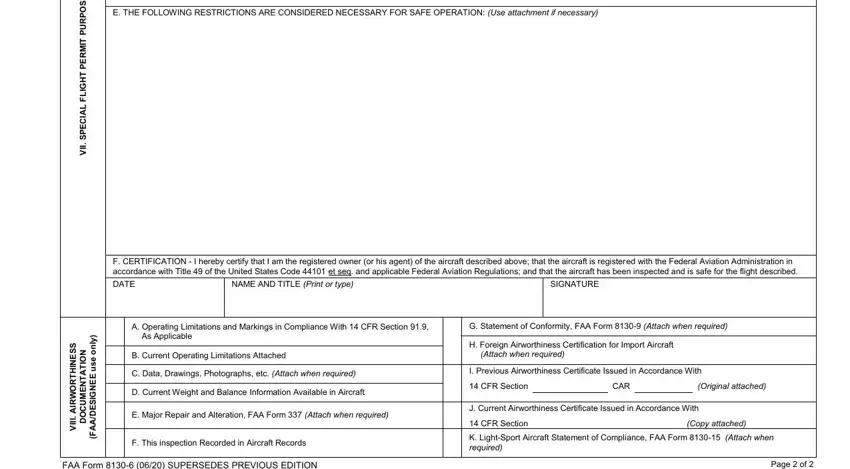 Step 3: Click the "Done" button. Now it's possible to upload the PDF form to your device. Additionally, you can forward it through electronic mail.
Step 4: Get a duplicate of every single file. It should save you some time and help you avoid difficulties later on. Also, the information you have isn't going to be shared or checked by us.