We were developing our PDF editor with the idea of allowing it to be as effortless to use as it can be. This is the reason the entire process of filling in the air rappel irt will be easy use the following actions:
Step 1: Select the button "Get form here" to get into it.
Step 2: Once you've entered your air rappel irt edit page, you'll discover all options it is possible to use with regards to your document within the top menu.
The next segments will make up your PDF file: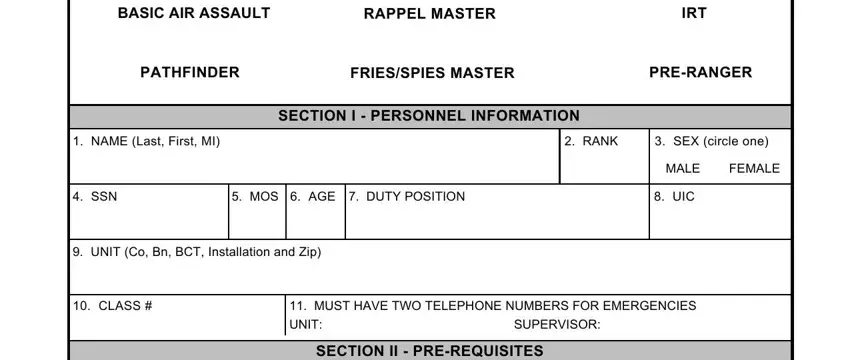 Type in the necessary particulars in DATEYYYYMMDD, TLSL, SOLDIER, cCOMPLETEMILEFOOTMARCHwithindays, dCOMPLETEOBSTACLECOURSEwithindays, eEQUIPMENTINSPECTIONwithindays, fMONTHRETAINABILITY, gSOLDIERHASASSIGNEDWEAPONIRTonly, circleoneMMM, CHINUPS, mLANDNAVIGATIONCOURSEPreRangeronly, and SECTIONIIIREMARKS section.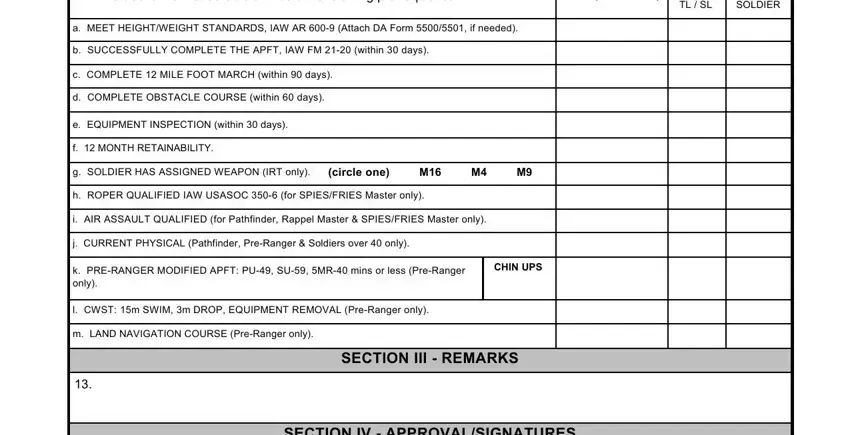 It's essential to provide the essential data in the SUPERVISOR, SUPERVISORSIGNATURE, DATEYYYYMMDD, SECTIONIVAPPROVALSIGNATURES, COMMANDERFIRSTSERGEANT, CDRSGSIGNATURE, DATEYYYYMMDD, FCFORMAUG, FCFORMSEPISOBSOLETE, and Pageof field.

Step 3: Press the "Done" button. Now you can transfer your PDF file to your gadget. As well as that, you may deliver it through email.
Step 4: Be certain to prevent possible troubles by having a minimum of two duplicates of the form.