You are able to prepare how to fd1065 without difficulty with our online tool for PDF editing. Our tool is continually evolving to deliver the best user experience attainable, and that is due to our resolve for continual enhancement and listening closely to customer comments. To start your journey, take these basic steps:
Step 1: First, access the pdf editor by pressing the "Get Form Button" in the top section of this page.
Step 2: This editor grants the capability to modify your PDF document in a variety of ways. Change it with any text, correct existing content, and put in a signature - all readily available!
This PDF will need particular details to be typed in, thus you should definitely take your time to type in what is expected:
1. First of all, when filling out the how to fd1065, beging with the page with the following blank fields: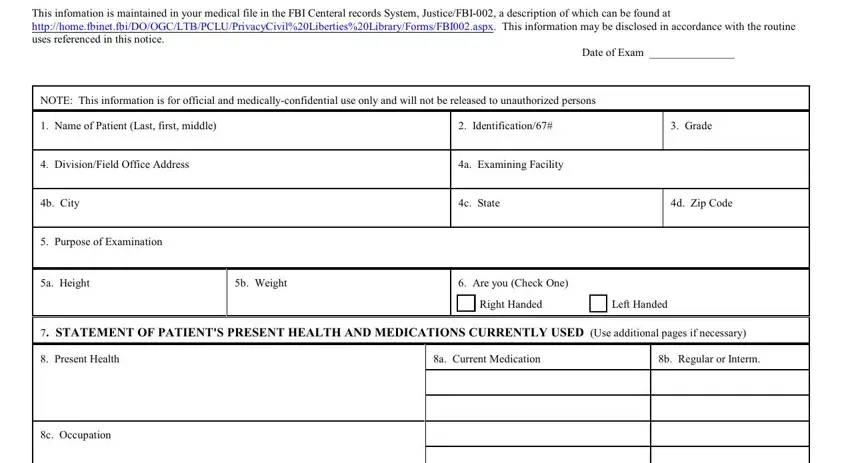 2. Immediately after this part is done, go to enter the applicable information in these - Allergies Include insect, Check Each Item, Yes, Dont Know, Check Each Item, Yes, Dont Know, Check Each Item, Yes, Dont Know, PASTCURRENT MEDICAL HISTORY, Household contact with anyone with, Tuberculosis or positive TB test, Blood in sputum or when coughing, and Excessive bleeding after injury or.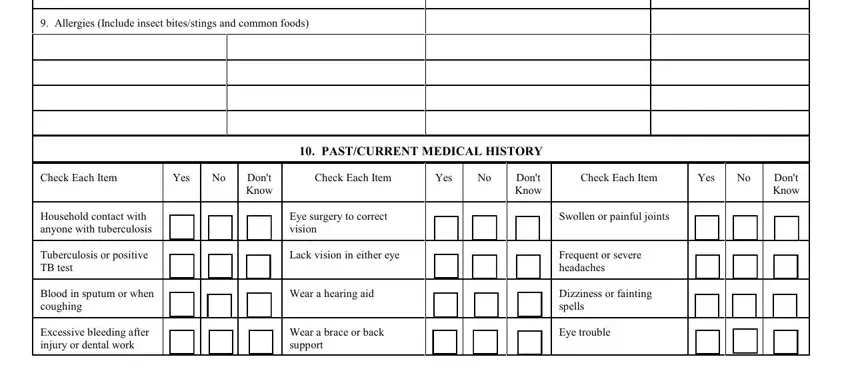 3. The next segment should be quite straightforward, Check Each Item, Yes, Dont Know, Check Each Item, Yes, Dont Know, Check Each Item, Yes, Dont Know, Suicide attempt or plans, Stutter or stammer, Hearing loss, Sleepwalking, Scarlet fever, and Rheumatic fever - all of these empty fields must be filled in here.
4. The next paragraph needs your details in the subsequent parts: Loss of memory or amnesia, Nervous trouble of any sort, Periods of unconsciousness, Xray or other radiation therapy, Chemotheraphy, Asbestos or toxic chemical exposure, Plate pins or rod in any bone, Easy fatigability, Been told to cut down or, Diabetes, Used tobacco, Palpitation or pounding heart, Heart trouble, High or low blood pressure, and Cramps in your legs. Be sure you give all of the needed info to go forward.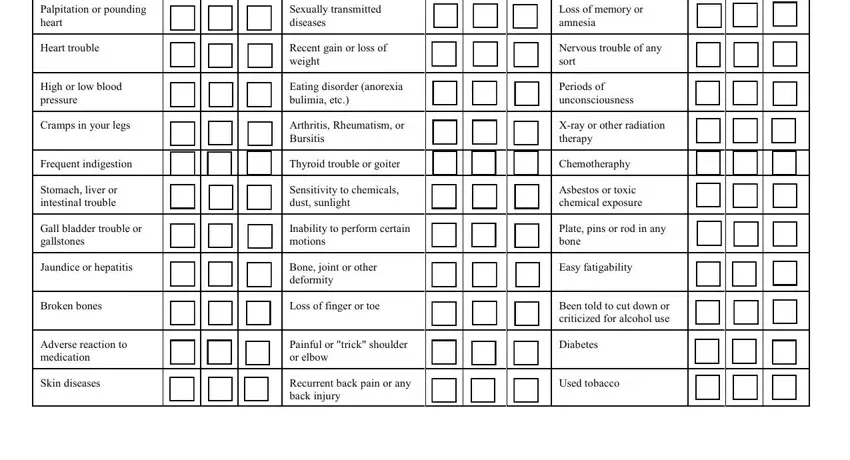 5. The final step to conclude this PDF form is essential. Make sure you fill out the necessary fields, such as Treated for a female disorder, Change in menstrual pattern, Dont Know, Date of Last Menstrual, Period, Date of Last Pap Smear, Date of Last Mammogram, Check Each Item If Yes Explain in, Item, Yes, Have you been treated for a, Have you been denied life, Have you had or have been advised, Have you been a patient in any, and Have you consulted or been, before submitting. Failing to accomplish that can give you an incomplete and probably invalid document!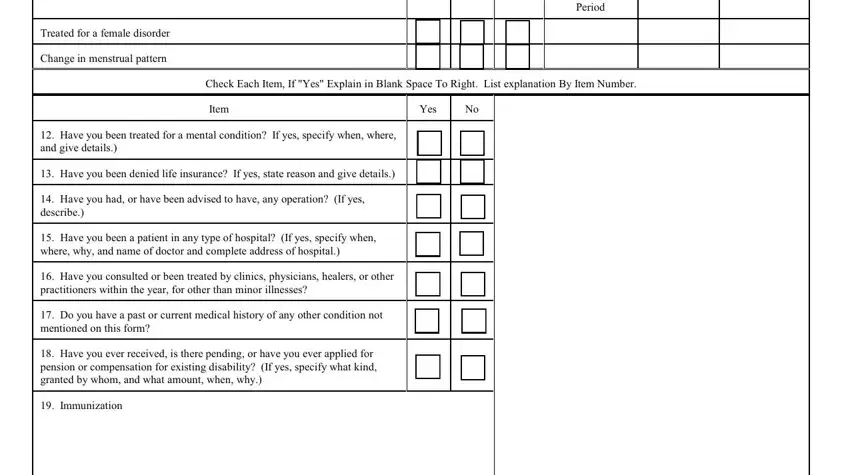 A lot of people generally get some points wrong when completing Have you consulted or been in this area. Be sure to read again everything you type in right here.
Step 3: You should make sure your information is correct and press "Done" to proceed further. Try a free trial plan at FormsPal and acquire direct access to how to fd1065 - with all adjustments saved and available from your FormsPal account. FormsPal is focused on the privacy of all our users; we make sure that all personal data put into our tool remains confidential.