Form Fd 4542A can be filled out without any problem. Simply try FormsPal PDF editing tool to get it done promptly. In order to make our editor better and more convenient to use, we constantly come up with new features, taking into account feedback coming from our users. All it requires is just a few simple steps:
Step 1: Simply hit the "Get Form Button" at the top of this webpage to access our form editing tool. This way, you will find everything that is needed to work with your file.
Step 2: The editor helps you modify your PDF file in various ways. Transform it by adding personalized text, correct what's originally in the PDF, and add a signature - all at your convenience!
This PDF doc will require some specific information; to guarantee accuracy and reliability, remember to take heed of the suggestions further down:
1. While filling out the Form Fd 4542A, be certain to incorporate all of the needed blanks within the corresponding part. This will help hasten the process, allowing your details to be processed quickly and correctly.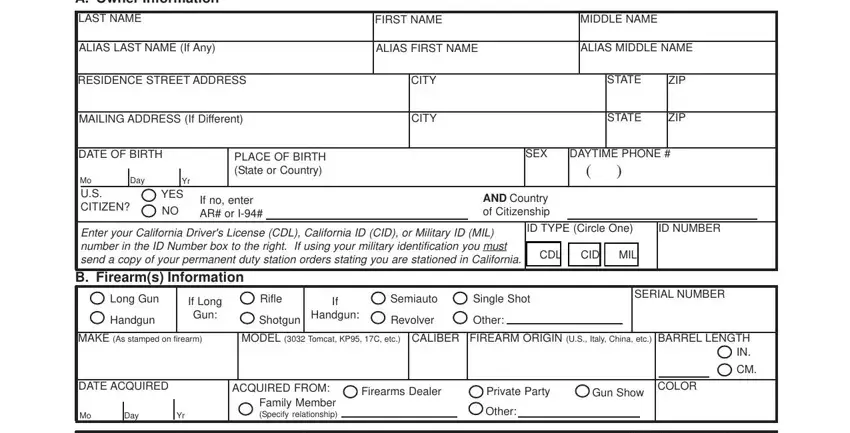 2. Given that the last section is finished, it is time to include the needed details in Long Gun, Handgun, If Long Gun, Rifle, Semiauto, Single Shot, Shotgun, Handgun, Revolver, Other, SERIAL NUMBER, MAKE As stamped on firearm, MODEL Tomcat KP C etc, CALIBER FIREARM ORIGIN US Italy, and DATE ACQUIRED in order to go further.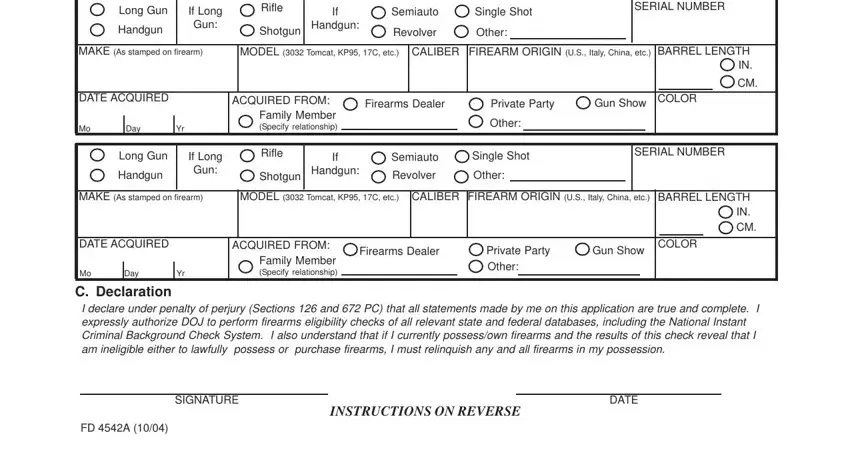 Concerning Revolver and Shotgun, ensure that you take a second look here. These two are considered the most important ones in the document.
Step 3: Always make sure that your information is right and then click "Done" to conclude the project. Grab your Form Fd 4542A when you join for a free trial. Immediately get access to the pdf document inside your FormsPal account, along with any modifications and adjustments being automatically saved! We do not share any information that you use when completing documents at FormsPal.