It is simple to get forms applying our PDF editor. Updating the file for life file is simple should you keep up with the next actions:
Step 1: In order to start, select the orange button "Get Form Now".
Step 2: You can now edit your file for life. You should use the multifunctional toolbar to include, erase, and alter the content of the form.
The next parts are included in the PDF document you will be filling in.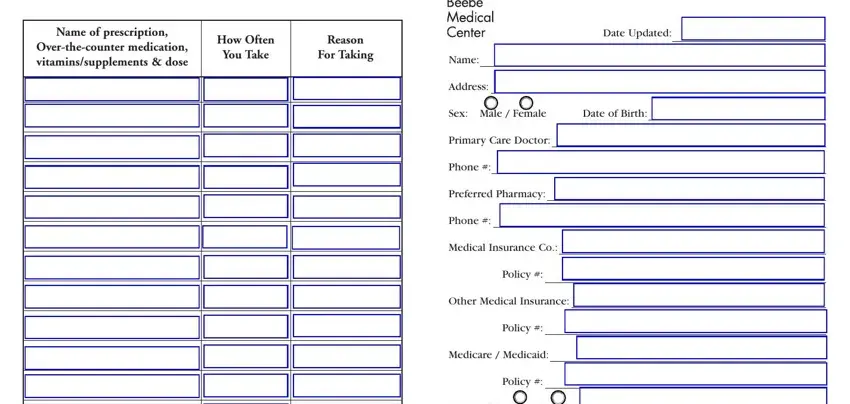 Write the data in Policy #:, Medicare / Medicaid:, Policy #:, Living Will: Yes / No, Health Care Power of Attorney: Yes, EMERGENCY CONTACTS, Name:, Address:, Name:, Phone #:, and Phone #:.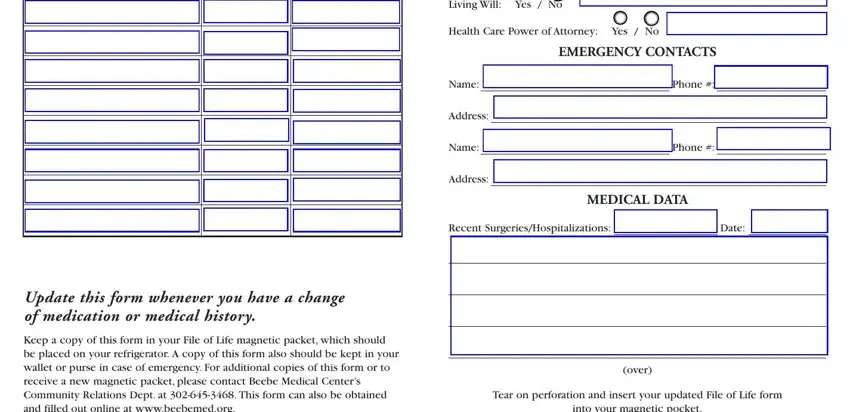 In the Address:, MEDICAL DATA, Recent Surgeries/Hospitalizations:, Date:, Update this form whenever you have, Keep a copy of this form in your, (over), Tear on perforation and insert, and into your magnetic pocket segment, focus on the significant details.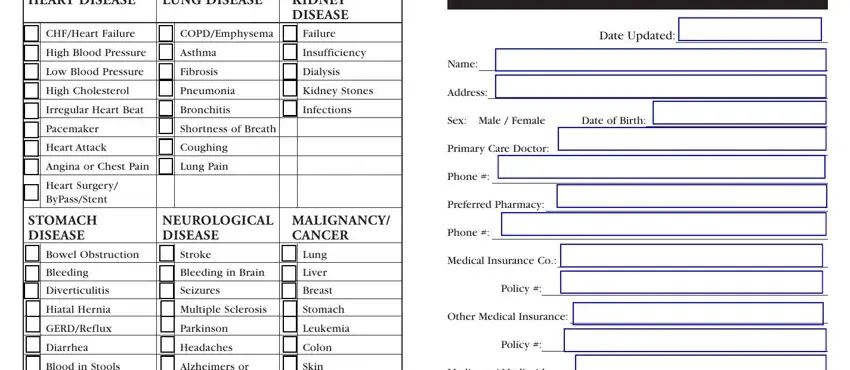 The HEART DISEASE, LUNG DISEASE, KIDNEY DISEASE, CHF/Heart Failure, COPD/Emphysema, Failure, High Blood Pressure, Low Blood Pressure, Asthma, Fibrosis, Insufficiency, Dialysis, High Cholesterol, Pneumonia, Kidney Stones, Irregular Heart Beat, Bronchitis, Infections, Pacemaker, Heart Attack, Shortness of Breath, Coughing, Angina or Chest Pain, Lung Pain, Heart Surgery/ ByPass/Stent, Date Updated:, Name:, Address:, Sex: Male / Female, Date of Birth:, Primary Care Doctor:, Phone #:, Preferred Pharmacy:, STOMACH DISEASE, NEUROLOGICAL MALIGNANCY/ DISEASE, CANCER, and Phone #: section is where each party can insert their rights and responsibilities.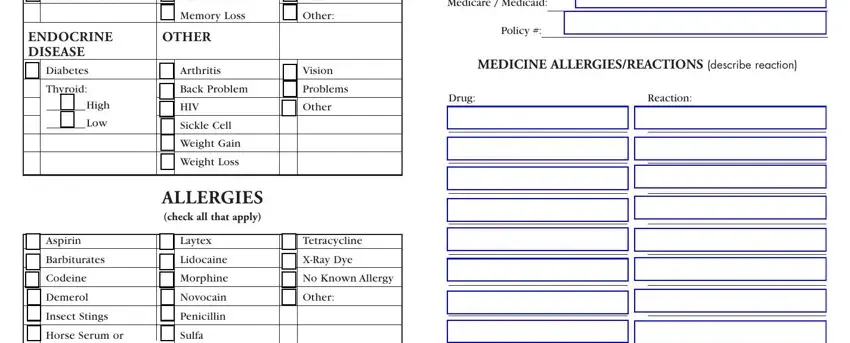 Complete the form by checking the following sections: Drug:, Reaction:, Thyroid:, High, Low, Aspirin, Barbiturates, Codeine, Demerol, Insect Stings, Back Problem, HIV, Sickle Cell, Weight Gain, Weight Loss, ALLERGIES (check all that apply), Laytex, Lidocaine, Morphine, Novocain, Penicillin, Problems, Other, Tetracycline, X-Ray Dye, No Known Allergy, Other:, Horse Serum or, Sulfa, and Vaccines.

Step 3: When you are done, press the "Done" button to transfer your PDF document.
Step 4: Generate copies of the file - it can help you keep away from possible future difficulties. And don't get worried - we do not display or view your data.