The family judgment completing procedure is effortless. Our software allows you to use any PDF document.
Step 1: Click on the button "Get Form Here".
Step 2: After you have accessed the family judgment editing page you'll be able to discover every one of the actions you may undertake relating to your file in the upper menu.
These areas will constitute the PDF form that you'll be creating: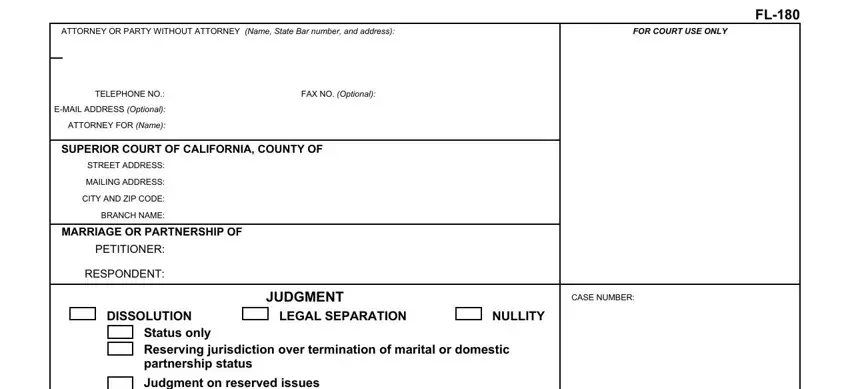 Note the requested data in the section Judgment on reserved issues, Date marital or domestic, This judgment The restraining, contains personal conduct, modifies existing restraining, This proceeding was heard as, Default or uncontested, By declaration under Family Code, Contested, Agreement in court, Date: Judicial officer (name):, Dept, Petitioner present in court, Room:, Temporary judge, Attorney present in court (name):, Attorney present in court (name):, The court acquired jurisdiction of, The respondent was served with, The respondent appeared, THE COURT ORDERS, and Judgment of dissolution is.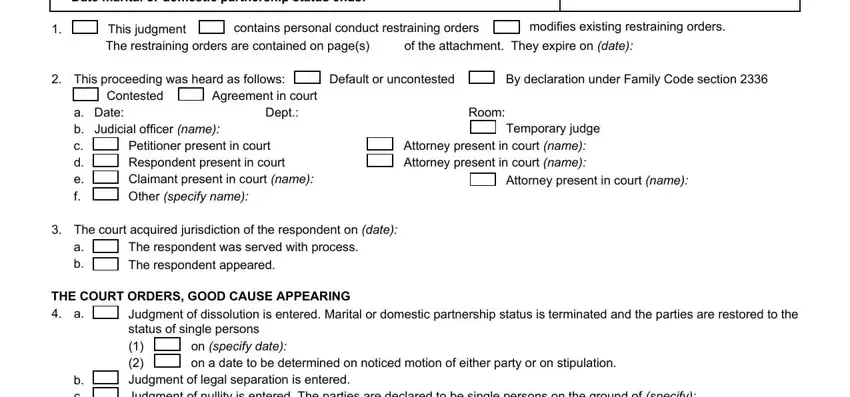 You will be required specific vital particulars if you want to submit the Judgment of dissolution is, on (specify date): on a date to be, This judgment will be entered nunc, The, petitioner's, respondent's, former name is restored to, Jurisdiction is reserved over all, Page 1 of 2, Form Adopted for Mandatory Use, Judicial Council of California, JUDGMENT (Family Law), and Family Code box.

The CASE NAME (Last name, CASE NUMBER:, The children of this marriage or, Name, Birthdate, Parentage is established for, (2) Child custody and visitation, Settlement agreement, Child support is ordered as set, and Settlement agreement field is where each party can indicate their rights and obligations.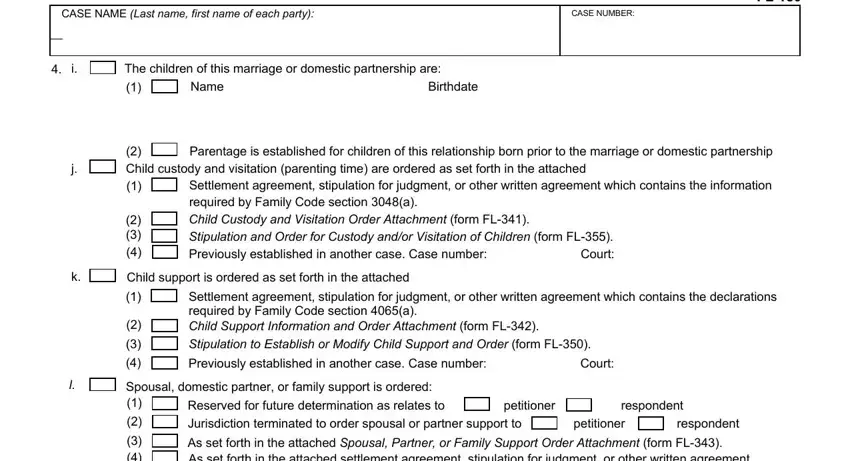 Look at the areas Stipulation to Establish or Modify, Previously established in another, Spousal, Reserved for future determination, Jurisdiction terminated to order, As set forth in the attached, Property division is ordered as, Settlement agreement, Property Order Attachment to, Attorney fees and costs are, and Settlement agreement and thereafter fill them out.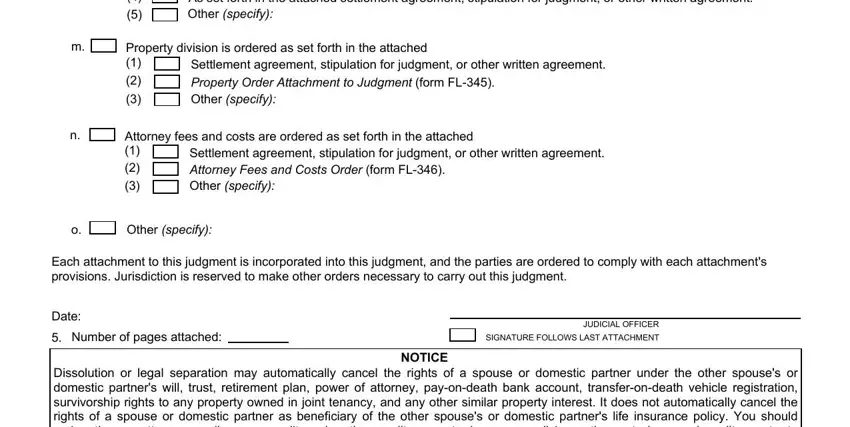 Step 3: As soon as you are done, select the "Done" button to export the PDF form.
Step 4: To prevent yourself from potential forthcoming issues, it is important to have as much as several copies of every single form.