Our leading computer programmers worked hard to obtain the PDF editor we are pleased to present to you. This app enables you to effortlessly prepare modification child family support and can save your time. You need to simply keep up with this guideline.
Step 1: Click the button "Get form here" to get into it.
Step 2: As you get into the modification child family support editing page, you'll see all the options you can take regarding your form within the upper menu.
Prepare the modification child family support PDF by entering the content required for every section.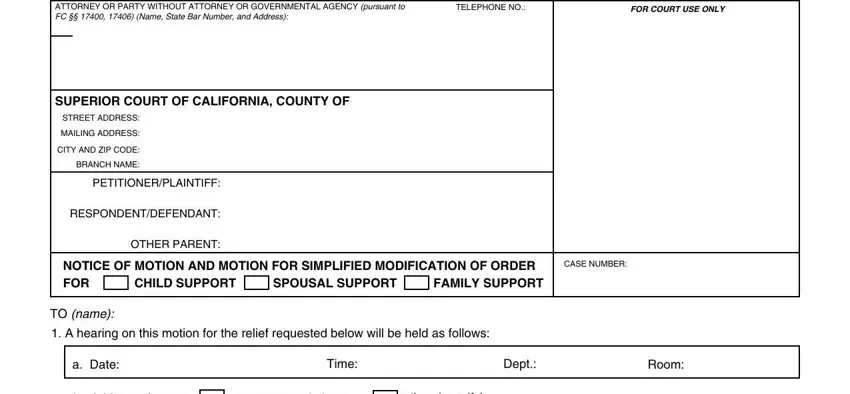 Fill in the NOTICE OF MOTION AND MOTION FOR, SPOUSAL SUPPORT, CHILD SUPPORT, FAMILY SUPPORT, TO (name):, Time:, Dept, Room:, same as noted above, other (specify):, petitioner, plaintiff respondent, defendant other parent to the following:, child support pursuant to the, per month beginning (date): per, I am requesting the court to order, petitioner, plaintiff respondent, defendant and other parent space using the details asked by the application.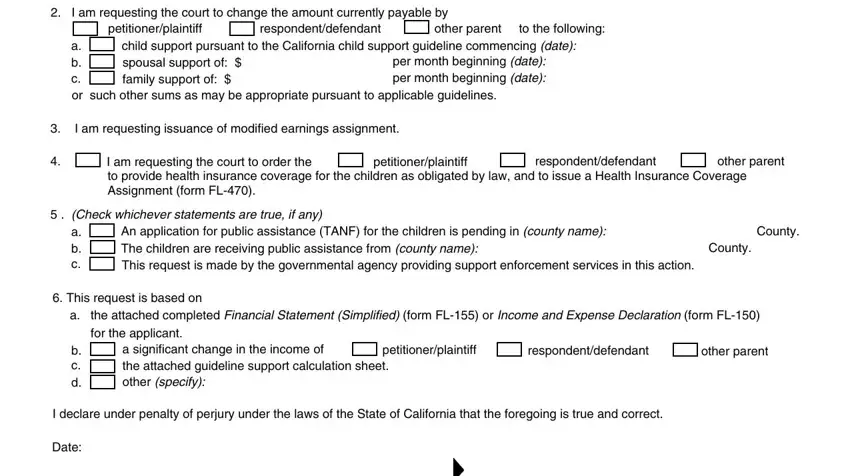 Step 3: Press the button "Done". The PDF file is available to be transferred. You may download it to your computer or send it by email.
Step 4: Generate duplicates of the file - it will help you keep clear of potential complications. And don't worry - we cannot display or watch your data.