Handling PDF documents online is simple using our PDF editor. You can fill out irs form 1120 w here effortlessly. To keep our tool on the cutting edge of efficiency, we strive to adopt user-driven features and enhancements regularly. We are routinely grateful for any suggestions - help us with remolding PDF editing. All it takes is just a few simple steps:
Step 1: Just press the "Get Form Button" in the top section of this page to start up our form editor. There you will find all that is needed to work with your document.
Step 2: With our advanced PDF editor, it's possible to accomplish more than simply complete forms. Express yourself and make your documents look high-quality with customized text put in, or tweak the file's original input to excellence - all comes along with the capability to incorporate almost any images and sign the PDF off.
Completing this document will require attention to detail. Ensure that all required areas are filled out properly.
1. The irs form 1120 w will require specific information to be entered. Be sure that the subsequent blank fields are completed: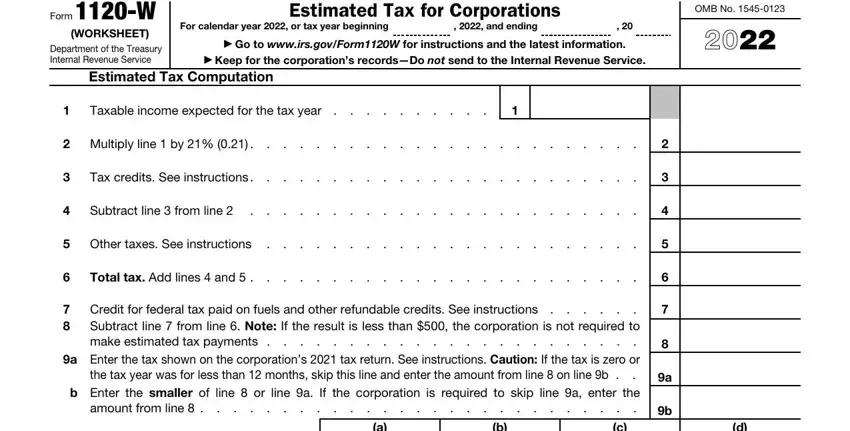 2. Your next part is usually to fill in the following blanks: Installment due dates See, Required installments Enter of, For Paperwork Reduction Act Notice, Cat No G, and Form W.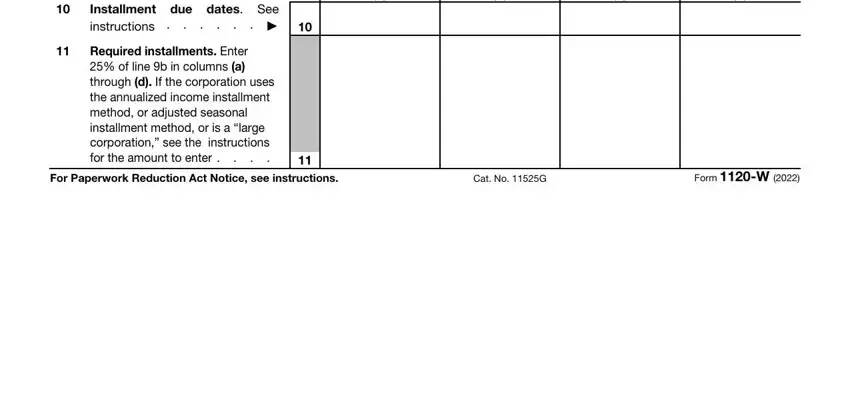 3. This third segment should also be relatively uncomplicated, Enter taxable income for the, a Tax year beginning in, b Tax year beginning in, c Tax year beginning in, Enter taxable income for each, Enter taxable income for the, a Tax year beginning in, b Tax year beginning in, c Tax year beginning in, Divide the amount in each column, Add lines through, Divide line by, a Divide line by line, b Extraordinary items see, and a b c - each one of these empty fields has to be filled out here.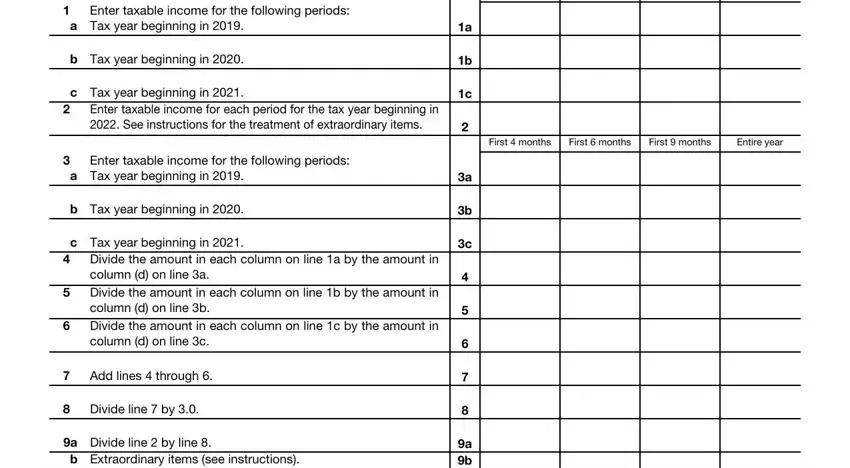 4. This specific section arrives with these particular form blanks to complete: b Extraordinary items see, Figure the tax on the amount on, Add lines a through c, Divide line by, Multiply the amount in columns a, Reserved Enter any other taxes for, and a b c.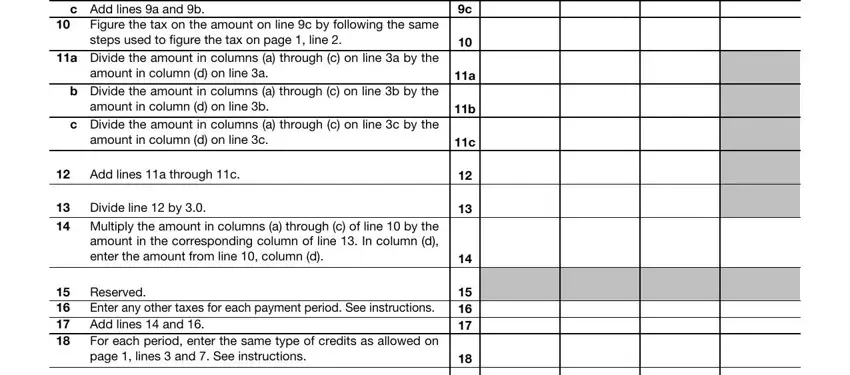 It's easy to make a mistake while completing the Figure the tax on the amount on, consequently make sure to reread it prior to when you finalize the form.
5. Finally, the following final section is precisely what you should wrap up before using the form. The blank fields in question include the next: Subtract line from line If zero, and Form W.

Step 3: After taking one more look at the fields you have filled in, press "Done" and you're all set! Join FormsPal now and easily obtain irs form 1120 w, ready for downloading. All modifications made by you are preserved , so that you can modify the file further if needed. When using FormsPal, you can complete forms without worrying about personal data incidents or entries getting shared. Our secure platform helps to ensure that your private information is maintained safely.