The purpose driving our PDF editor was to permit it to be as user-friendly as possible. You will find the entire process of completing form dd declaration form rather simple if you adhere to the following actions.
Step 1: This web page contains an orange button stating "Get Form Now". Simply click it.
Step 2: So, you can start modifying your form dd declaration form. Our multifunctional toolbar is readily available - insert, eliminate, change, highlight, and perform similar commands with the content in the document.
Fill out the form dd declaration form PDF by entering the data meant for each area.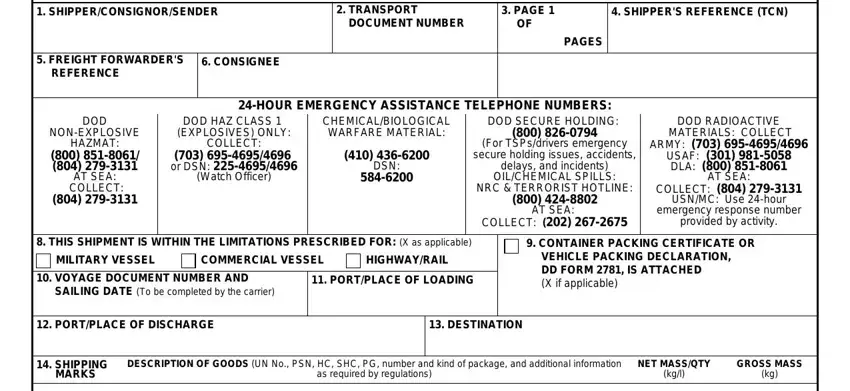 Fill in the MARKS, asrequiredbyregulations, kgl, CONTAINERIDENTIFICATIONNO, VEHICLEREGISTRATIONNO, SEALNUMBERS, CONTAINERVEHICLEANDTYPE, TAREMASSkg, ADDITIONALHANDLINGINFORMATION, and RECEIVINGORGANIZATIONRECEIPT section with all the data required by the program.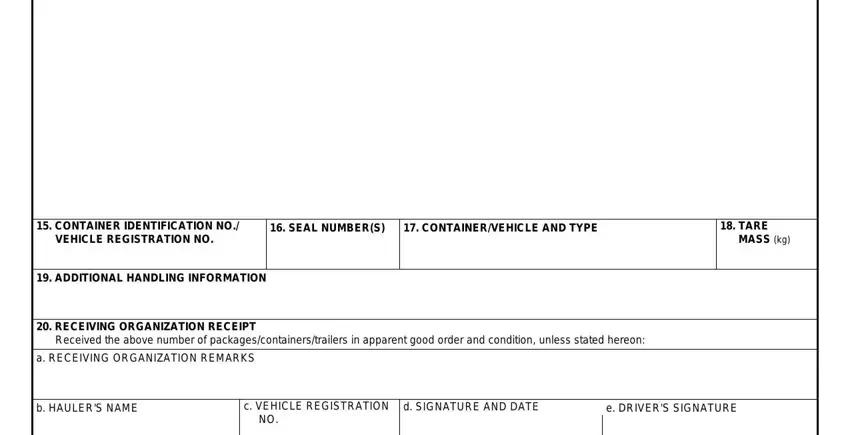 The application will request information to conveniently submit the box aRECEIVINGORGANIZATIONREMARKS, bHAULERSNAME, cVEHICLEREGISTRATION, dSIGNATUREANDDATE, eDRIVERSSIGNATURE, bNAMESTATUSOFDECLARANTCERTIFIER, cPLACEANDDATE, dSIGNATUREOFDECLARANTCERTIFIER, DDFORMSEP, and PREVIOUSEDITIONISOBSOLETE.

Step 3: After you have clicked the Done button, your form will be available for export to any kind of gadget or email you indicate.
Step 4: Make copies of your file - it can help you remain away from future troubles. And don't worry - we do not publish or look at your details.