Form 41 127A can be filled in easily. Just use FormsPal PDF editor to do the job without delay. In order to make our editor better and simpler to utilize, we constantly design new features, considering suggestions from our users. Here's what you'll want to do to begin:
Step 1: Access the PDF doc inside our editor by pressing the "Get Form Button" in the top area of this page.
Step 2: Using our online PDF tool, you're able to do more than merely fill out forms. Express yourself and make your forms seem faultless with customized text put in, or adjust the original content to perfection - all that backed up by the capability to insert almost any graphics and sign the document off.
Pay close attention while filling in this form. Make sure that all mandatory fields are completed accurately.
1. Whenever filling out the Form 41 127A, be certain to incorporate all necessary fields in the corresponding area. This will help hasten the work, making it possible for your information to be handled without delay and correctly.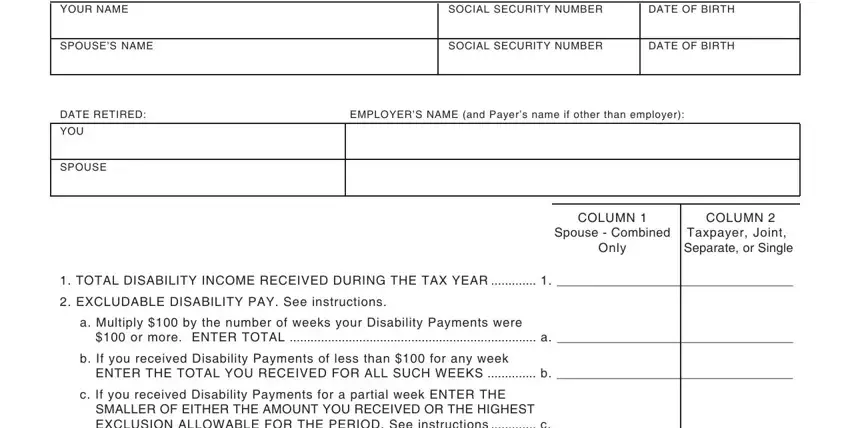 2. The third stage is usually to fill out all of the following blanks: SMALLER OF EITHER THE AMOUNT YOU, d ADD Lines a b and c ENTER TOTAL, ADD amounts on line d column and, LIMIT ON EXCLUSION See, a ENTER YOUR FEDERAL ADJUSTED, b AMOUNT USED TO FIGURE EXCLUSION, c SUBTRACT line b from line a, line a enter zero c, SUBTRACT line c from line ENTER, Physicians Statement of Permanent, NAME OF TAXPAYER WITH DISABILITY, SOCIAL SECURITY NO, I certify that the taxpayer named, Date retired, and PHYSICIANS NAME.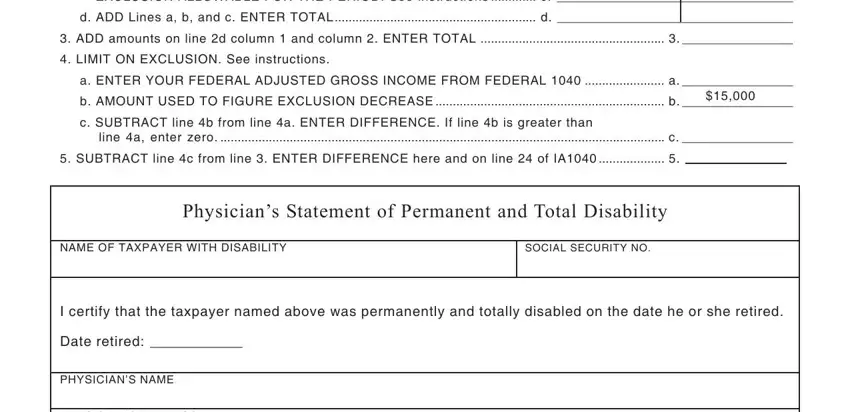 Be really mindful when completing a ENTER YOUR FEDERAL ADJUSTED and line a enter zero c, because this is the part where a lot of people make some mistakes.
3. Within this part, look at PHYSICIANS ADDRESS, PHYSICIANS SIGNATURE, and DATE. Each of these have to be filled out with highest accuracy.

Step 3: Immediately after proofreading your fields you've filled out, hit "Done" and you are good to go! Get hold of the Form 41 127A after you register online for a 7-day free trial. Quickly get access to the document in your FormsPal cabinet, with any edits and changes conveniently kept! FormsPal is devoted to the personal privacy of all our users; we make sure all personal data coming through our editor stays protected.