Should you desire to fill out taxed, you won't need to download and install any sort of software - simply make use of our PDF tool. To have our tool on the leading edge of practicality, we work to implement user-driven features and improvements regularly. We're at all times grateful for any feedback - play a pivotal part in revampimg PDF editing. All it takes is just a few basic steps:
Step 1: Click the "Get Form" button in the top section of this webpage to access our PDF tool.
Step 2: This tool provides you with the ability to customize most PDF documents in various ways. Change it with any text, correct existing content, and put in a signature - all at your convenience!
It really is easy to fill out the pdf using this detailed guide! Here's what you want to do:
1. The taxed involves particular information to be typed in. Be sure the following blanks are complete: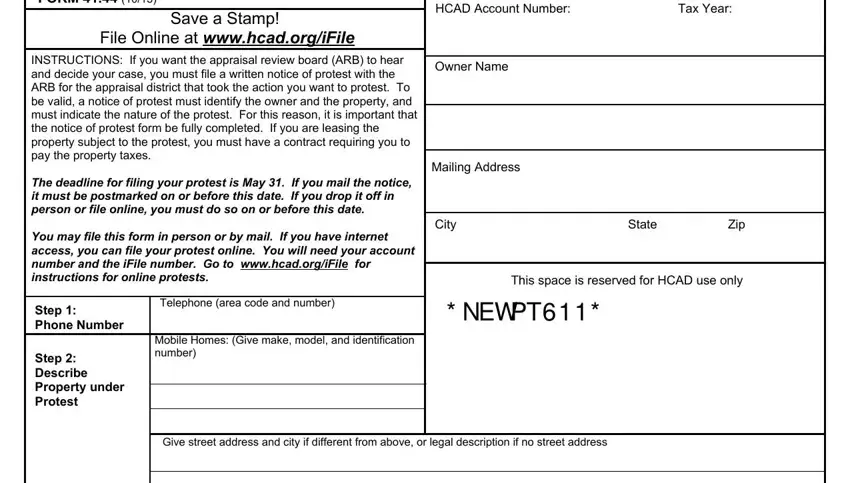 2. Once your current task is complete, take the next step – fill out all of these fields - Step Check Reasons for Protest, Step Give facts that may help, Step ARB Hearing Procedures, Step Sign the Application, Failure to check a box may result, Value is over market value, Value is unequal compared with, Property should not be taxed in, name of taxing unit, Failure to send required notice, type, Exemption denied modified or, Change in use of land appraised as, openspace or timber land, and Aguse openspace timber or other with their corresponding information. Make sure to double check that everything has been entered correctly before continuing!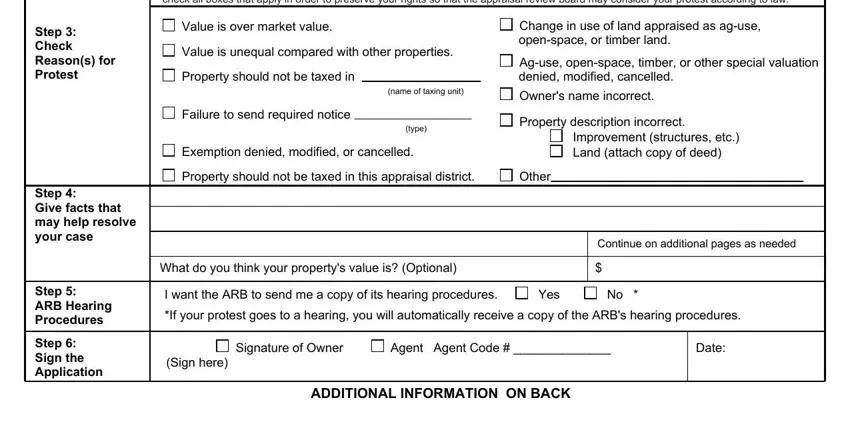 In terms of type and Step Sign the Application, ensure that you review things in this section. Both these are the key ones in this document.
3. Throughout this stage, examine I hereby appoint, First Name, Last Name, to represent me in my protest, This appointment applies only for, Property Owners Signature, Name Printed, and Date. These need to be filled in with utmost precision.

Step 3: Make certain the details are right and then press "Done" to continue further. Get hold of your taxed the instant you register at FormsPal for a 7-day free trial. Instantly gain access to the pdf file from your FormsPal account page, with any edits and changes being all synced! FormsPal is dedicated to the personal privacy of all our users; we always make sure that all personal information entered into our system stays secure.