you ticket default can be filled out online very easily. Just open FormsPal PDF editor to complete the task quickly. Our editor is constantly evolving to deliver the best user experience achievable, and that's because of our dedication to continuous enhancement and listening closely to feedback from customers. Getting underway is simple! All you should do is follow the following easy steps below:
Step 1: First, access the pdf editor by clicking the "Get Form Button" in the top section of this site.
Step 2: This editor enables you to modify PDF documents in a variety of ways. Change it with any text, correct what's originally in the PDF, and place in a signature - all at your disposal!
In an effort to complete this PDF form, make certain you enter the right details in each blank:
1. To begin with, when filling in the you ticket default, start with the form section containing subsequent blanks: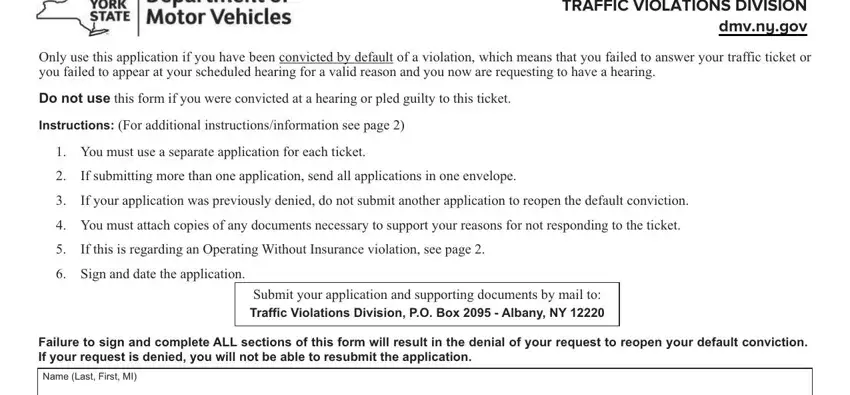 2. Just after completing the last section, go on to the next part and complete the necessary details in all these blanks - NY Client ID No if available, Street, City, Email Address optional, Ticket No, CURRENT MAILING ADDRESS, State, Date of Birth MonthDayYear, Apt No, Zip Code, Daytime Phone Number optional, Date of Violation MonthDayYear, Describe violation for example, and I DID NOT RESPOND to the ticket.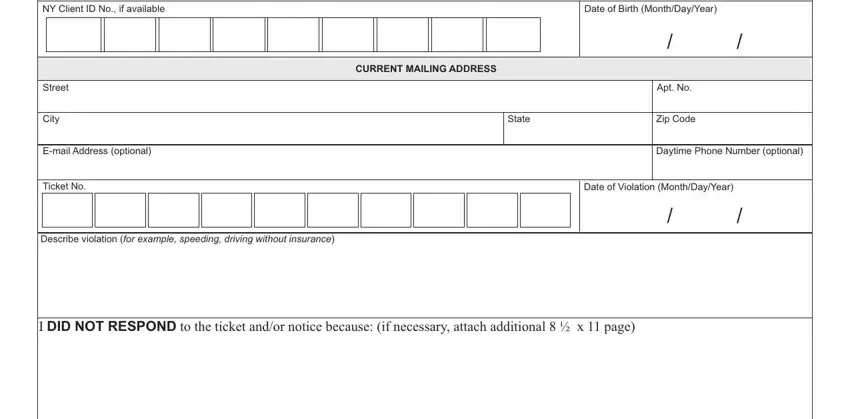 Those who use this form frequently make some errors while filling out Daytime Phone Number optional in this part. Ensure that you reread whatever you type in here.
3. Your next stage is going to be hassle-free - fill out all the empty fields in I affirm under penalty of perjury, Signature X Date, PAGE OF, and resetclear to conclude this part.

Step 3: Make sure that your information is right and then click "Done" to proceed further. Sign up with us right now and instantly gain access to you ticket default, set for download. Each and every modification you make is handily preserved , which enables you to modify the form further anytime. FormsPal is devoted to the privacy of our users; we make sure that all information entered into our editor is kept secure.