Handling PDF documents online is always very simple with our PDF editor. You can fill in Form Adj0018Fc here within minutes. Our editor is continually evolving to give the best user experience achievable, and that is thanks to our resolve for continual improvement and listening closely to user comments. To begin your journey, consider these easy steps:
Step 1: Click on the "Get Form" button in the top part of this page to open our tool.
Step 2: With this advanced PDF tool, you're able to accomplish more than merely complete forms. Express yourself and make your documents look faultless with customized text added in, or tweak the original input to excellence - all accompanied by the capability to incorporate almost any images and sign the file off.
It will be straightforward to complete the document using out helpful tutorial! Here's what you should do:
1. You have to complete the Form Adj0018Fc correctly, therefore be attentive while working with the areas including all these blank fields: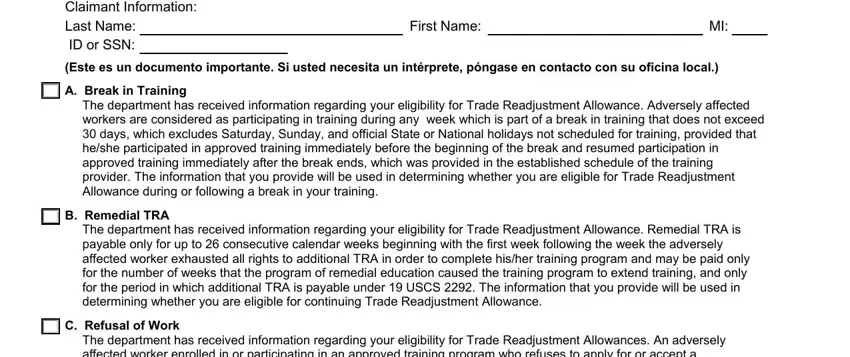 2. Once your current task is complete, take the next step – fill out all of these fields - A Break in Training The department, Section A TRA Break in Training, Are you currently on a scheduled, Will you resume participation in, Section B Remedial TRA Information, Program of remedial education, re you currently participating in, A If Yes what is the beginning and, and Prior to your participation in the with their corresponding information. Make sure to double check that everything has been entered correctly before continuing!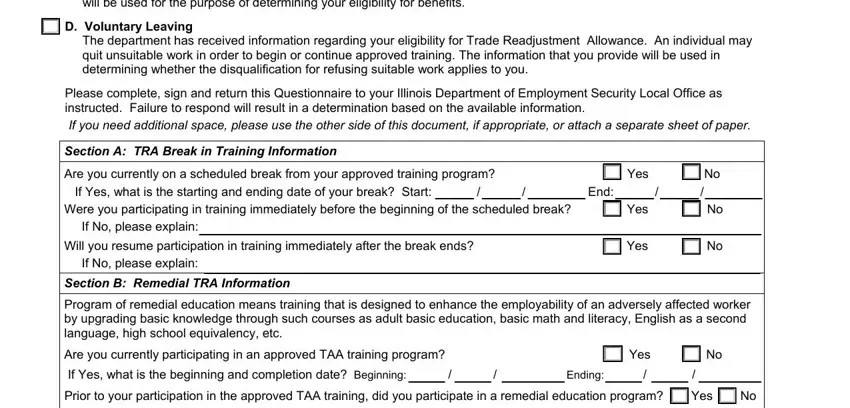 3. This subsequent part is generally rather straightforward, If Yes what is the beginning and, and ADJFC Page of NEW Rev - all these fields will need to be completed here.

4. Your next subsection requires your information in the subsequent areas: Section C TRA Refusal of Work, hat was the date of the offer of, and Did you receive an offer of work. Just be sure you type in all requested info to go further.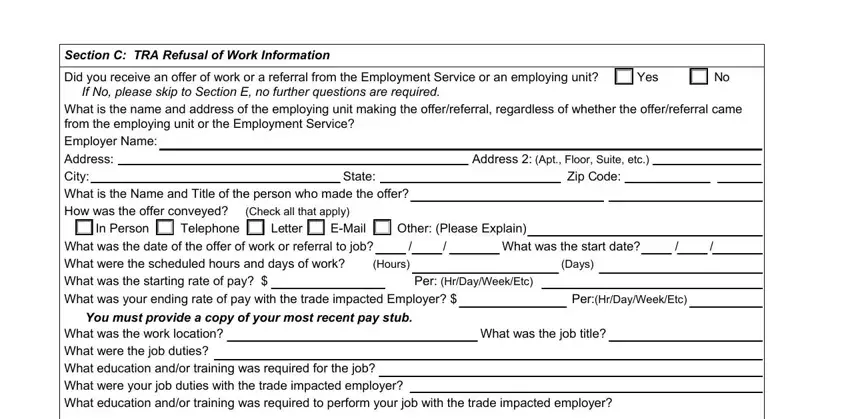 5. Because you approach the final sections of this document, you will find just a few more requirements that must be satisfied. In particular, Did you receive an offer of work, Was the offer of work a recall, Section D TRA Voluntary Leave, What was your last day worked, What education andor training was, and What was your rate of pay for this should all be filled out.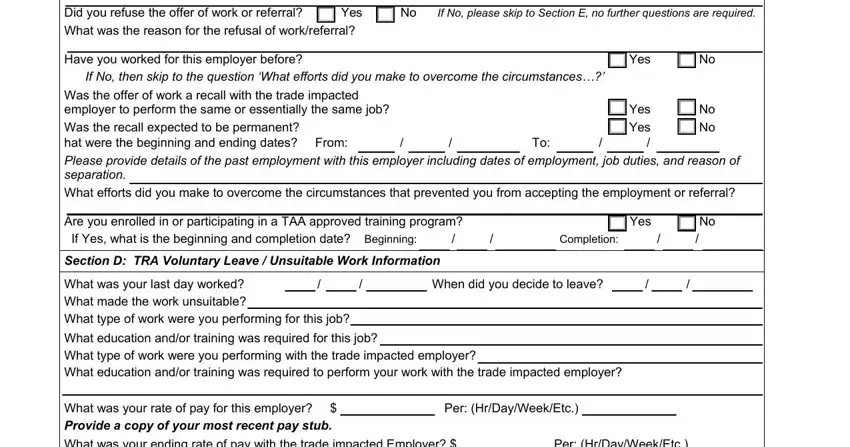 People who work with this document often make mistakes when filling in Was the offer of work a recall in this section. Ensure that you go over everything you enter here.
Step 3: Make sure that the details are accurate and press "Done" to finish the project. Join FormsPal now and immediately get Form Adj0018Fc, available for download. All changes made by you are preserved , which enables you to modify the form later on as required. We do not share the details that you enter while completing documents at our site.