closeout account closing can be filled in online without any problem. Just open FormsPal PDF editor to complete the task right away. FormsPal team is focused on giving you the perfect experience with our tool by continuously releasing new features and improvements. Our editor has become even more user-friendly as the result of the latest updates! At this point, filling out PDF files is simpler and faster than ever. It merely requires a couple of basic steps:
Step 1: Click on the "Get Form" button above on this page to open our editor.
Step 2: This editor lets you customize your PDF in a variety of ways. Improve it by including any text, adjust what's already in the document, and put in a signature - all within the reach of several clicks!
This PDF will need particular info to be entered, therefore make sure you take whatever time to enter exactly what is expected:
1. The closeout account closing necessitates particular details to be entered. Be sure the next blanks are finalized: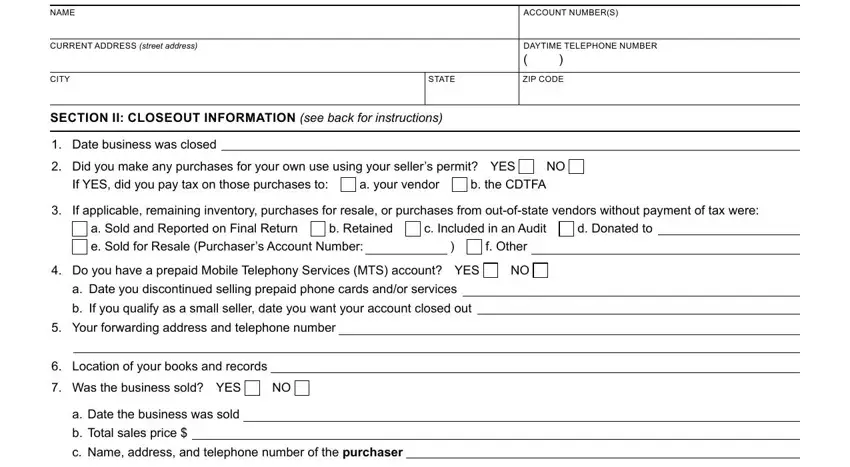 2. When the previous segment is complete, you should put in the needed details in d Did you sell the fixtures and, If no proceed to line h, Note If you sold your fixtures and, h Escrow number, i Name address and telephone, SECTION III SIGNATURE, SIGNATURE, PRINT NAME AND TITLE, and DATE so that you can progress further.

It's very easy to make a mistake while filling out your SECTION III SIGNATURE, so be sure you take a second look prior to deciding to submit it.
Step 3: Right after you've looked over the information in the fields, simply click "Done" to conclude your document creation. Go for a free trial account at FormsPal and get immediate access to closeout account closing - with all adjustments saved and available from your personal cabinet. When using FormsPal, you can easily fill out documents without stressing about personal information breaches or records getting distributed. Our protected software ensures that your personal information is stored safely.