Making use of the online PDF editor by FormsPal, it is easy to fill in or edit California Form Boe 531 here and now. FormsPal team is relentlessly working to improve the tool and make it even better for clients with its handy features. Take full advantage of the current innovative opportunities, and find a myriad of emerging experiences! It merely requires a few easy steps:
Step 1: Access the PDF in our tool by clicking on the "Get Form Button" above on this webpage.
Step 2: When you access the online editor, you will notice the document made ready to be completed. Aside from filling out different blanks, you may as well do many other actions with the PDF, namely writing your own textual content, editing the initial text, adding graphics, affixing your signature to the PDF, and a lot more.
As for the blanks of this precise form, here is what you should do:
1. The California Form Boe 531 needs particular information to be typed in. Ensure the subsequent fields are complete:
2. Once your current task is complete, take the next step – fill out all of these fields - DEL NORTE, EL DORADO, FRESNO, GLENN, HUMBOLDT, IMPERIAL, INYO, KERN, KINGS, LAKE, LASSEN, LOS ANGELES, MADERA, MARIN, and MARIPOSA with their corresponding information. Make sure to double check that everything has been entered correctly before continuing!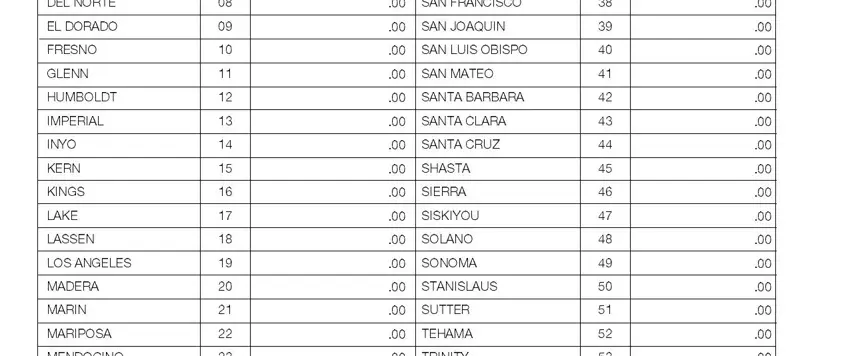 3. This step is normally straightforward - fill out all of the form fields in MENDOCINO, MERCED, MODOC, MONO, MONTEREY, NAPA, NEVADA, ORANGE, TRINITY, TULARE, TUOLUMNE, VENTURA, YOLO, YUBA, and B Total combined state and local to complete this segment.

Always be very attentive while completing MENDOCINO and MERCED, as this is the part where a lot of people make some mistakes.
Step 3: Glance through the details you've typed into the form fields and press the "Done" button. Download your California Form Boe 531 once you sign up for a free trial. Conveniently gain access to the pdf form within your personal account, along with any modifications and changes being all preserved! We don't sell or share the details that you provide whenever completing documents at our site.