If you would like to fill out usda ccc941, you don't have to download and install any kind of programs - simply use our online tool. The tool is continually upgraded by us, acquiring awesome functions and growing to be greater. It merely requires a couple of simple steps:
Step 1: Press the "Get Form" button above on this webpage to open our tool.
Step 2: As you start the file editor, there'll be the form prepared to be filled out. Besides filling in various blank fields, you might also perform some other actions with the file, that is putting on any textual content, changing the original textual content, adding graphics, placing your signature to the PDF, and a lot more.
Be attentive when filling out this document. Make sure that each blank field is filled in properly.
1. The usda ccc941 usually requires particular information to be entered. Make certain the following fields are finalized: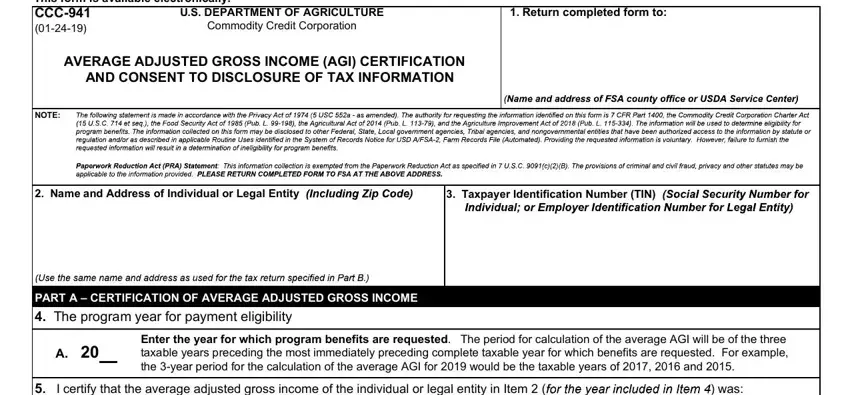 2. Once your current task is complete, take the next step – fill out all of these fields - I certify that the average, was, Less than, More than, PART B CONSENT TO DISCLOSURE OF, from the returns, of the individual or legal entity, Item Form and NR filers farm, Form A C filers charitable, Form S filers ordinary business, I understand the IRS will review, In addition I am aware that the, Specially the IRS will disclose to, If the IRS is unable to locate a, and By signing this form with their corresponding information. Make sure to double check that everything has been entered correctly before continuing!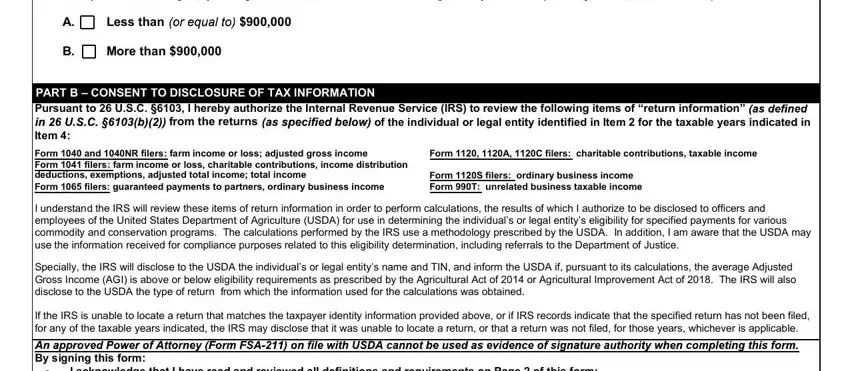 Concerning By signing this form and In addition I am aware that the, make certain you get them right in this section. Both these are certainly the key ones in the file.
3. Completing Signature By, TitleRelationship, and Date is essential for the next step, make sure to fill them out in their entirety. Don't miss any details!

Step 3: Right after you have glanced through the information in the blanks, press "Done" to finalize your document generation. Join us now and instantly access usda ccc941, all set for downloading. All alterations made by you are saved , helping you to customize the pdf at a later time when necessary. FormsPal offers safe form tools devoid of personal information record-keeping or distributing. Be assured that your details are secure with us!