PMB can be filled in in no time. Simply open FormsPal PDF tool to get it done right away. FormsPal team is continuously endeavoring to enhance the editor and enable it to be much easier for people with its cutting-edge features. Unlock an ceaselessly progressive experience now - explore and find new possibilities as you go! This is what you will want to do to begin:
Step 1: Simply hit the "Get Form Button" in the top section of this page to start up our pdf editing tool. Here you'll find all that is necessary to work with your file.
Step 2: As soon as you launch the file editor, you'll see the document prepared to be completed. Other than filling out various fields, you might also do other actions with the form, including adding custom text, changing the initial textual content, adding graphics, putting your signature on the document, and a lot more.
This document will require specific data to be typed in, so you should take your time to enter what's requested:
1. When submitting the PMB, make sure to incorporate all of the necessary blanks in its associated part. It will help to expedite the work, making it possible for your information to be processed without delay and accurately.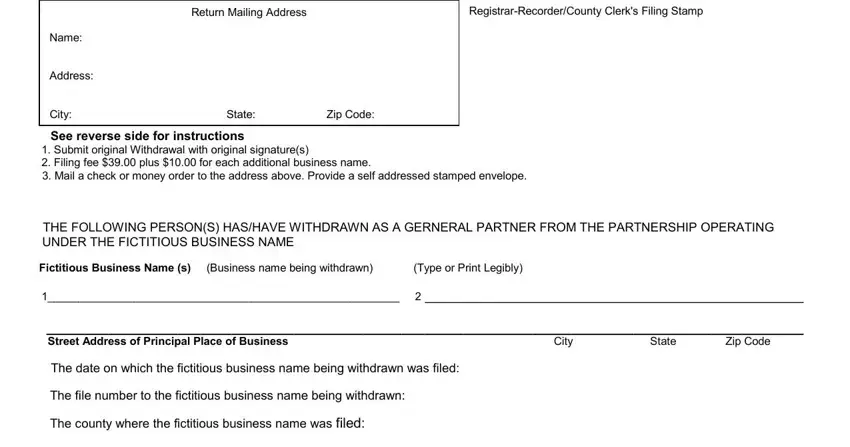 2. Once your current task is complete, take the next step – fill out all of these fields - The county where the fictitious, Full Name of Withdrawing Partner, Residence Address PO Box or PMB, I declare that all information in, Signature of withdrawing partners, This statement was filed with the, and CCR CLK REV with their corresponding information. Make sure to double check that everything has been entered correctly before continuing!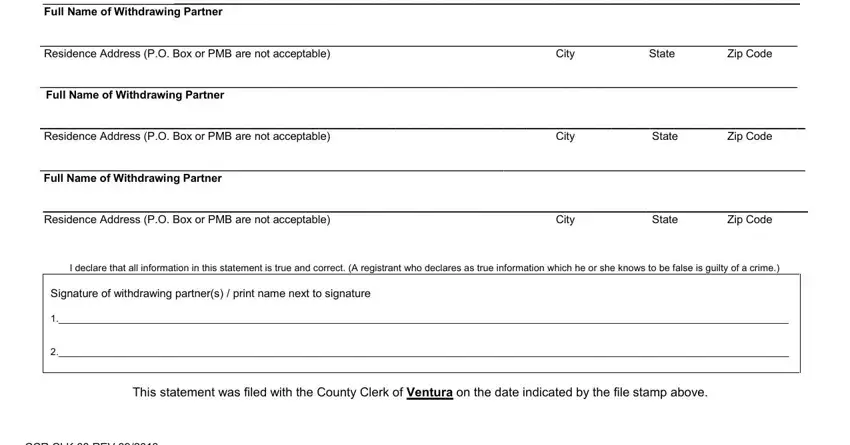 As to Signature of withdrawing partners and Full Name of Withdrawing Partner, ensure that you take a second look in this current part. Those two are considered the most important ones in the file.
Step 3: Immediately after rereading the form fields you've filled out, press "Done" and you are done and dusted! After setting up afree trial account here, you will be able to download PMB or send it through email immediately. The PDF form will also be available from your personal account page with your each and every edit. We do not share or sell any details you provide when working with documents at our website.