Form Cdph 4461 can be filled in online easily. Simply use FormsPal PDF editor to complete the task right away. To have our tool on the forefront of efficiency, we aim to integrate user-oriented capabilities and improvements regularly. We're always glad to receive suggestions - play a pivotal role in reshaping the way you work with PDF docs. To get the process started, go through these easy steps:
Step 1: First of all, access the pdf tool by clicking the "Get Form Button" at the top of this webpage.
Step 2: With the help of our state-of-the-art PDF editor, you may accomplish more than merely fill in forms. Try all of the features and make your docs look sublime with customized text put in, or fine-tune the file's original content to excellence - all comes along with the capability to add your personal pictures and sign the PDF off.
This form will require particular info to be filled out, hence you should definitely take whatever time to type in what is asked:
1. To begin with, once completing the Form Cdph 4461, begin with the page containing subsequent blank fields: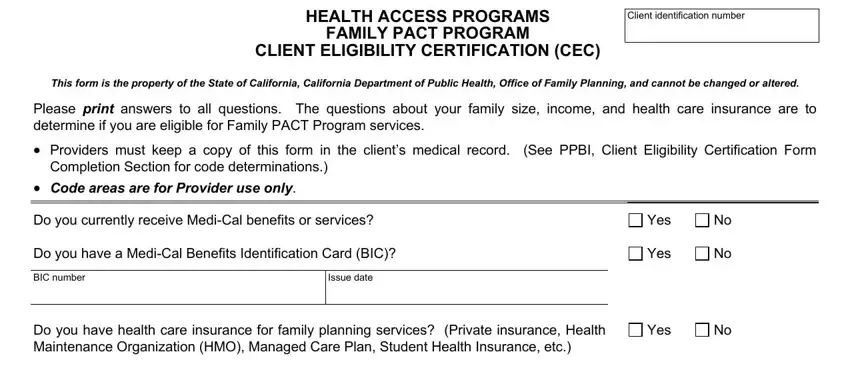 2. After the previous selection of blanks is completed, proceed to type in the applicable information in these: Do we need to keep your family, No Yes Confidentiality, Provider Use OnlyCODE, First name, Middle name, Last name, Suffix Jr Sr, Is your current name the same as, Yes, First name at birth, Middle name at birth, Last name at birth, Suffix Jr Sr, Number of live births, and County of residence.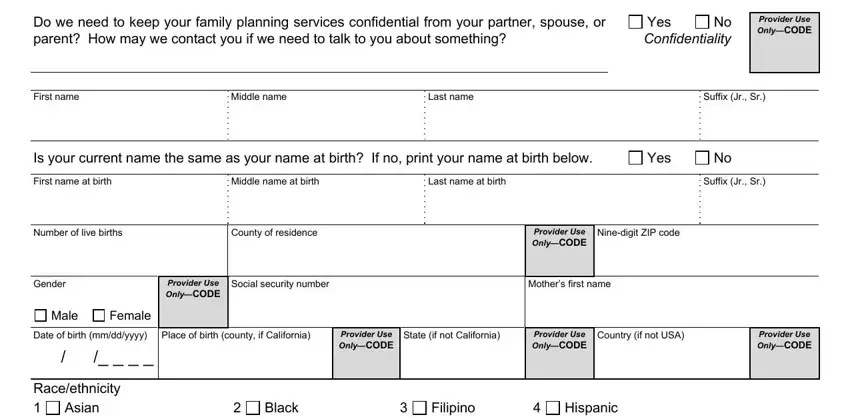 3. Completing Raceethnicity, Asian Native American, Primary Language, Armenian Korean, Black Pacific Islander, Filipino White, Hispanic Other, Cantonese Tagalog, English Spanish, Hmong Vietnamese, KhmerCambodian Other, This information will be used to, CDPH, Page of, and Complete eligibility information is essential for the next step, make sure to fill them out in their entirety. Don't miss any details!

People who use this document frequently make mistakes while completing Filipino White in this part. Ensure you double-check what you enter right here.
4. The fourth part comes with the following form blanks to fill out: Name, Relationship to You, Age, Source of Income, Gross Monthly Income, Before taxes or deductions, Family size, Self, Total family income, I declare under penalty of perjury, Signature or mark of applicant, Date, Signature of witness to mark or, Date, and FOR PROVIDER USE ONLY.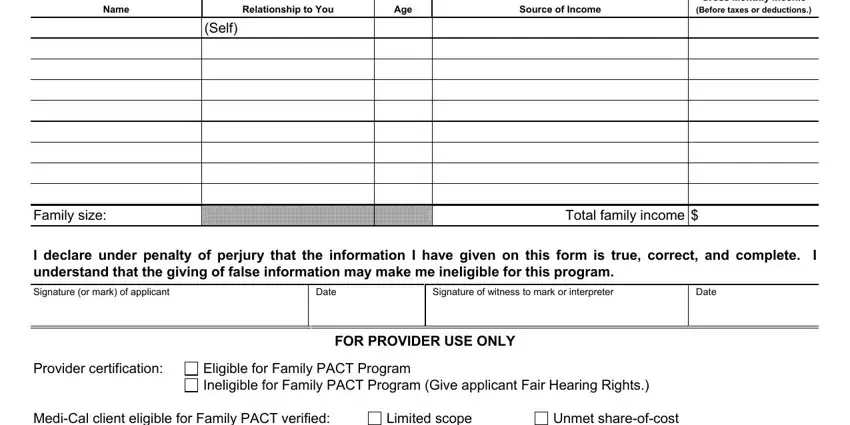 5. Since you come near to the last parts of the document, you will find a couple more things to complete. Particularly, Provider certification MediCal, Print name, Signature, Date, Annual Certification If client is, Date, Reason code see Provider Manual, Fair Hearing Rights, Any applicant for or recipient of, First level review If you wish to, Formal hearing You may appeal the, First Level Review, Formal Hearing, California Department of Public, and California Department of Public should all be filled out.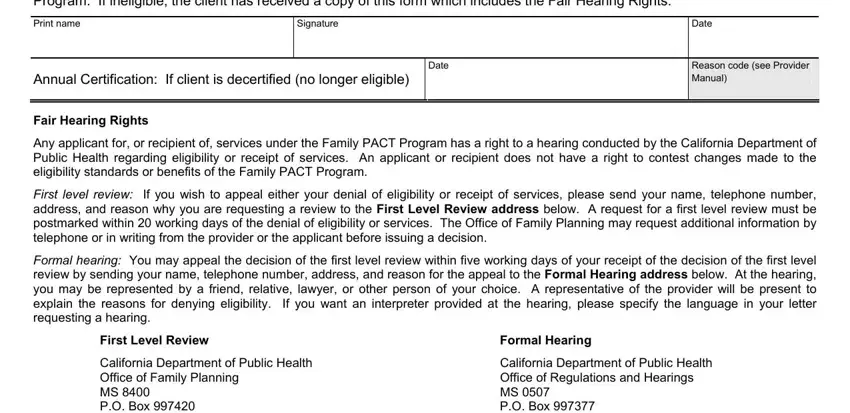 Step 3: Prior to addressing the next stage, ensure that all form fields have been filled in correctly. When you think it is all good, click on "Done." Sign up with us right now and easily use Form Cdph 4461, all set for downloading. All adjustments you make are preserved , allowing you to modify the file further as required. FormsPal is invested in the personal privacy of all our users; we make sure all personal data used in our system is secure.