texas dps pre release notification cr 32 can be filled out without difficulty. Simply make use of FormsPal PDF tool to get it done quickly. Our professional team is ceaselessly endeavoring to expand the tool and insure that it is even easier for clients with its multiple features. Unlock an constantly revolutionary experience now - explore and find new possibilities along the way! To get the ball rolling, go through these basic steps:
Step 1: Click on the "Get Form" button in the top part of this page to open our PDF tool.
Step 2: The editor gives you the ability to work with nearly all PDF files in many different ways. Transform it by including customized text, correct original content, and place in a signature - all close at hand!
So as to finalize this document, make sure you provide the necessary details in every blank field:
1. Before anything else, once filling in the texas dps pre release notification cr 32, start out with the form section that contains the following blank fields: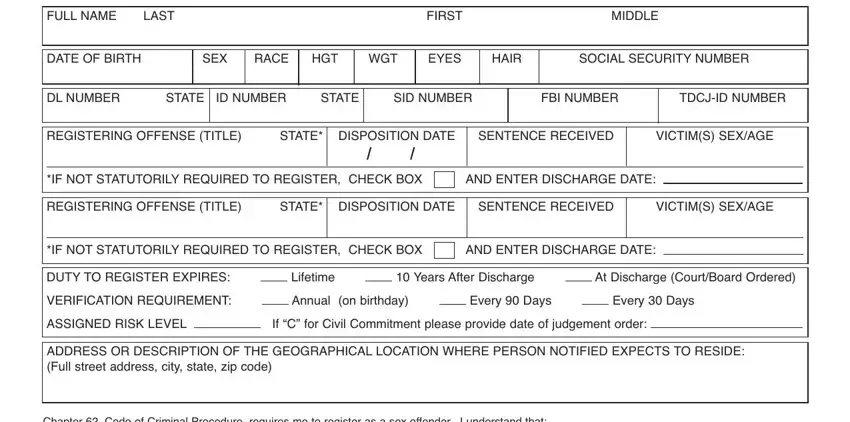 2. Once your current task is complete, take the next step – fill out all of these fields - Chapter Code of Criminal, I understand that, Initial Verification of, date of releaseplacement on, supervision or juvenile probation, Registration Verification, Local Law Enforcement Agency Name, Agency AddressCityStateZip, Notification to Authority for, Agency AddressCityStateZip, If I have a juvenile probation, Registration I am required to, Periodic Verification of, and every days or every days as with their corresponding information. Make sure to double check that everything has been entered correctly before continuing!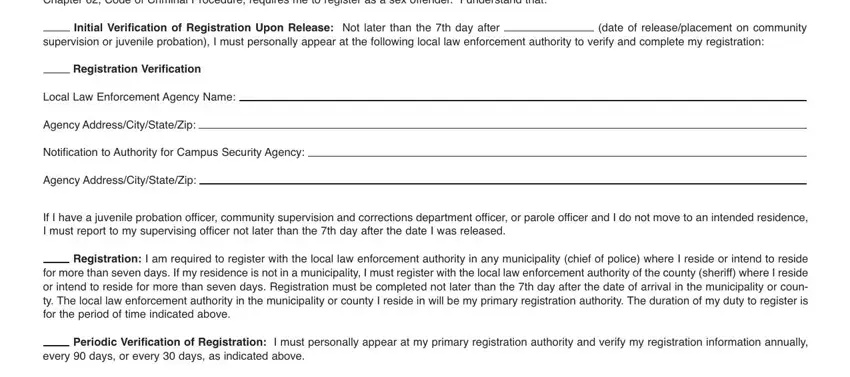 3. The following portion will be about Lack of Address If I lack a, Texas DLID Requirement Not later, Status Changes Not later than the, Change in OnLIne Identifiers Not, er not already included on my, Institutions of Higher Education, Workers and Students If I reside, and Visiting Locations If on at least - fill in these blank fields.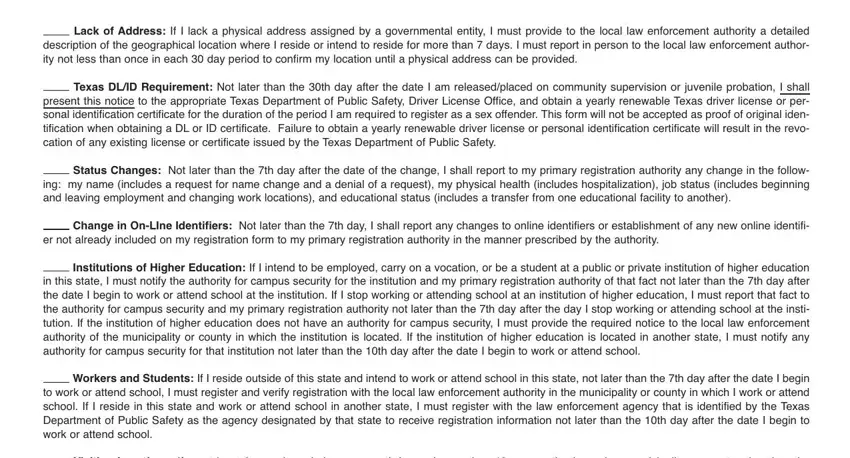 4. Completing Visiting Locations If on at least, Postcard Notification Costs If I, Local Law Enforcement Authority, DNA Specimen A person required to, under Section Government Code, Criminal Penalties My failure to, PRINTED NAME OF PERSON NOTIFIED, SIGNATURE OF PERSON NOTIFIED, DATE, SID, Person Notified, OFFENDER REFUSED TO SIGN, OFFENDER UNABLE TO SIGN, I certify that I notified the, and R T is paramount in this step - be sure to spend some time and take a close look at every field!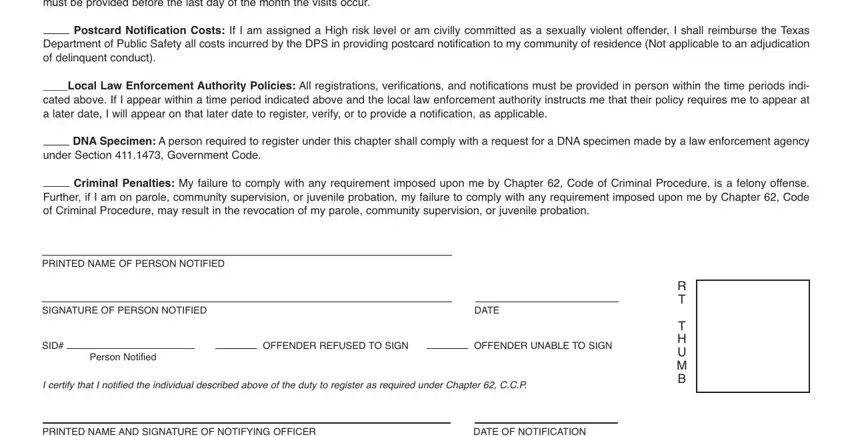 In terms of OFFENDER UNABLE TO SIGN and OFFENDER REFUSED TO SIGN, ensure you double-check them here. These two are considered the most significant ones in the document.
5. Now, this final section is precisely what you will need to finish before closing the document. The blanks in this instance include the next: PRINTED NAME AND SIGNATURE OF, DATE OF NOTIFICATION, NAME OF NOTIFYING AGENCY, AGENCY TELEPHONE NUMBER, PLEASE KEEP A COPY OF THIS FORM, FORWARD A COPY TO THE INTENDED, FAX COMPLETED FORM TO DPS SEX, and MAIL ORIGINAL TO TX DPSCRS POB.
Step 3: Make certain the details are right and then press "Done" to finish the process. Grab your texas dps pre release notification cr 32 once you sign up at FormsPal for a free trial. Easily use the document inside your FormsPal cabinet, with any modifications and adjustments being automatically kept! FormsPal is invested in the privacy of our users; we ensure that all personal information coming through our tool continues to be protected.