By using the online PDF editor by FormsPal, it is possible to complete or alter Form Cr4E001 here. To make our tool better and easier to utilize, we constantly come up with new features, taking into consideration feedback from our users. To get the ball rolling, go through these basic steps:
Step 1: Press the "Get Form" button above. It'll open up our tool so you can start completing your form.
Step 2: When you open the PDF editor, you will see the document made ready to be filled out. Other than filling in various blank fields, it's also possible to perform several other actions with the PDF, particularly writing any words, modifying the original text, inserting graphics, affixing your signature to the PDF, and more.
As for the blanks of this specific form, here is what you need to do:
1. The Form Cr4E001 needs particular information to be entered. Make certain the following blank fields are finalized: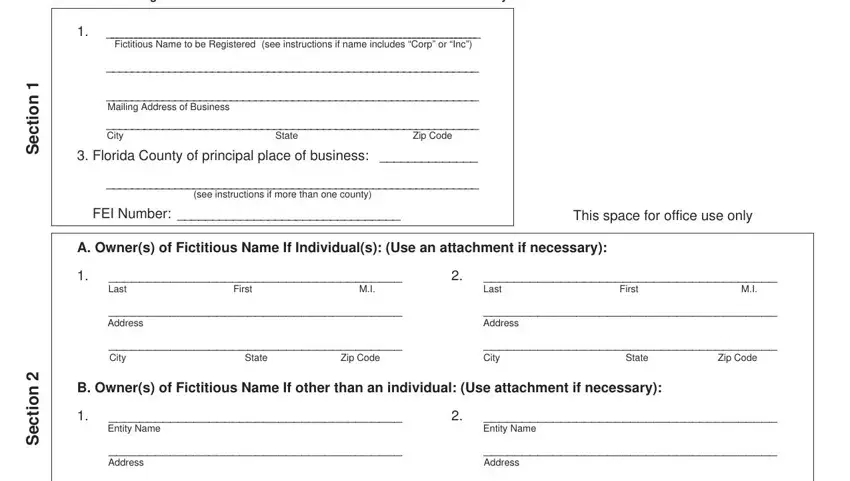 2. Once your current task is complete, take the next step – fill out all of these fields - n o i t c e S, n o i t c e S, City, Zip Code, State, City, Zip Code, State, Florida Document Number, Florida Document Number, FEI Number, FEI Number, Applied for, Not Applicable, and Applied for with their corresponding information. Make sure to double check that everything has been entered correctly before continuing!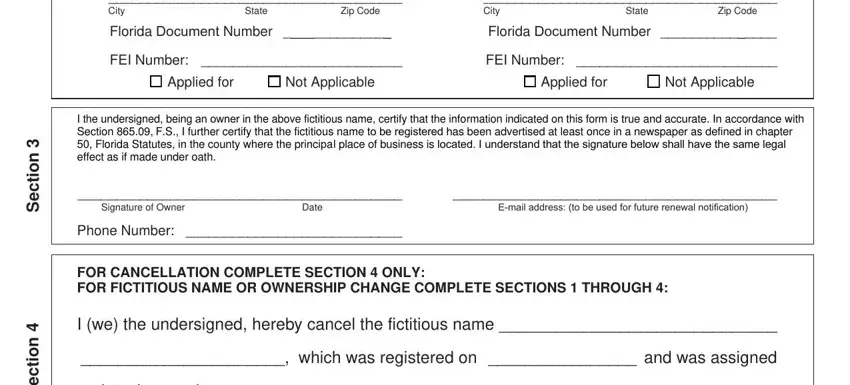 Always be extremely careful when filling out City and Zip Code, since this is where most people make mistakes.
3. The third step is usually straightforward - fill in every one of the fields in Signature of Owner, Date, Signature of Owner, Date, Mark the applicable boxes, NONREFUNDABLE PROCESSING FEE, Single, and CRE to complete this process.

Step 3: Look through everything you have typed into the blank fields and click the "Done" button. Make a 7-day free trial option with us and acquire direct access to Form Cr4E001 - downloadable, emailable, and editable in your FormsPal account. When using FormsPal, you can complete forms without having to get worried about personal information incidents or data entries getting shared. Our secure software makes sure that your private information is maintained safe.