Using PDF documents online is always very easy with our PDF editor. Anyone can fill out Form Cr500 here effortlessly. The editor is constantly updated by our team, getting handy features and becoming greater. To begin your journey, consider these basic steps:
Step 1: First of all, open the tool by clicking the "Get Form Button" above on this site.
Step 2: The tool lets you customize PDF forms in a range of ways. Improve it by including customized text, correct existing content, and put in a signature - all when you need it!
This document will need particular data to be entered, therefore you need to take the time to type in what is expected:
1. To start off, once filling in the Form Cr500, start out with the page that has the subsequent fields: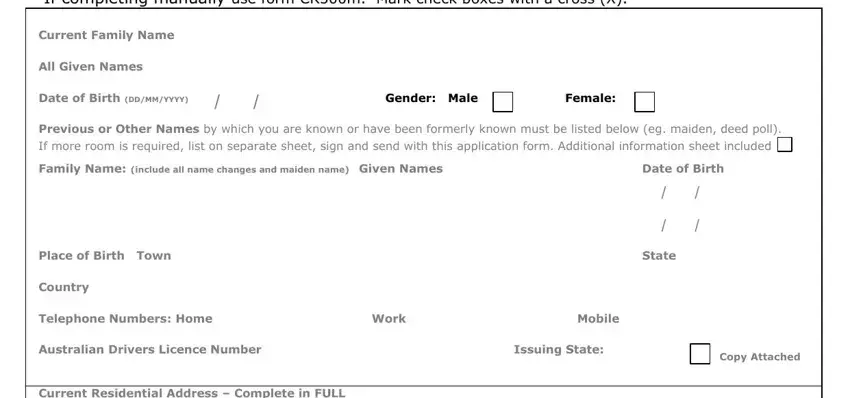 2. Once this segment is complete, it is time to include the necessary details in Unit No, Street No, Street Name Street Type, SuburbCity, State, Country, Previous Residential Address, Unit No, Street No, Street Name Street Type, SuburbCity, State, Country, Post Code, and Residency From allowing you to proceed further.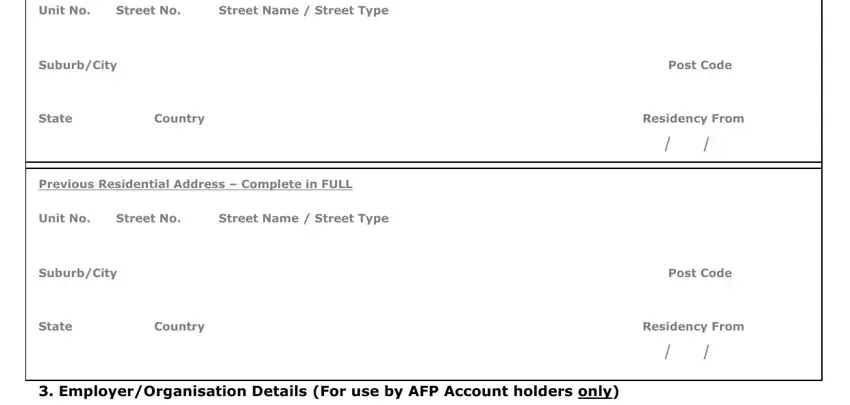 Always be very attentive while filling out Street Name Street Type and State, because this is the part in which many people make mistakes.
3. This next step focuses on Organisationemployer name, ACT Government, Client Code, Client Reference Number, Form CR, Version, and Page of - fill out each of these blank fields.

4. This next section requires some additional information. Ensure you complete all the necessary fields - Mailing Address for Police, Is a fingerprint check required, If yes fingerprints must be, a fingerprints taken by another, b fingerprints taken by the AFP, c fingerprints taken by the AFP, receipt of payment must be, Consent, ii iii, and I acknowledge I have read the - to proceed further in your process!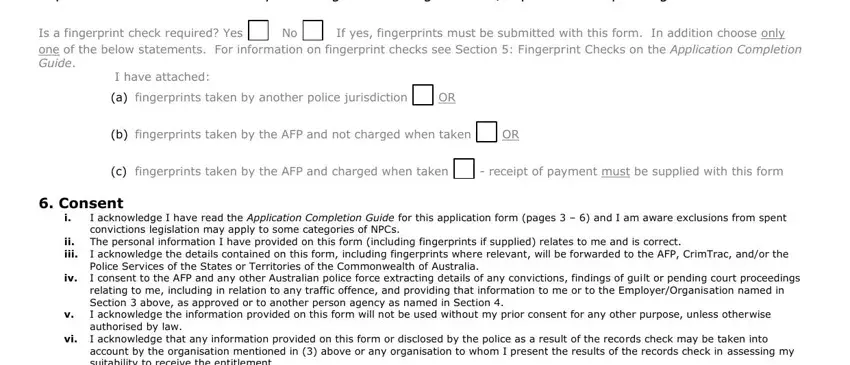 5. This pdf must be finished by filling in this area. Here you will find a detailed set of fields that require accurate information for your form submission to be complete: I acknowledge I have read the, Applicants Signature, Date, If you are under years of age, ParentGuardian Signature, Date, and ParentGuardian name printed in full.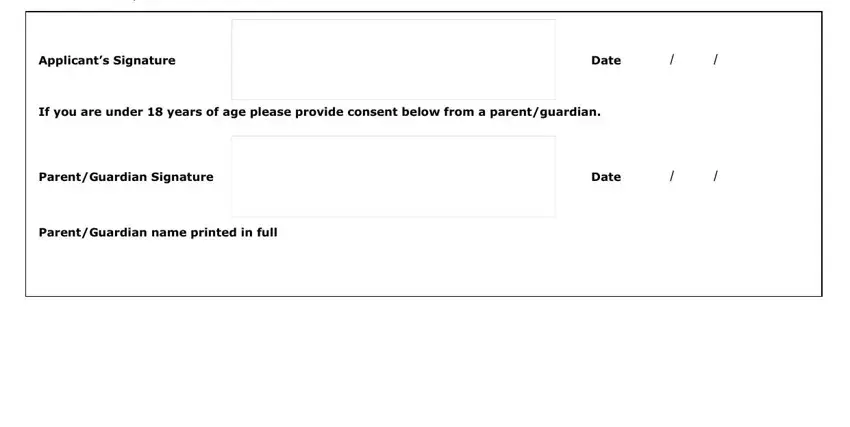 Step 3: Glance through the details you have entered into the blanks and then click the "Done" button. After starting a7-day free trial account with us, it will be possible to download Form Cr500 or email it promptly. The form will also be accessible from your personal account page with your every modification. FormsPal ensures your data confidentiality with a protected system that never records or shares any personal information involved in the process. Be assured knowing your paperwork are kept protected any time you use our editor!