The PDF editor was built to be as easy as it can be. Once you use the next actions, the procedure for filling out the da form 3078 pdf file will undoubtedly be hassle-free.
Step 1: Hit the orange "Get Form Now" button on the following website page.
Step 2: The form editing page is presently open. You can add information or update current information.
The PDF form you are going to prepare will consist of the next sections: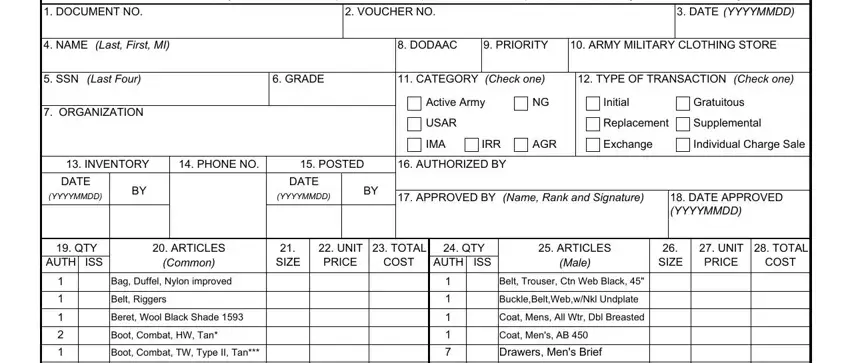 Write the expected information in the DrawersLightweightGenIII, DrawersMidweightGenIII, GlovesLightDutyUtility, GlovesInsertCold, GlovesLeatherBlackUnisex, JacketPFU, PantsPFU, ShirtLSPFU, ShirtSSPFU, SockBoot, SockLinerPolyNylonBlack, TowelBathBrown, WashclothBrown, TrouserArmyCombatUniform, and TrunksPFU section.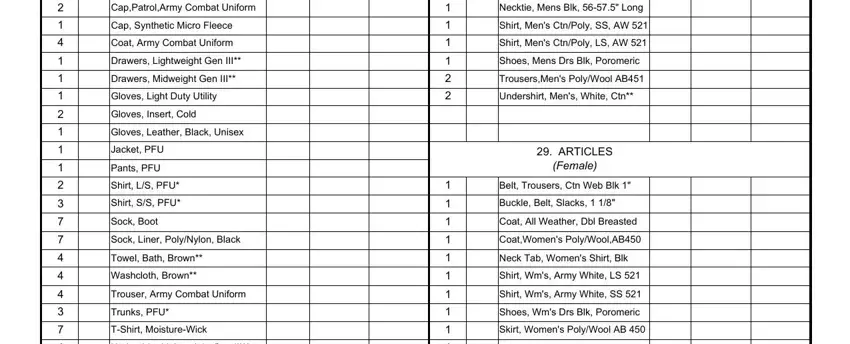 Describe the important information in the Maymaintaineithercombatboot, DAFORMJUL, PREVIOUSEDITIONSAREOBSOLETE, and APDLCvES field.

Step 3: Choose the Done button to save the document. At this point it is ready for transfer to your gadget.
Step 4: Be certain to remain away from future difficulties by getting at least 2 duplicates of the file.