With the help of the online tool for PDF editing by FormsPal, it is easy to complete or change declaretion form right here. To retain our tool on the forefront of practicality, we strive to adopt user-driven features and improvements on a regular basis. We are routinely looking for suggestions - join us in revampimg how we work with PDF documents. With some basic steps, you'll be able to start your PDF editing:
Step 1: Access the PDF form in our editor by hitting the "Get Form Button" in the top area of this page.
Step 2: As soon as you open the PDF editor, you'll notice the form made ready to be filled in. Apart from filling out various blank fields, it's also possible to perform other sorts of things with the Document, specifically putting on custom words, changing the original text, adding images, affixing your signature to the form, and a lot more.
It really is an easy task to complete the form using this practical guide! This is what you have to do:
1. Begin filling out the declaretion form with a selection of necessary fields. Consider all of the necessary information and be sure nothing is left out!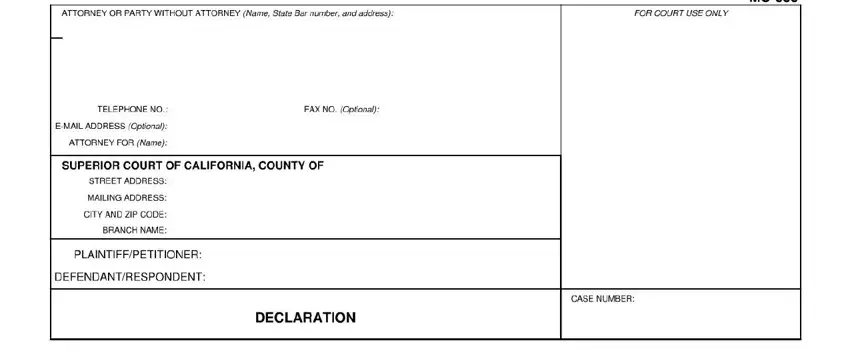 2. Once your current task is complete, take the next step – fill out all of these fields - with their corresponding information. Make sure to double check that everything has been entered correctly before continuing!

People frequently make mistakes while filling out this field in this section. Ensure that you reread what you type in here.
Step 3: After going through the fields and details, press "Done" and you are good to go! Right after registering afree trial account with us, you'll be able to download declaretion form or email it right away. The form will also be easily accessible in your personal account menu with your each and every change. FormsPal ensures your data confidentiality with a protected method that in no way records or distributes any kind of personal data typed in. Feel safe knowing your documents are kept safe when you use our services!