When you intend to fill out TTY, there's no need to install any programs - just use our PDF editor. To have our tool on the cutting edge of practicality, we work to implement user-oriented capabilities and enhancements on a regular basis. We're at all times pleased to receive suggestions - play a vital role in reshaping PDF editing. If you are looking to start, here's what it will take:
Step 1: Access the PDF file inside our tool by pressing the "Get Form Button" in the top area of this page.
Step 2: When you launch the PDF editor, you will get the form ready to be filled out. Other than filling out different blank fields, you may also perform several other things with the PDF, specifically writing custom text, changing the initial text, adding illustrations or photos, putting your signature on the document, and more.
Be mindful while filling out this pdf. Make certain all mandatory blanks are completed correctly.
1. The TTY usually requires particular information to be typed in. Ensure the following fields are complete: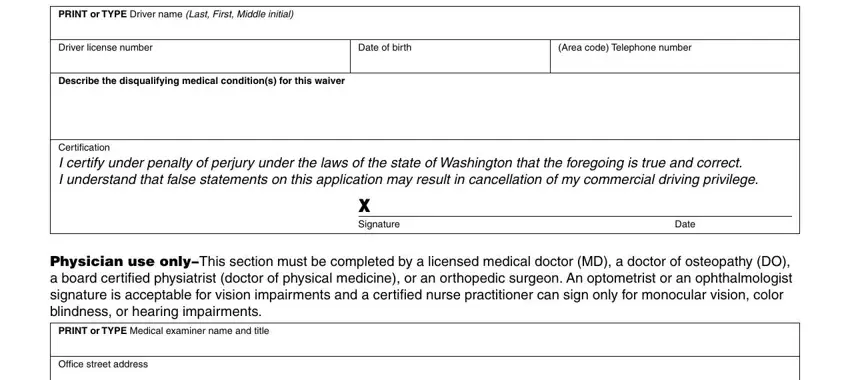 2. Soon after the prior part is completed, proceed to enter the suitable information in these - City, State, ZIP code, Area code Telephone number, Professional license number, Certification The above drivers, the next two years, other, Not more than two years, X Medical examiner signature, Title, Date, DR RWA, and We are committed to providing.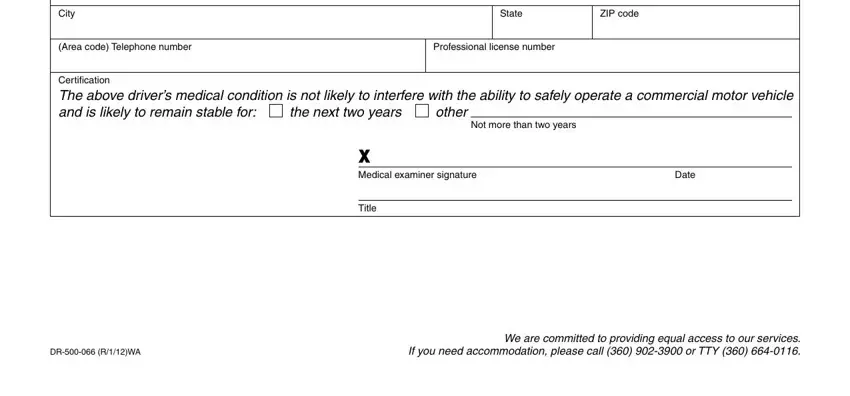 Be extremely attentive while filling out We are committed to providing and other, since this is where most people make some mistakes.
Step 3: Be certain that the information is right and press "Done" to proceed further. Create a 7-day free trial option at FormsPal and get immediate access to TTY - download, email, or edit from your FormsPal cabinet. We do not share or sell the details you enter whenever filling out documents at our website.