Handling PDF documents online is always quite easy with this PDF tool. Anyone can fill in ds2031 form instructions get here effortlessly. To make our tool better and simpler to work with, we consistently design new features, with our users' feedback in mind. Starting is simple! All you need to do is take these simple steps down below:
Step 1: Open the PDF in our editor by clicking on the "Get Form Button" in the top section of this webpage.
Step 2: After you launch the PDF editor, you will find the document made ready to be completed. Other than filling out different blank fields, you might also do some other actions with the form, including putting on custom textual content, changing the original textual content, adding graphics, placing your signature to the form, and much more.
This PDF doc will need you to provide specific information; to ensure accuracy and reliability, you need to take heed of the subsequent steps:
1. Before anything else, while filling out the ds2031 form instructions get, begin with the form section that contains the following blanks: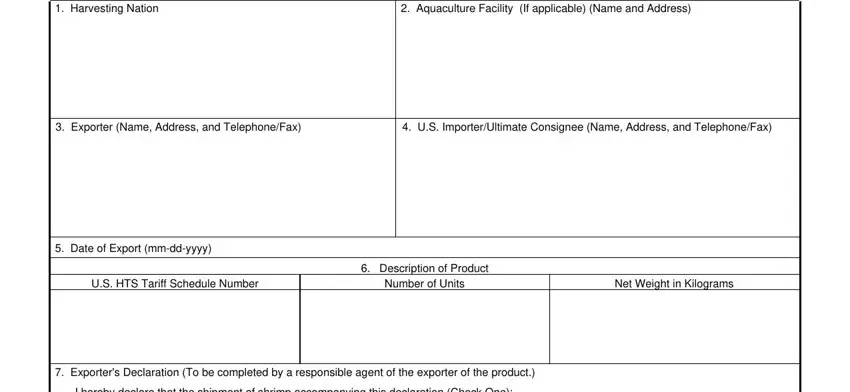 2. After this part is done, proceed to enter the suitable information in these - I hereby declare that the shipment, Harvested in a manner not harmful, Harvested by aquaculture, Harvested using nonmechanical net, Harvested using TEDs, Shrimp harvested in a manner or, Harvested in the waters of a, Exporter Name and Title, Signature, Date mmddyyyy, Government Certification, I hereby declare that the, NameAgencyTitle, AddressTelephoneFax, and Signature.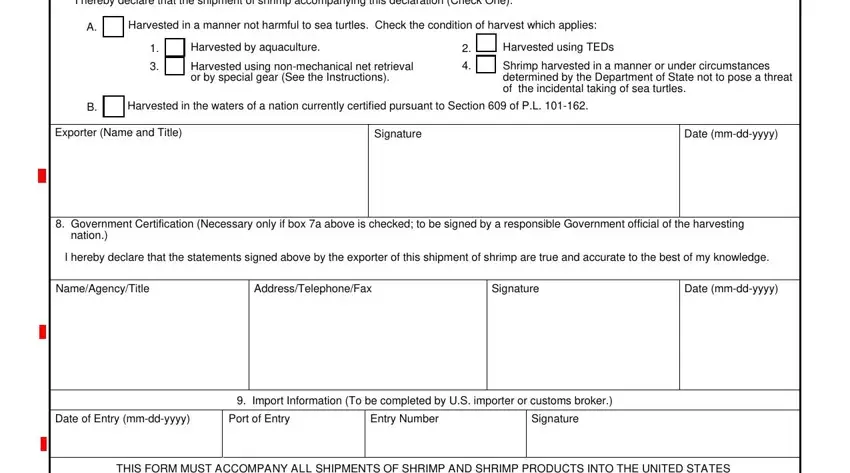 People often get some things wrong while filling out Date mmddyyyy in this area. Don't forget to read twice whatever you type in right here.
Step 3: Ensure that your details are accurate and then click on "Done" to continue further. Create a free trial plan with us and get instant access to ds2031 form instructions get - download or edit inside your FormsPal cabinet. We do not sell or share any details that you use whenever completing documents at our site.