Whenever you want to fill out form fa 26, it's not necessary to install any software - just use our online tool. The tool is consistently updated by us, getting handy features and turning out to be greater. In case you are seeking to get started, here is what it will require:
Step 1: Press the "Get Form" button at the top of this webpage to open our tool.
Step 2: With the help of our advanced PDF editor, you may accomplish more than just fill out blank form fields. Edit away and make your documents look high-quality with custom textual content put in, or tweak the file's original input to perfection - all that comes along with an ability to insert stunning images and sign it off.
It is easy to complete the pdf with our detailed guide! Here's what you need to do:
1. You should fill out the form fa 26 correctly, thus be careful when filling out the sections containing all these blank fields: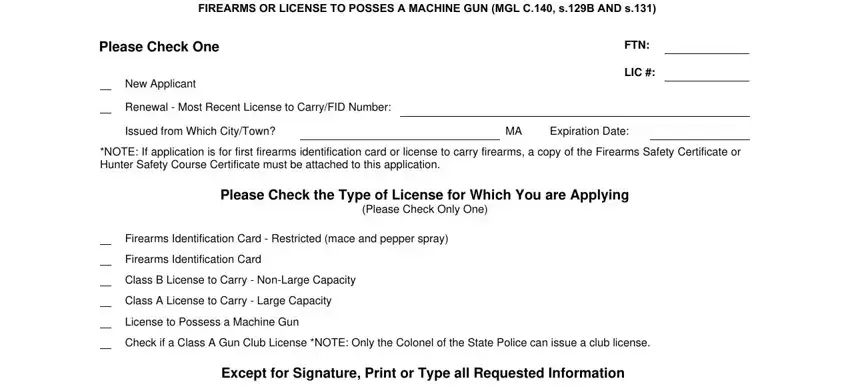 2. Now that the last section is finished, you have to add the necessary specifics in Last Name, First Name, Middle Name, Suffix, Residential Address, Gun Club Address If Applicable, Date of Birth, Place of Birth, City, City, State, Zip Code, Telephone Number, State, and Zip Code so you're able to progress to the third part.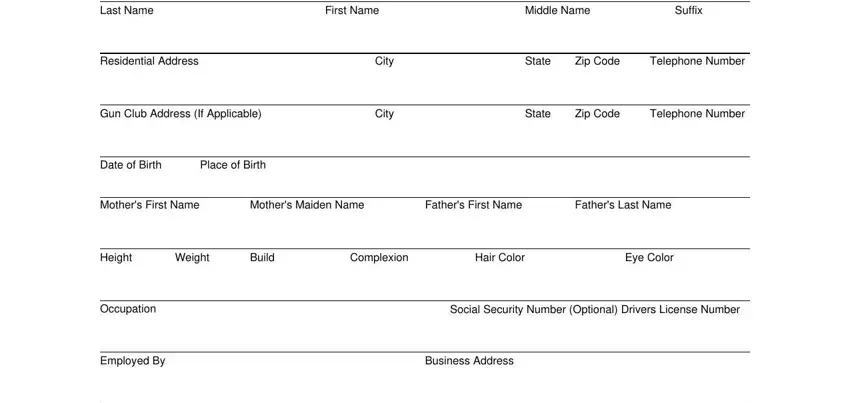 3. This next step is related to Please Answer the Following, Are you a citizen of the United, If naturalized give date place and, Date, Place, Naturalization No, Have you ever used or been known, If yes provide name and explain, What is your age You must be, Firearms Identification Card, Have you ever been convicted of a, Have you ever been convicted of, MGL c C sec, and Have you ever been convicted of a - fill in these fields.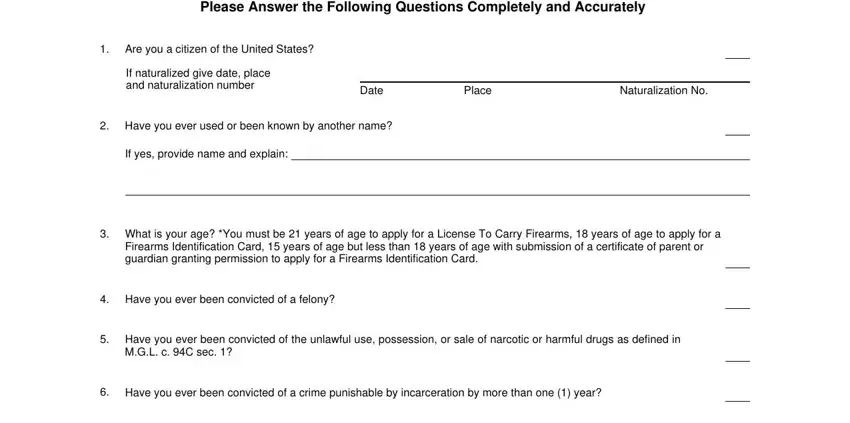 4. Filling in In any state or federal, Have you ever been confined to, Are you or have you ever been, Have you ever appeared in any, Are you now under any charges for, Are you now or have you ever been, charge, Has any License to Carry Firearms, of any state or territory ever, and Are you currently the subject of is essential in this next step - you'll want to spend some time and take a close look at every blank area!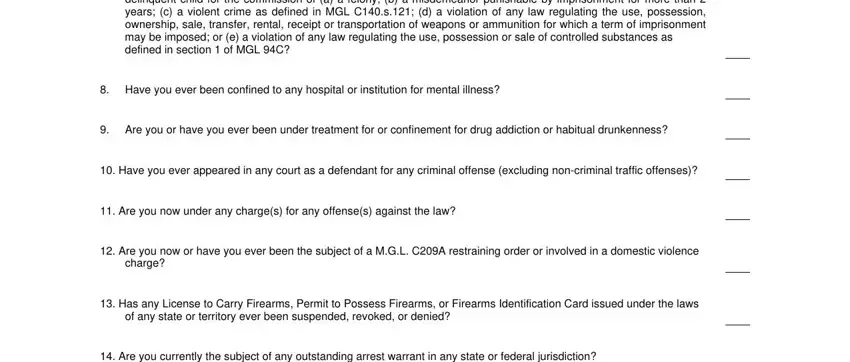 It's simple to get it wrong while filling out your Have you ever been confined to, hence ensure that you look again prior to deciding to send it in.
5. This document should be finished by filling out this part. Here you will notice a detailed set of fields that require accurate information to allow your form usage to be faultless: Circumstances and Location, Other than Massachusetts in what, Have you ever held a License to, If YES when where and license, List the Name and Addresses of Two, Last Name, Address, Last Name, First Name, CityTown, First Name, State, and Zip.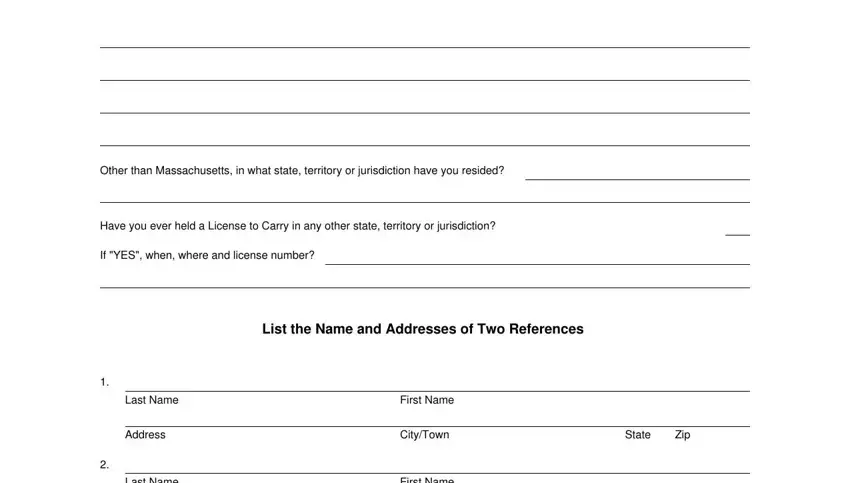 Step 3: Soon after rereading the fields and details, press "Done" and you are good to go! Try a 7-day free trial account at FormsPal and gain direct access to form fa 26 - downloadable, emailable, and editable inside your FormsPal account page. We don't share or sell the information that you type in whenever working with forms at FormsPal.