The entire process of filling out the replacement car titles in florida is rather straightforward. Our team made sure our software is not hard to use and helps fill in virtually any PDF without delay. Below are a couple of simple steps you will have to take:
Step 1: The first task is to choose the orange "Get Form Now" button.
Step 2: So, you can start modifying the replacement car titles in florida. Our multifunctional toolbar is at your disposal - add, remove, transform, highlight, and carry out several other commands with the content in the file.
Enter the appropriate data in every area to fill in the PDF replacement car titles in florida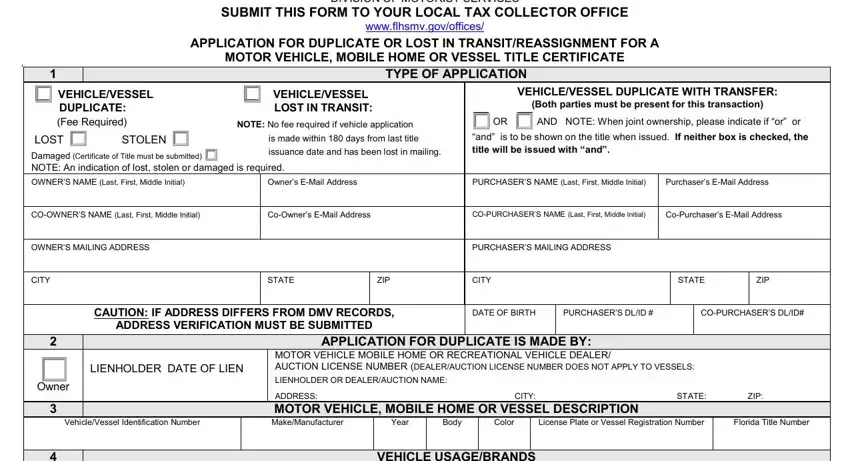 Type in the details in the TAXI, FLOODMANUFACTURERSBUYBACK, State, Zip, SHORTTERMLEASEREPLICA, IfnolienPrintNone, VEHICLEUSAGEBRANDS, LONGTERMLEASEKITCAR, POLICEVEHICLEREBUILT, PRIVATEUSEASSEMBLEDFROMPARTS, FEID, DLSexandDateofBirth, DMVAccount, DateofLien, and LienholderName area.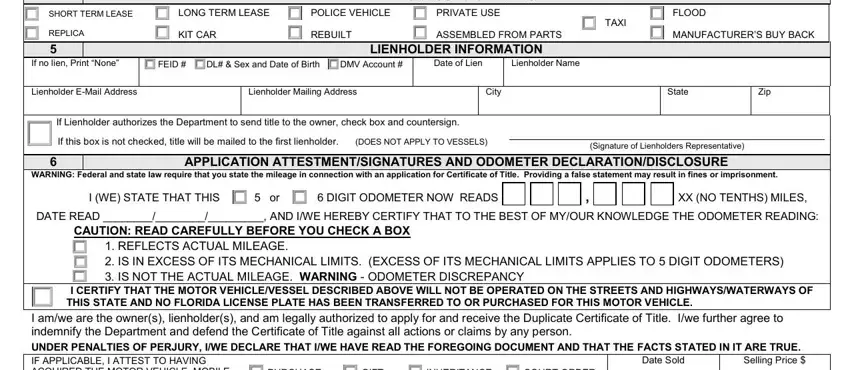 The system will demand you to include some relevant details to instantly fill out the segment PrintedNameofCoOwner, Signature, PrintedName, County, Agency, DateCompleted, and wwwflhsmvgov.

The HSMVRev, and wwwflhsmvgov box can be used to indicate the rights and responsibilities of both sides.

Step 3: Select the "Done" button. So now, it is possible to transfer your PDF file - upload it to your device or deliver it by means of electronic mail.
Step 4: Get duplicates of your document. This may save you from potential future misunderstandings. We cannot watch or reveal your data, hence feel comfortable knowing it is secure.